I dont think i would have fretted more than i do for finding an accompaniment for rotis. In my life that is. Come dinner time, i m usually in a frenzy, raking my brains to decide on a dinner menu. We usually eat rotis but then the real task is to make something to dunk the
rotis
in. This, i m telling you all despite having more than twenty curry and gravy recipes on my space. Imagine my plight. Not that my man is choosy or picky. But then, i like making different
gravies
and i make it a point not to repeat stuff much.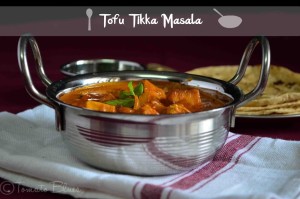 So, the other day when i made a huge batch of tofu tikka, i had some remaining the next day. So i decided to make some tofu tikka masala. It pretty much works like paneer tikka masala and it made a delicious accompaniment for the garlic naan that i was serving that day. The brownie point is that you can always sub the tofu for paneer and vice versa or use other veggies like cauliflowers and broccoli to make this gravy. It works very well as a filling for wraps too.
Recipe For Tofu Tikka Masala
( Tandoori style cooked tofu in a creamy gravy)

Prep Time: 10 mins
Cook Time: 20 mins
Serves 2 generously
Allergy Info: Egg free, Gluten free
Ingredients
Tofu Tikka 1 recipe
Onion 1 large chopped finely
Garlic 4 to 5 cloves
Ginger 1/2″ bit
Green chili 1
Tomato puree 1/4 c
Oil 1 tbsp
Cumin seeds 1 tsp
Turmeric powder 1/2 tsp
Garam masala 1/4 tsp
Red chili powder 3/4 tsp
Coriander cumin powder 1/2 tsp
Chaat masala a pinch
Cream 1/4 c
Salt to taste
For Tempering
Onion 1 small chopped finely
Kasuri methi 1 tbsp crushed
Oil 2 tsp
For Garnish
Coriander leaves for garnish
Directions
Grind together the large onion, ginger, garlic and green chili to a fine paste without adding any water.
Heat a pan with oil.
Crackle the cumin seeds.
Now add the ground onion paste and saute till light brown and aromatic. Takes about 2 mins.
Add all the spice powders next and mix well.
Saute for 30 secs.
Add the tomato puree now and mix well.
Cook the mixture till oil separates.
At this point, add the tofu tikka and salt and mix well. Go easy with the salt as the tofu tikka already has some in it.
Add cream finally and mix well.
Let the mixture simmer for about 3 to 4 mins. If you find the mixture too thick, add about 1/2 c of water and simmer for another minute more.
Once done, switch off flame.
Heat another pan with 2 tsp oil.
Add the finely chopped onion reserved for tempering and the kasuri methi.
Fry till onion turns golden brown.
Add this to the gravy.
Garnish with coriander leaves.
Serve hot with any flatbread of your choice.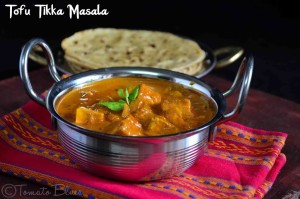 Works well with a pulao or a biriyani too.
P.S. You can make this a vegan version by avoiding the cream and substituting with cashew curd.