Its only in the recent times that i ve been stocking on Tofu. We ( pardon me..) I am not a health freak. Where as Mr.P is a giant of a health freak. ( I hope you get the quirk here..) But sometime back, i did eat some tofu and i got hooked on to the taste. Although the first time i bought tofu, it was disastrous. I bought Mori Nu silken tofu back then and tried using it in a pulao. You can imagine the catastrophe. So for all those people experimenting with tofu for the first time, Silken Tofu is something that is used as an egg replacer or is sometimes used in puddings. But the firm tofu is used in place of indian cottage cheese or paneer in the recent times. Having cleared that, how can i not share this easy and yummy tofu bhurji recipe.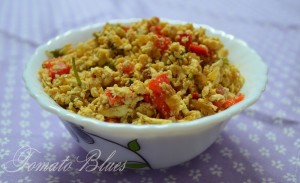 There are many versions of bhurji out there and it is usually made with paneer. But for vegans and the weight conscious, this is truly a blessing along with its added attractions of taste and flavor. And above everything, it s something that you can whip up on a night when every bone in your body is screaming at you to just snuggle up in your bed.
Recipe For Tofu Bhurji
( An easy side dish made with tofu and assorted veggies)
Prep Time: Under 15 mins
Cook Time: Under 15 mins
Serves 4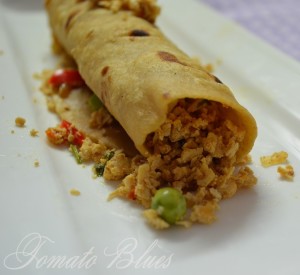 What You Need?
Tofu grated 3 cups ( I approximately used 300g of tofu)
Onions 2 medium chopped finely
Red bell pepper 1 chopped finely
Tomato 1 large chopped finely
Green peas fresh or frozen 1/4 cup
Coriander cumin powder 1 tsp
Punjabi garam masala 1/2 tsp
Red chili powder 1/2 tsp
Green chilies 4 minced finely
Ginger garlic paste 1 tsp
Oil 1 tbsp
Cumin seeds or jeera 1 tsp
Salt to taste
Garnish:
Chopped cilantro leaves 2 tbsp
Lemon juice 1 tbsp
How To Make It?
In a large mixing bowl, place the tofu.Make sure the tofu doesnt have any water.
Add the spice powders to the tofu and combine well. Set aside.
In a pan, heat oil and add cumin seeds. Once they splutter, add the onions and green chilies and saute till the onions are light brown.
Add the ginger garlic paste and saute for 30 secs.
Now add the bell pepper and saute till just wilted.
At this stage, add the chopped tomatoes and a pinch of salt and cook till tomatoes turn mushy.
Once done, add the grated tofu and salt.
Mix well.
Garnish with chopped cilantro leaves.
Squeeze lemon juice before serving.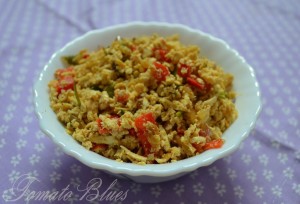 Serve alongside chapathis or parathas.