I am a winter person in and out. I love winters for the chilly mornings, hot cocoa, fresh vegetables and the sleepy weather.For me, there is no greater happiness than snuggling into a warm blanket with a nice romantic novel with a mug of hot cocoa beside me. But the fresh vegetables that abound the market top the list. I take immense pleasure in visiting the vegetable market every week. Maybe such pleasure shall be declared illegal soon. That much is how much i enjoy buying vegetables in winter. Sweet peas, cheerful corn, rustic yams, fresh chickpeas that resemble tiny brains, edamame, hyacinth beans and the list can go on. Almost always, i come back with more vegetables than my arm can carry. But it is indeed euphoric to shell peas or clean those vivid greens. What music it is to the ears to hear the peas falling clink clank thud thud into my bowl. My fridge always overflows in the winter with so many vegetables that can feed a family of 5 for a week. Remember that we are only 2 in this house. That much of love i hold for winter. Crispy frost bitten mornings with the nip in the air. I can succinctly term them all as heaven.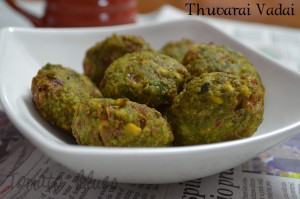 On one such trips to the market, when i literally came back with veggies for an army, i also bought fresh pigeon peas. Fresh pigeon peas, hyacinth beans and lilva beans are available in plenty in winter where i live. But they go as quickly as they come. So, i pounce on them the moment i set my eyes on these beauties loaded with protein. After experimenting with the beans in a sundry other recipes, i made these fritters. Ok..i know these are deep fried but they were truly delicious. They make a perfect snack for these chilly evenings. Don your sweaters, get your cocoa brewing and make some of these yummy fritters to warm up.
Recipe For Thuvarai Vadai
(Deep fried fritters made with fresh pigeon peas)
Prep Time: 1 hour for soaking the lentils
10 mins for the rest
Cook Time: Under 30 mins
Yields 12 to 15 medium vadais
What You Need?
Fresh pigeon peas 200g
Channa dal or Kadala paruppu or bengal gram 1 tbsp plus 1 tsp
Urad dal or black gram 1 tbsp plus 1 tsp
Green chilies 2
Pepper corns 2
Garlic 1
Ginger 1/2 "
Onion 1 chopped finely
Coriander leaves chopped finely 3 tbsp
Salt to taste
Oil for deep frying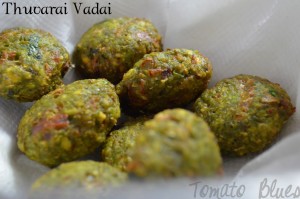 How To Make It?
Soak the kadal paruppu and urad dal for 1 hour in some water.
After an hour, drain the water completely and place them in a blender along with the pigeon peas, green chilies, pepper corns, garlic, ginger and salt.
Grind without adding any water to a coarse paste. In case you find it not grinding, add about 1 to 2 tsp of water.
Once done, remove and transfer to a mixing bowl.
Check for seasoning.
Now, add the chopped onions and coriander to the batter and mix well.
Heat oil for deep frying. I used about 250 ml.
Divide the batter in to 12 equal rounds, flatten them into discs and keep ready.
Check if the oil has heated up by dropping a small ball of the batter. If it comes up immediately. the oil is done.
Now, drop the discs and fry on low medium flame till golden brown and the discs float up to the top.
Do this in batches of 3 to 4.
Once done, drain on a kitchen towel.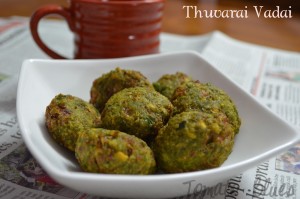 Serve hot with ketchup or any dip of your choice. We enjoyed them as it is.