How To Make Thai Style Vinaigrette For Salads. Vegan. Gluten Free.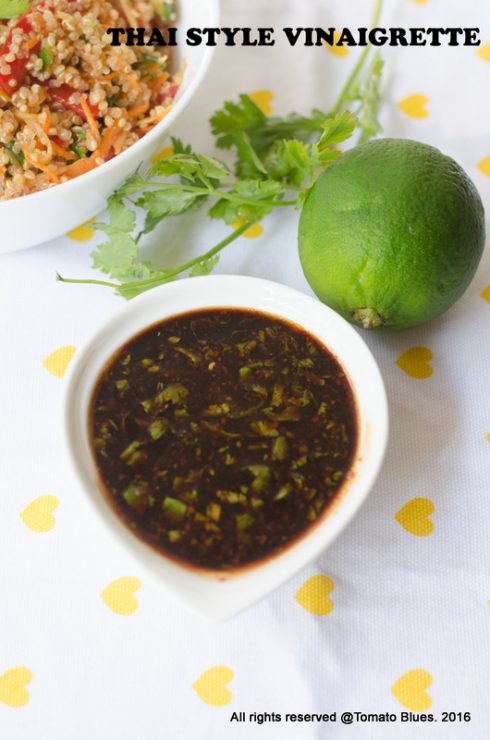 Warm greetings everyone. This space has been neglected for over 6 months now and it feels fantastic to be back again. I wish you all a very happy new year before i begin this year s dose of blogging. I m still shocked to realize that one and a half months have flown past us in this new year. Like always, i did make a few resolutions this new year too and one among them was to eat healthy and avoid wasting food. I will come to the wasting food part in my future posts. Yes, you will read on how to manage food wastage by using meal planning techniques on this blog soon. But in the meanwhile, lets talk some healthy but delicious food. I also resolved to try new foods this year and as a part of that, i decided to try one new ingredient every month. This Thai style vinaigrette happened as a result of that resolution. This thai style vinaigrette is a versatile dressing that you can use in a salad or even as a marinade. It works well as dip too.
Ever since my move to Singapore, i have been smitten by Thai food. My love for tofu, soy sauce, lemon grass and thai basil has since grown manifold and i pretty much try to incorporate them into my daily meals. I never imagined that a simple sauce like soy sauce can give such a face lift to a simple salad. But the star in this recipe is pure sesame oil. Before i began blogging, i had only heard and seen sesame oil being used in Indian cooking. The use of sesame oil in Chinese cooking and Thai cooking came as news to me and i wanted to see how the recipe turns out. Recently, Godrej Nature Basket, a popular online gourmet food seller in India, approached me to develop recipes using exclusive ingredients from their website. When i was browsing through their website, i chanced upon this Pure Sesame Oil. If you live in India and are looking to buy Sesame oil for Chinese cooking, then you can buy the same online by clicking here. This Thai style vinaigrette is a exotic blend of sweet, sour and spicy. We loved the dressing so much that Mr. P and i were licking off spoonfuls even before i used this Thai style vinaigrette in a salad. So, shall we check how to make thai style vinaigrette?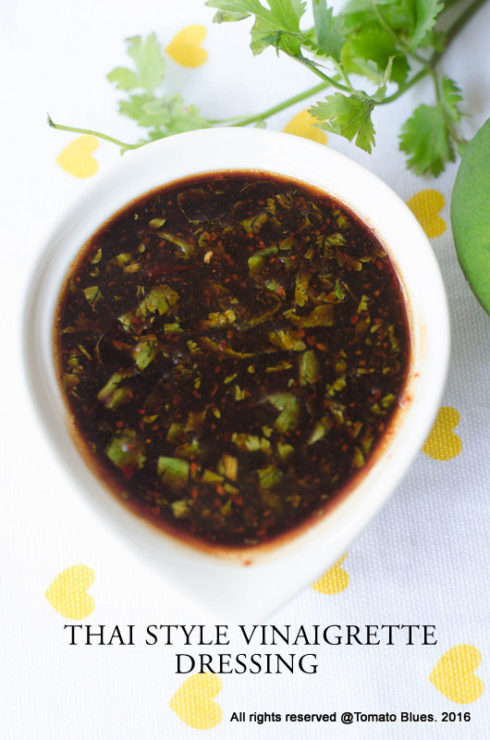 Recipe For Thai Style Vinaigrette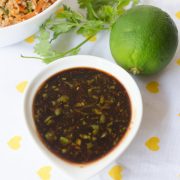 Print Recipe
Thai Style Vinaigrette Recipe
Thai cuisine inspired vinaigrette using simple ingredients
Ingredients
Pure Sesame Oil 2 tbsp

Dark soy sauce 2 tbsp

Dark brown sugar 1 tbsp packed

Lime juice 1 tbsp

Red chili flakes 3/4 tsp

Coriander leaves 2 tbsp chopped finely

Salt to taste
Instructions
In a bowl, combine soy sauce, salt, sugar, lime juice and chili flakes and mix till sugar dissolves.

To this add the sesame oil and coriander leaves and whisk till emulsified.

Use as required in salads.
Notes
1. In case you don't have brown sugar, you can use jaggery.
2. The sesame seed oil called for in this recipe is different from the regular sesame seed oil that is used for indian cooking. They cant be used interchangeably.
For Instant Pot & Air Fryer Recipes
Instant Pot timings may vary based on your geographic location. Air fryer settings and timings may vary based on the capacity and the model of the Air fryer.
Disclaimer
Nutrition values are provided here as a courtesy and are only a rough guide. Please consult a health care provider if you have any concerns.