How To Make Thai Style Quinoa Salad Recipe. Vegan. Gluten Free. Grain Free.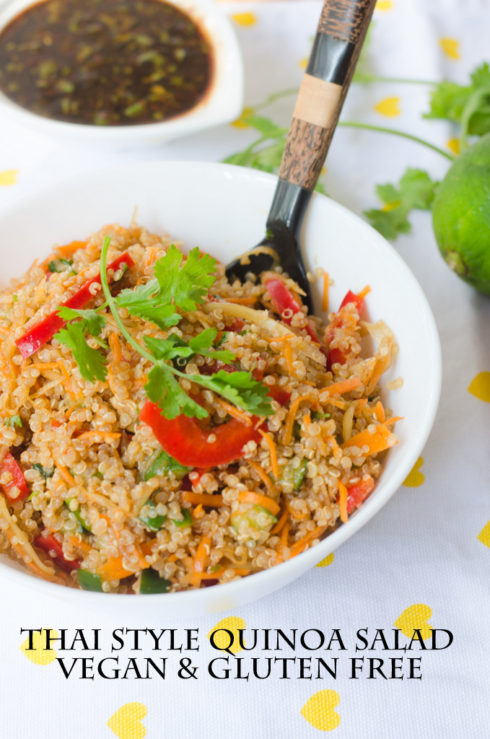 Eating healthy has suddenly become the trend world over. And people are developing all kinds of food allergies more than ever. The most common among them all are allergies to gluten and dairy products. People allergic to gluten are always on the look out for healthy and delicious gluten free options and this Thai style quinoa salad will fit that bill perfectly. As a part of this month s new ingredient trial, i picked quinoa. If you live in India and are looking to buy quinoa, then Godrej's Nature Basket s Quinoa can be bought online on their website.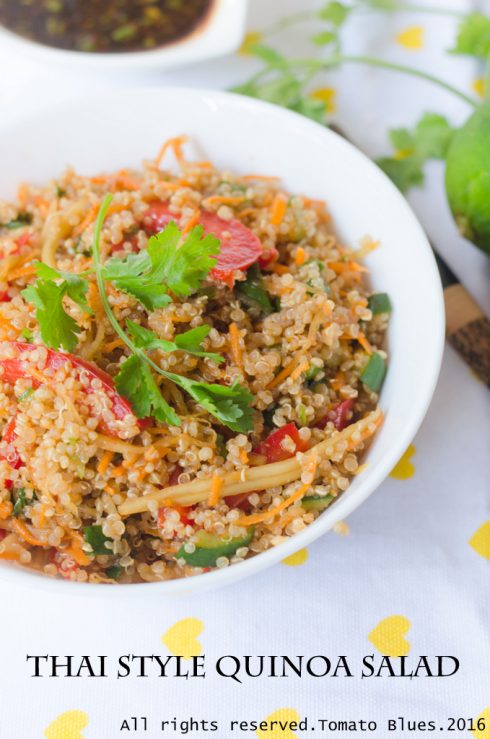 Quinoa, pronounced as keen-wah is a healthier altenative to rice. Its gluten free and filling. It s basically a seed and not a grain. It is filled with fiber and works wonderfully well in recipes that call for wheat too. This thai style quinoa salad recipe is inspired from the regular thai salads that use lime, soy sauce and sesame oil in the vinaigrette. You can find the recipe for the Thai style vinaigrette here.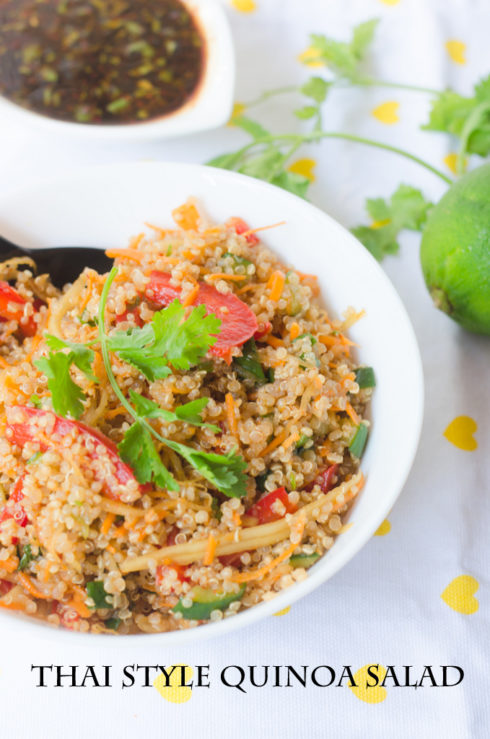 Thai Style Quinoa Salad Recipe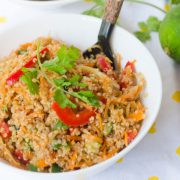 Print Recipe
Thai Style Quinoa Salad Recipe
A vegan and gluten free salad using quinoa and veggies tossed in a thai style vinaigrette
Ingredients
White quinoa 1/2 c

Red bell pepper 2 tbsp sliced into julienne strips

Green bell pepper 2 tbsp sliced into julienne strips

Carrot 1/4 c peeled into julienne strips

Red onion 1 small chopped finely

Green garlic scapes 2 tbsp chopped finely

Japanese cucumber 1 small peeled and chopped finely

Thai style salad vinaigrette 3 tbsp

Roasted peanuts 2 tbsp crushed coarsely
Instructions
Cook quinoa as per packet instructions. 1/2 cup of uncooked quinoa yields 2 cups of cooked quinoa approximately.

Let the quinoa cool completely.

Once cool, place all the ingredients in a large mixing bowl along with the cooked quinoa and toss well.

Check for seasoning and adjust accordingly

Garnish with chopped coriander leaves.

Serve immediately.
Notes
This recipe can be made ahead and stored in the fridge. In that case please add the peanuts just before serving.
You may also add other seeds like sunflower seeds or pepita for a crunchy texture.
For Instant Pot & Air Fryer Recipes
Instant Pot timings may vary based on your geographic location. Air fryer settings and timings may vary based on the capacity and the model of the Air fryer.
Disclaimer
Nutrition values are provided here as a courtesy and are only a rough guide. Please consult a health care provider if you have any concerns.