Tamarind Agua Fresca Recipe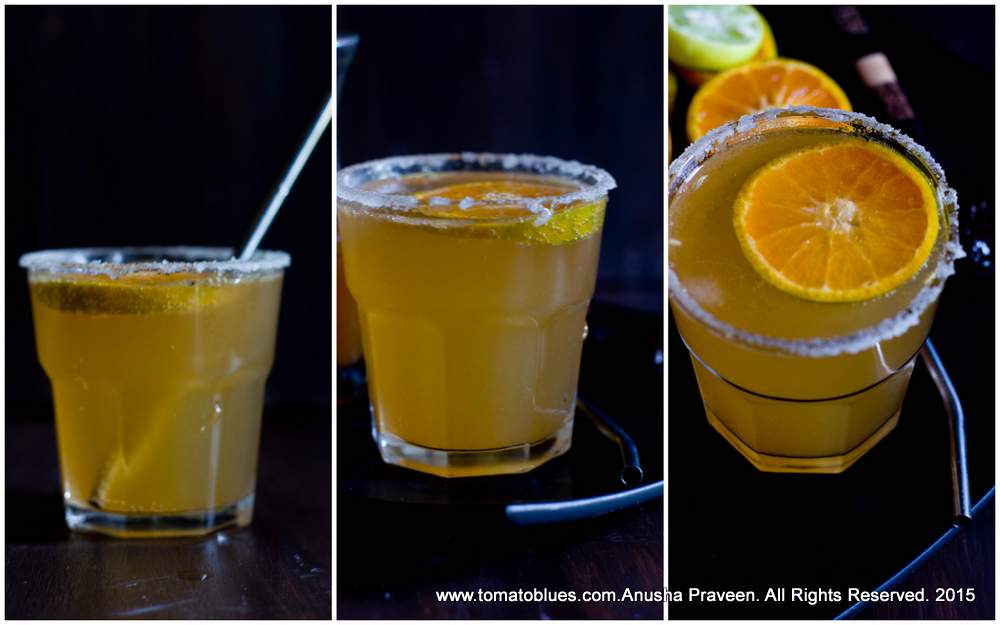 Tamarind Agua Fresca. Sounds exotic, eh? But believe me the exotica stops with the name. Tamarind agua fresca is nothing but a mexican drink made with tamarind pulp, cold water and some lemon wedges. I was ambling over at Pinterest the other day for some interesting Cinco De Mayo recipes and i happened to read this Tamarind Agua Fresca recipe. I was surprised that there were cuisines other than Indian that used tamarind. And i was even more taken aback when i discovered that it was the Mexicans. I would not have been so surprised if it had been some Asian cuisine, but Mexican, seriously? Cool, huh! Like i said, this is a very simple recipe that you can whip up in no time. You can make this ahead and leave it to chill in the fridge. This Tamarind Agua Fresca is truly a Cinco De Mayo delight because it pretty much has everything- tang, sweetness, salt and what not? I came up with my own version of Tamarind Agua Fresca and i thought, why not share it here? Cinco De Mayo or not, it s scorching here in India and we all can do with a tall glass of chilled agua fresca.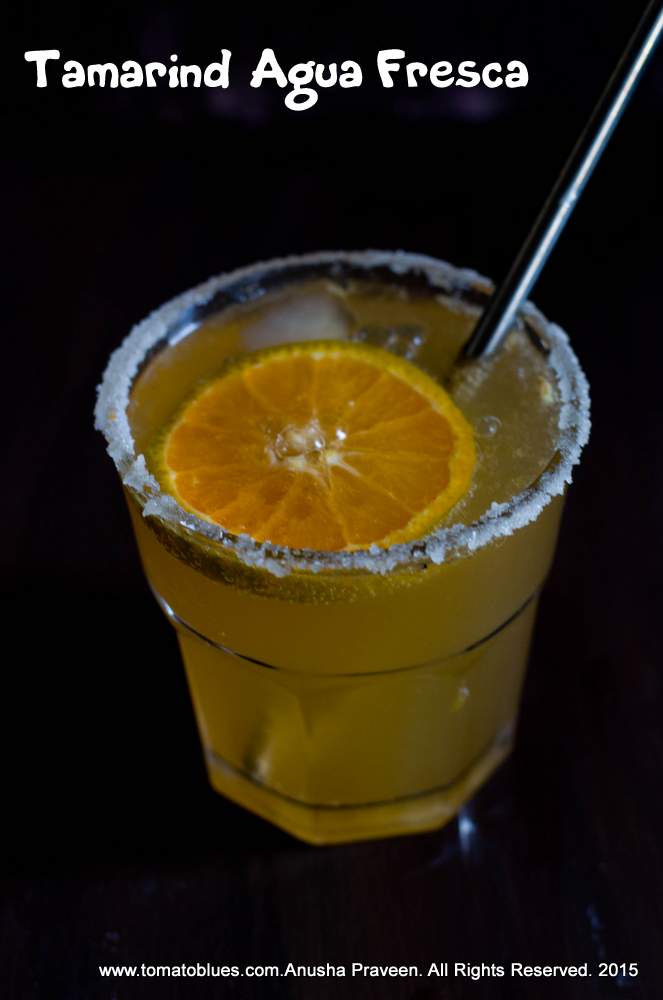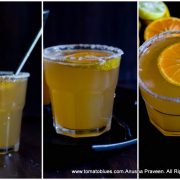 Print Recipe
Tamarind Agua Fresca
An easy drink with tamarind, chilled water and some citrus that is perfect for Cinco De Mayo
Ingredients
Tamarind and Dates Chutney 2 tbsp

refer notes

Orange juice 1/4 c

Lemon juice 2 tbsp

Sugar 2 tbsp

Sparkling Water/ Club Soda 2 cups

Ice cubes to serve

Orange wedges to serve
Instructions
Combine the tamarind and dates chutney, orange juice and lemon juice along with the sugar using a whisk.

Once the sugar has dissolved completely, strain the liquid.

Divide the liquid into two.

Take two glasses.

Slightly wet the rim with an orange wedge.

Place the rim over a plate of salt.

This is how a rim in a glass in salted.

Now, pour half of the liquid in one glass.

Add an orange wedge and some ice cubes.

Top with sparkling water or club soda.

Repeat the process for the other glass.

Stir well.

Serve cold.
Notes
I used the regular khatta meetha khajur chutney that we use in chaats for this recipe. It is easily available in all stores.
In case you dont have the chutney, use tamarind pulp of the same quantity and adjust sugar accordingly.
You can also use cold water in place of club soda.
For Instant Pot & Air Fryer Recipes
Instant Pot timings may vary based on your geographic location. Air fryer settings and timings may vary based on the capacity and the model of the Air fryer.
Disclaimer
Nutrition values are provided here as a courtesy and are only a rough guide. Please consult a health care provider if you have any concerns.