How To Make Indo Chinese Style Sweet and Sour Vegetables?
SWEET AND SOUR VEGETABLES- INDO CHINESE STYLE MIXED VEGETABLES IN A SWEET SOUR SAUCE. VEGAN
A chinese meal always amazes me. I m not talking of the average Chinese or rather Indo Chinese food that we get even on the streets today. When i say Chinese, i mean the real authentic Chinese meal that has plenty of veggies, some nice pungent pepper and lots of rice served with some tongue tickling and piquant sauces. I do agree that the addition of MSG is an issue to many but unfortunately, MSG is not limited to Chinese food alone today. It has spread its wings as far as a slice of pizza or even some golden fries. So, yeah if you say MSG is stopping you from gorging on Chinese, i d say you are missing out on something that s not supposed to be missed.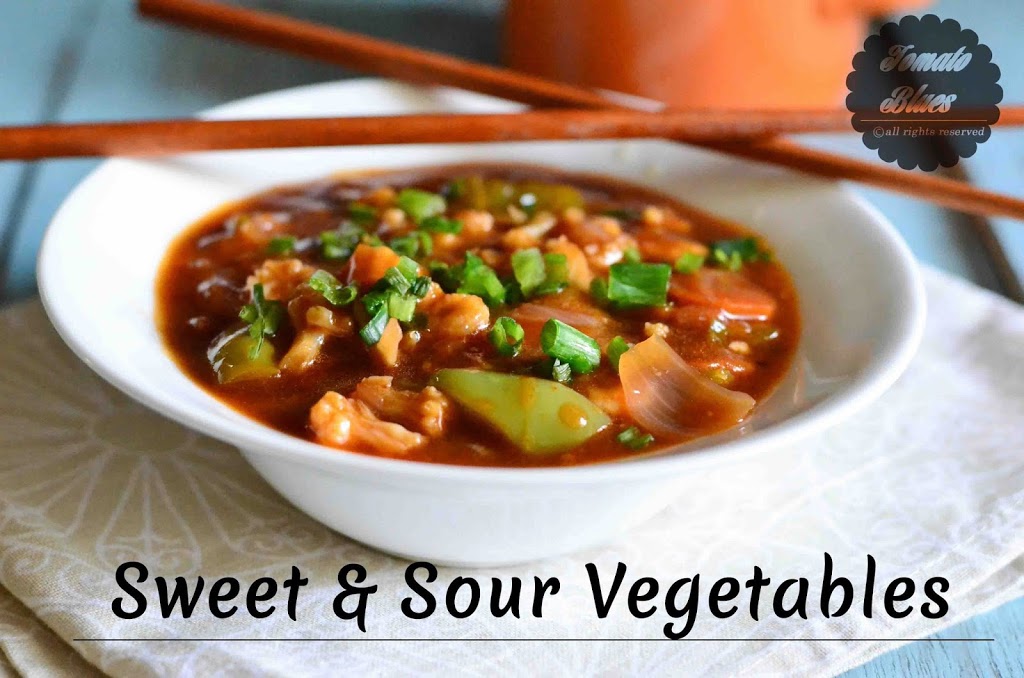 While in college, my lunches was usually some egg fried rice and manchurian gravy. Now, i really doubt if these are authentic Chinese but it used to keep me full and it had eggs and some veggies. So, it sort of fit my bill well during those days. And then life changed. There was a wedding and now i have a husband, a house and some fish that all came with it. Lets not forget the blog. And i started exploring cuisines. Chinese cuisine has always been my favorite because of its no fuss and great taste advantage. While i do like whipping up the real stuff once in a while, i tend to stick to Indo Chinese recipes mostly because i can make them with whatever is available in my pantry. This Sweet and Sour Vegetable gravy is one such dish that i threw together casually. It became a success and i couldnt not share my success story with you all.  There s just one downside to this dish. It shines through only when served hot. So its not ideal to pack for a lunch box. Other than that, its exemplified deliciousness.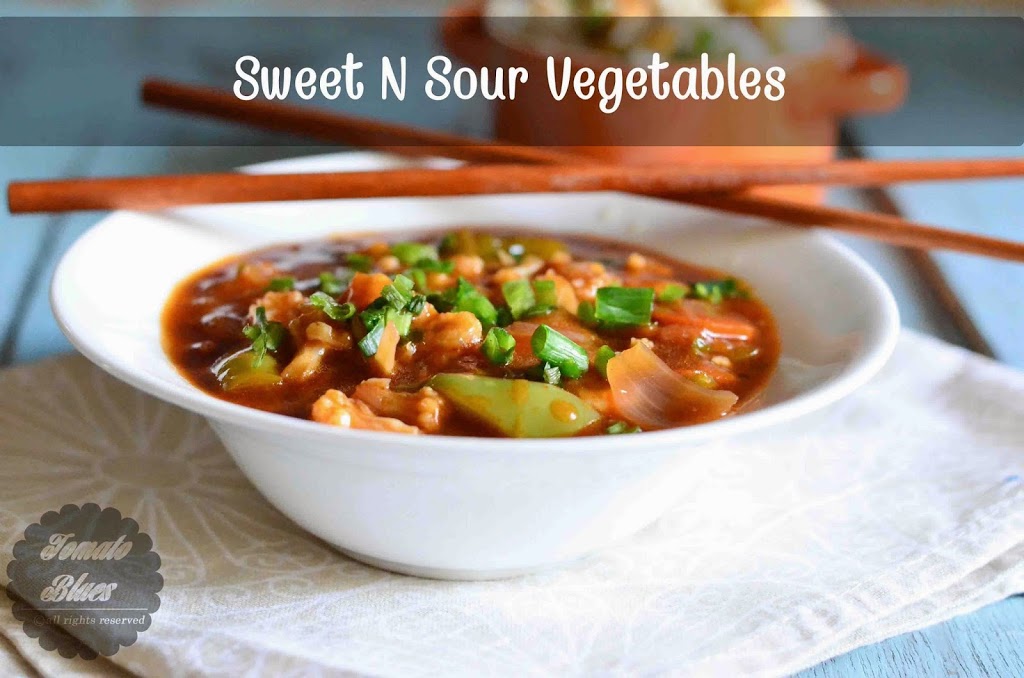 Recipe For Sweet And Sour Vegetables
( Learn how to make Sweet and Sour Vegetables, an Indo Chinese style vegetable gravy)

Prep Time: 20 mins
Cook Time: 20 mins
Serves 2 generously
Allergy Info: Vegan, Nut Free, Gluten free
Course: Accompaniment
Cuisine: Indo Chinese

Ingredients
Carrot 1 large peeled and cut into juliennes
Beans 10 cut into 1″ pieces
Cabbage 1/4 c shredded to bite sized pieces
Baby corn 5 sliced into roundels
Capsicum 1 large cut into chunks
Onions 2 medium cut into bite sized pieces
Grated ginger 1.5 tsp
Red chili sauce 2 tbsp
Tomato ketchup 2 tbsp
Green chili sauce 2 tbsp
Dark soy sauce 1 tbsp
Vinegar 1 tbsp
White pepper powder 1 tsp
Sugar 1 tbsp
Corn flour 2 tbsp
Water 3/4 c
Oil 2 tbsp
Spring onion greens 2 tbsp chopped
Salt to taste
Note:
1. In case you dont have red chili sauce, feel free to use whatever you have on hand.
2. I prefer using dark soy sauce as it lends a beautiful color. But really, light soy sauce also works just fine.
3. If you find the gravy too thick, add some more water in the end.
4. Keep a check on the salt that goes in as all sauces contain salt.
5. You may also use veggies like broccoli, cauliflower and mushroom.
Directions
Par boil all veggies except onions and capsicum. I used my microwave for this. I cooked them on high for 10 mins in the microwave in enough water and drained. You can do it on the stove top too.
Heat a pan with oil.
Add grated ginger and onions and fry till onions turn translucent.
Now,add capsicum and fry till half cooked.
At this stage add all veggies and give a good toss.
Now, combine all sauces, vinegar and white pepper powder and add in to the mixture along with salt and sugar.
Mix well.
Add 1/2 c of water.
Bring to a boil.
Bring down the heat to the lowest.
Mix 2 tbsp corn flour with the remaining water without any lumps and add this to the mixture. Mix well.
Crank up the heat and simmer for another 2 to 3 mins.
If you find the gravy too thick, add another 1/2 c of water at this stage.
Check for seasoning again.
Once done, garnish with spring onion greens.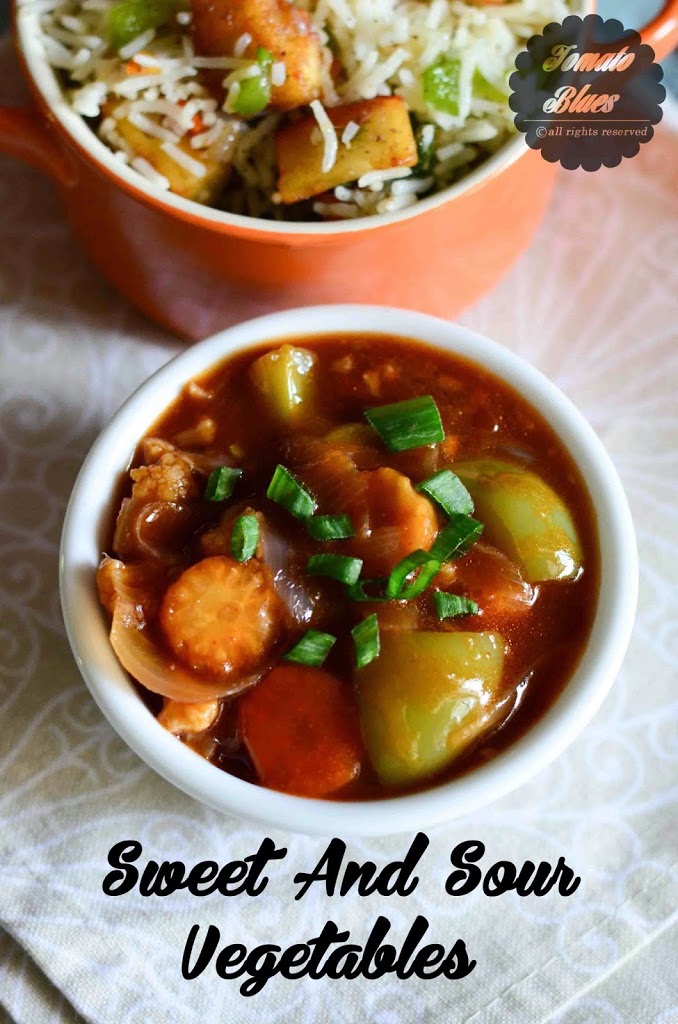 Serve hot with vegetable fried rice.