Bell peppers. I would have married them if i was a vegetable. Exotic, simple and healthy all in one. That s what bell peppers are. My hubby used to have a cook at home before our marriage. And she used to make these stuffed capsicums wonderfully. This is just a recipe of hers.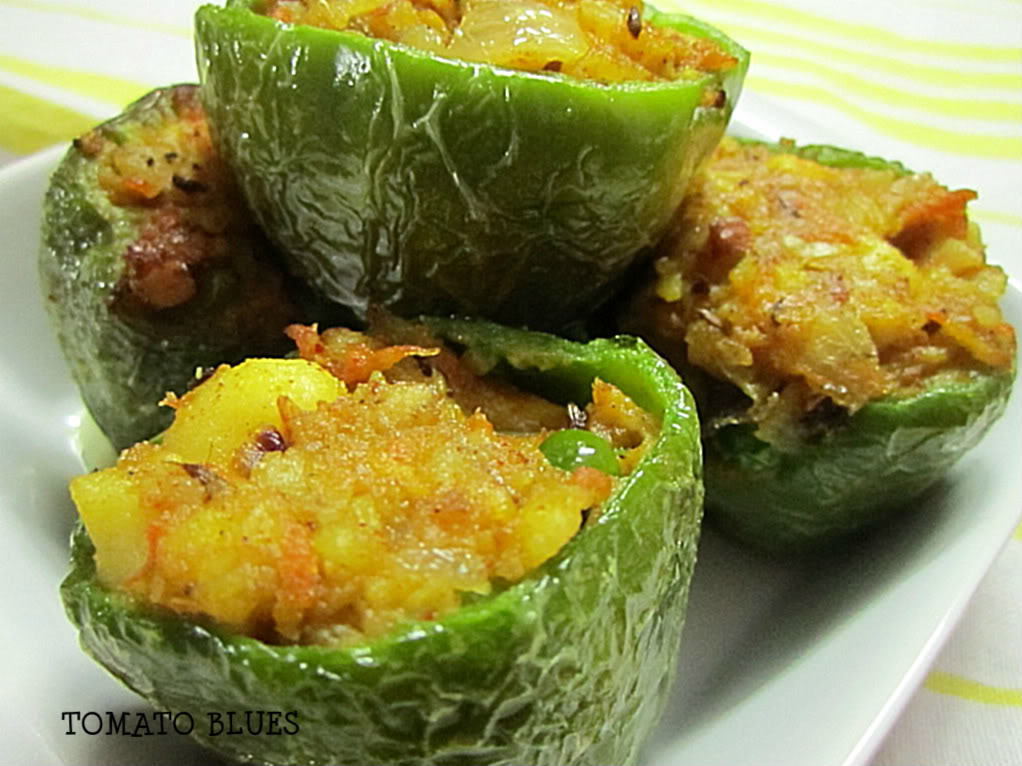 Prep Time: Under 20 mins
Cook Time: Under 30 mins
Source: Manju, my hubby s cook
Serves 2


What you need?
Green bell peppers small ones 4
Oil for shallow frying 1/2 cup
For the Stuffing:
Potatoes 2 medium boiled and peeled
Almonds 5 powdered coarsely
Peas 2 tbsp
Carrot grated 1/4 cup
Paneer 5 cubes or 1/4 cup grated
Onion 1 chopped finely
Kitchen king masala 11/2 tsp
Chili powder 1 tsp
Dhania powder 1 tsp
Salt to taste
Cilantro chopped finely 1 tbsp
How to make it?
First, cut the stalk off from the bell pepper leaving an opening at the top to stuff them. Remove the seeds and boil them in hot water for 5 to 7 mins. You must remove them when you get the aroma of capsicums. Keep aside.
In a large mixing bowl, place the potatoes and paneer and mash them together.
Heat a kadai and add 1 tbsp of oil.
Add onions and saute till pink.
Next, add carrots and peas and saute well for 2 mins
Now, add all the spice powders and combine well.
Add the mashed potato paneer mixture. Add salt and combine well.
Saute the whole thing for 3 to 4 mins.
Now, let it cool.
Add cilantro and powdered almonds once cooled and mix well.
Take about 2 to 3 tbsp of the stuffing and stuff it gently in the bell pepper taking care not to break the sides.
Heat the remaining oil in the same kadai and place one capsicum in the oil. Its ok if the capsicum does not stand upright. Just make sure you keep turning the capsicum as you fry it so that it s evenly cooked. Fry till the capsicum is brown on all the sides and you can see lil bubbles on its surface.
Remove and place it on a kitchen towel to absorb excess oil.
Serve hot with rotis or any pulao.
This goes to Radhika S Winter Carnival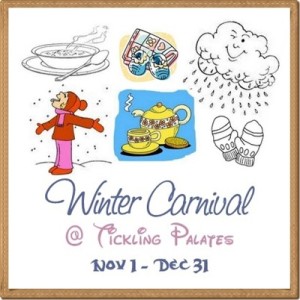 Note: You can also use tomatoes or red and yellow bell peppers for the stuffing