Today is all about quick. Quick, slurp and lick. That s how i like my smoothies. I dont make smoothies often but when i do make them, i make sure that i make a genuine effort in whipping up a memorable smoothie. Strawberries have just begun to make an appearance in the market.And they are pricey. But oh boy! did i care? My love for these luscious red fruits make me go crazy. Yesterday was one of those crazy episodes and i went ahead and bought 2 boxes of this lovely red goodness. I came back, put them in the fridge and stared at them in admiration and awe. Oh… why didnt God make me as pretty as a strawberry?Sigh..wishful thinking. Anyway, i knew my staring is not going to take me to mars. And the temptation of putting together a quick meal for lunch was too great considering that my stomach was growling away like a hungry lioness.So i put together a quick sandwich, beat an egg and made a masala omlette and finally gobbled it all. With some of this mildly sour and sweet strawberry smoothie. You have to make it to know what i m talking about.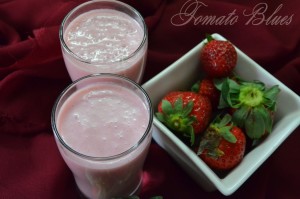 Recipe for Strawberry Smoothie
(Strawberries, vanilla and rose flavored smoothie)
Prep Time: Under 10 mins
Cook Time: Nil
Yields 3 glasses
What You Need?
Strawberries 4 hulled
Thick Yogurt 1 cup( I used full fat as it was only me consuming the goodness of this smoothie. But feel free to use low fat)
Cold Milk 1 cup
Sugar 2 to 3 tbsp depending on how sweet toothed you are
Vanilla extract a drop
Rose extract or rose water 2 drops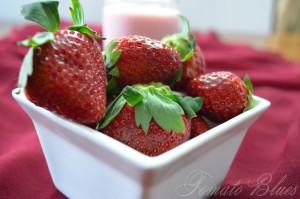 How To Make It?
Place the strawberries, sugar and half the yogurt in a blender.
Blend to a smooth puree.
Now, add the remaining yogurt, milk, vanilla and the rose water and blend once again to a smooth puree.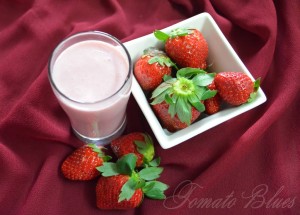 Serve chill along side some Egg Salad Sandwiches for a filling breakfast