How To Make Strawberry Salsa?
Strawberry Salsa – Salsa using fresh strawberries that tastes great with tacos or with tortilla chips. Mexican Recipes. Vegan.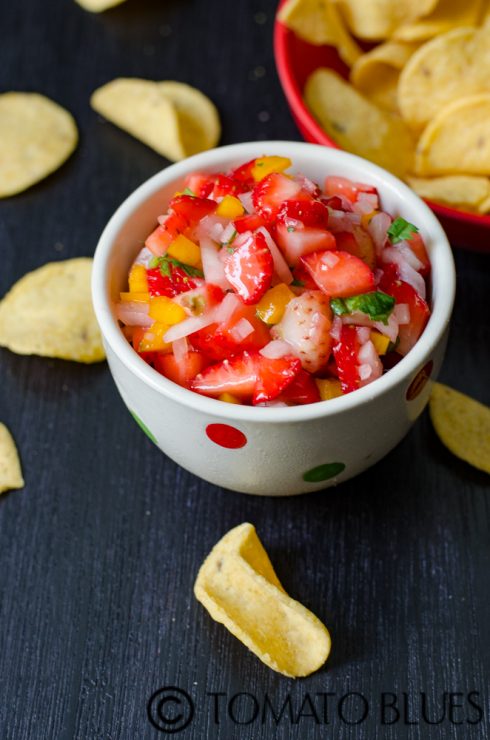 Strawberry salsa is an addictive way to eat fresh strawberries. I have made the regular tomato salsa only once in my entire lifetime. Wonder why? Because the second time, i made this  salsa and i have never made tomato salsa after that. The strawberry does wonders to this salsa  because of its tangy notes. The flavors complement the heat of the jalapeno and rounds off the sharp taste of the red onions. In my house, we don't wait to eat strawberry salsa with tacos. We just grab a spoon and begin scooping away as soon as it is made. Of course, this salsa tastes best when served fresh although we like it cold.. And needless to say, this makes a great pair with tortilla chips. So, the next time you want to up your salsa game, then you must absolutely make this totally awesome salsa.
If you are interested in other salsa recipes, then do check out this watermelon salsa and mango salsa.
Recipe For Strawberry Salsa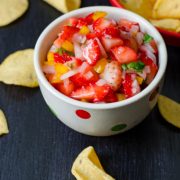 Print Recipe
Strawberry Salsa Recipe
Strawberry salsa- A spicy tangy salsa made with fresh strawberries. Pairs well with tortilla chips and is a great topping on tacos
Ingredients
Strawberries 15 hulled and chopped finely

Yellow sweet pepper 1 chopped finely

Jalapeno pepper 1 minced finely

Red onion 1 small peeled and chopped finely

Coriander/ cilantro 1 tablespoon chopped finely

Salt to taste

Lime juice 1 tbsp
Instructions
Place all the ingredients in a mixing bowl and toss until combined well.

Chill in the fridge for an hour if desired.

Serve with tortilla chips or nachos or tacos