How To Make Strawberry Crumble?
Strawberry Crumble- Quick And Single Serve Strawberry Dessert. Eggless Baking. Strawberry Recipes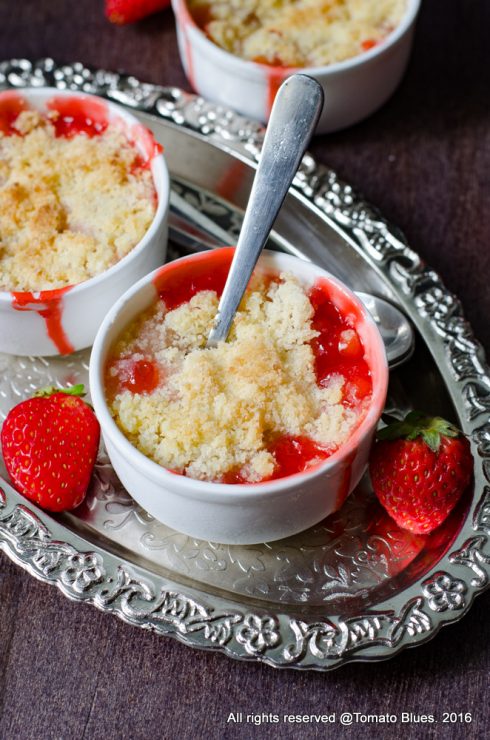 Strawberry crumble is nothing but strawberries and sugar stuffed inside a ramekin and topped with a buttery flour mixture that is baked until crisp. This strawberry crumble is also known as a strawberry cobbler in many countries. It is  is a super dessert to make when you are pressed for time or when you want to really use up those strawberries that you bought a few days back.I made this strawberry crumble in small ramekins and served it as an individual dessert. But you can also just put everything together in a deep baking dish and serve it up as one large strawberry crumble.This strawberry crumble recipe has been adapted from here.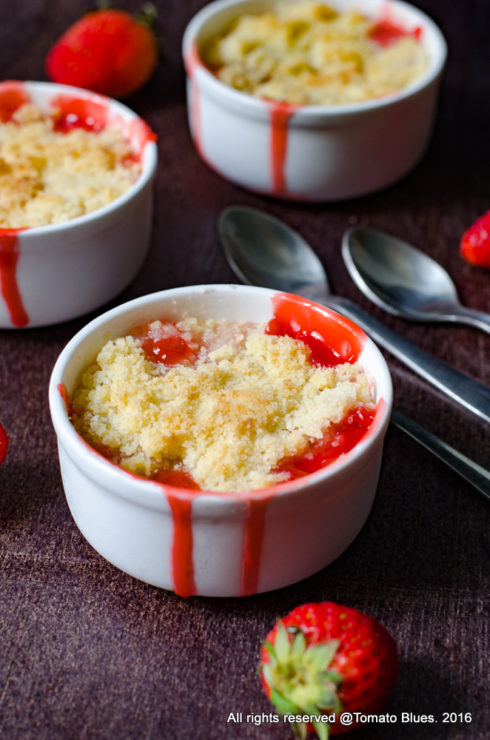 While you can enjoy this delicious dessert cold or warm, my bet is to eat it with warm with a dollop of vanilla or chocolate ice cream.There is really nothing better that goes with a good fruity dessert than some ice cream. I made about 4 portions of this crumble and we ate it over a span of three days. I must say this strawberry crumble can be made ahead and kept in the fridge because it keeps well for 3 days. This is a great party dessert and also is convenient for people who want to exercise portion control  😛 . I will not recommend using frozen strawberries to make this because the filling may make the whole thing unusually soggy. So try to get a bag of fresh strawberries to make this.

Recipe For Strawberry Crumble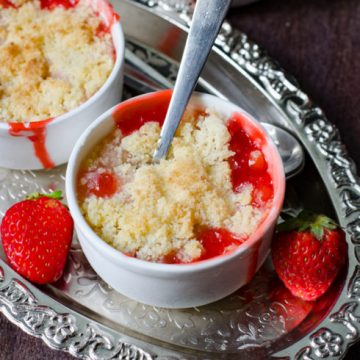 Strawberry Crumble Recipe
Strawberry Crumble- Strawberries and sugar baked with a crispy top in a ramekin. Makes great individual desserts. Can be made ahead.
Ingredients
Strawberries 1 cup hulled and sliced

Sugar 2 tbsp

Corn flour ½ tsp

Lemon juice 1 tbsp

Vanilla 1 tsp

All purpose flour ⅓ c

Butter 25 g

Salt a pinch

Caster sugar 2. 5 tbsp
Instructions
Preheat oven to 180 C

Melt the butter in the microwave in a microwave safe bowl.

Add caster sugar, salt and flour to this and mix just to make a crumbly dough. This is our topping. Set aside.

In another bowl, combine strawberries, 2 tablespoon sugar, lemon juice and vanilla.

Now, divide the strawberry mixture into 4 small ramekins. I used ramekins that are of 125 ml capacity.

Now, spoon the flour mixture over the strawberry mixture and gently spread evenly using a spoon.

Bake in the preheated oven for 20 mins or until tops turn golden.

Serve warm or cold
Pin This Recipe
Pin this recipe and save for later