Strawberrycompote is nothing but fresh strawberries hulled and then cooked in sugar syrup with some flavoring agents. The result is a gorgeousruby red syrupy dessert that can be enjoyed on its own or spread on pancakes, drizzled on ice creams and waffles or blended intogranitas, smoothies andsorbets. Which ever way you want to enjoy strawberrycompote, all it offers is sinful deliciousness. And that too in less than 20 mins in the kitchen. If you take the microwave route, the time is reduced by another 10 mins. So, what s not to love in this strawberrycompote? Most importantly, it converts all strawberry haters into ardent fans. My H became a convert after he had a lick of the ladle.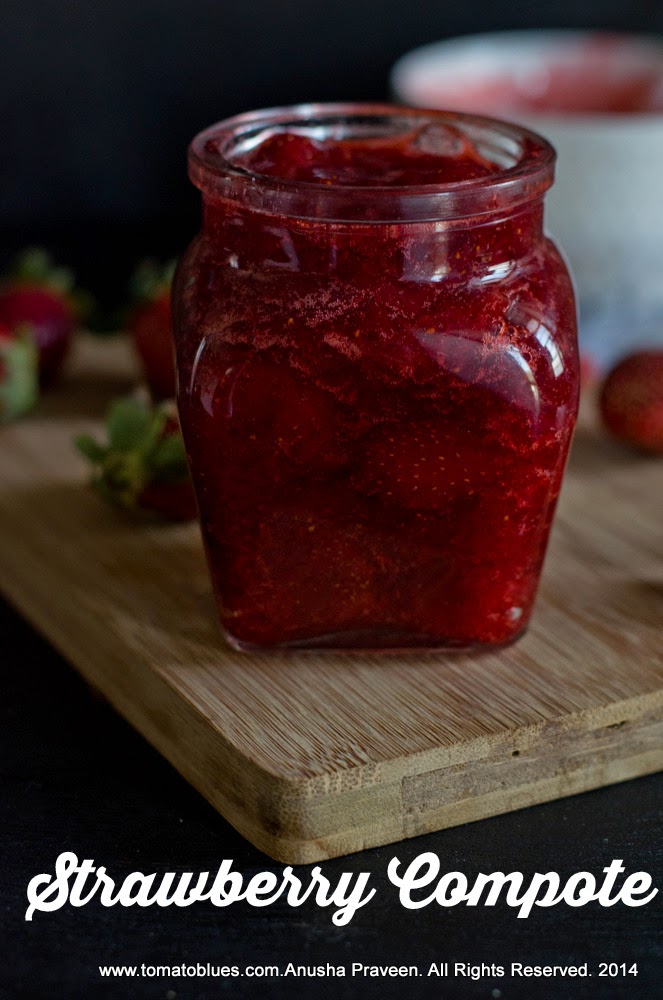 I actually made two batches of the compote. The first one in the microwave and this batch on the stove top. While i did find making this in the microwave quicker, i somehow am more fond of the stove top method only because my house is filled with that strawberry fragrance even before its done. I ll share the microwave method in another post but for now, i guess you all have to be content with the stove top method. How does it matter when you will have a jar of ruby red strawberry compote at the end of it all?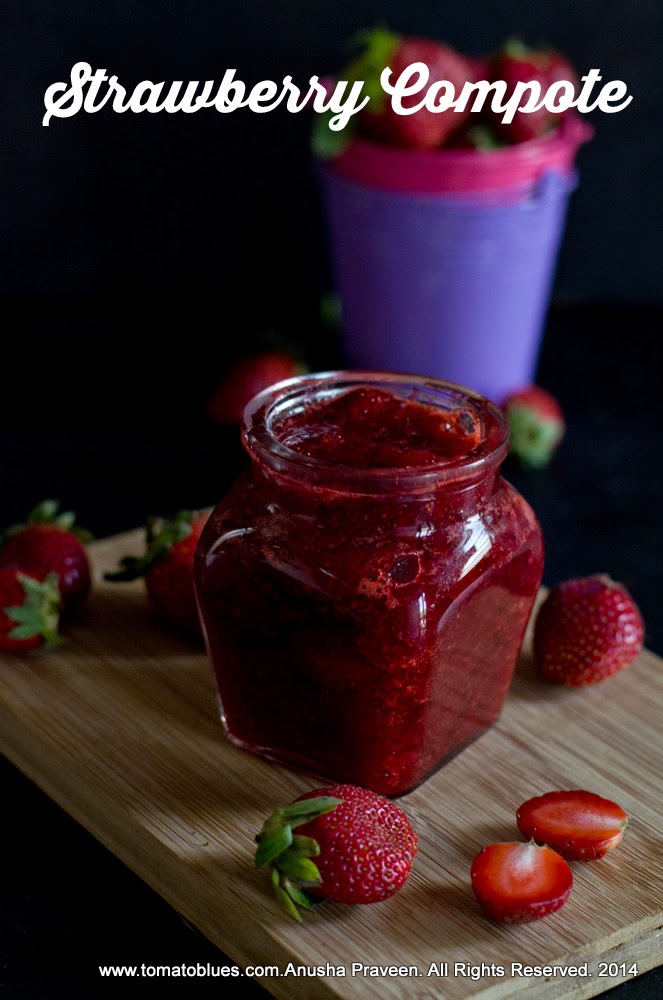 Recipe For Strawberry Compote
( Learn how to make Strawberry Compote, a simple syrupy dessert with fresh strawberries)
Prep Time: 5 mins
Cook Time: 10 mins
Allergy Info: Vegan, Gluten free, Soy free, Nut free
Course: Dessert, Sauce, Spread
Cuisine: International ( European/ Continental)
Serving Suggestions: 

Ingredients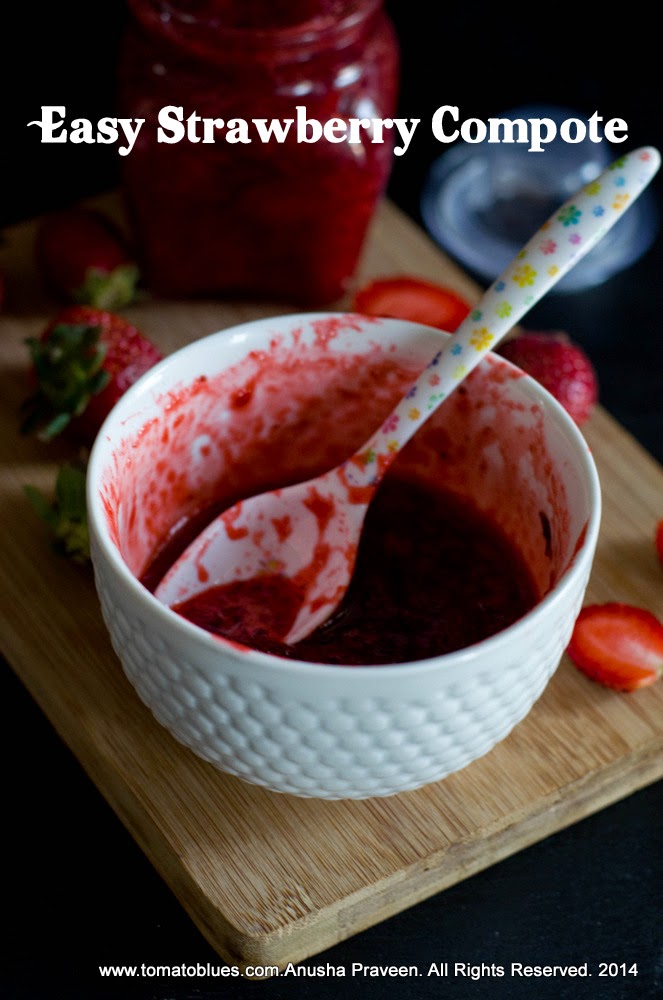 Strawberries 1.5 c hulled
Caster sugar 1/4 tbsp
Vanilla extract 1 tsp
Water 2 tbsp
Directions
In a large pan, combine all the ingredients and cook on medium flame.
Keep stirring and breaking down the fruit gently as the mixture cooks.
Switch off flame once the mixture thickens and begins to stick to the sides of the pan.
Let cool completely.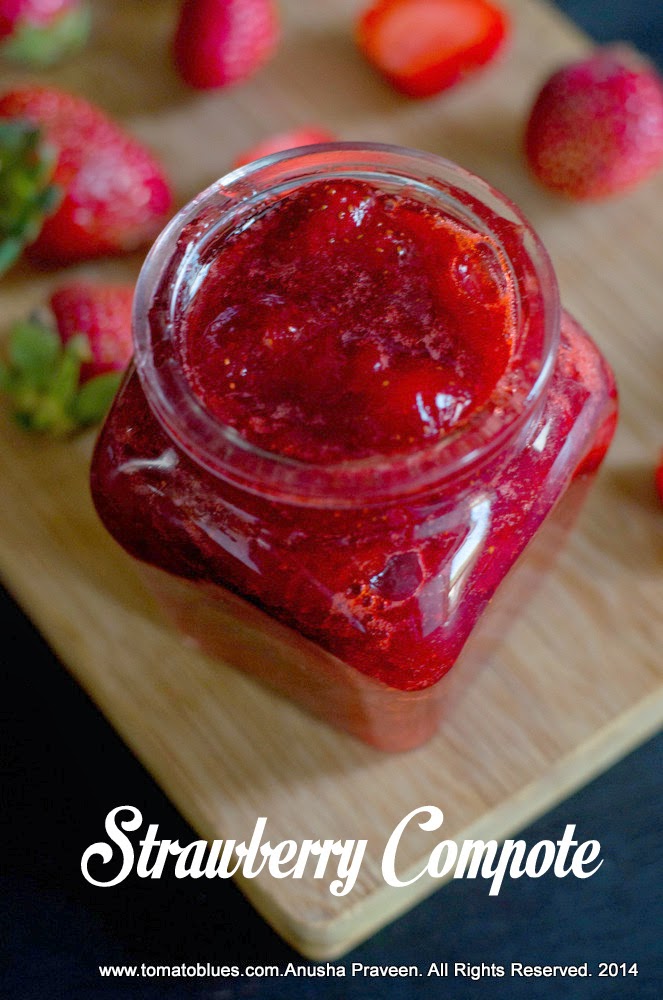 Keep refrigerated in an air tight container and use as required.