So, i tell you that you actually dont need an oven to bake a cake? Wont that change many things? For me, it definitely would.Just so that i can kick away all those crazy cravings that i get at all God forsaken hours. It would save me the trouble of preheating the oven, get a cake mould out, grease, yada yada. See what i mean? The thing is i made some cupcakes without an oven. I really did make them without an oven and they were brilliant. Only i dont know if it would be the same if i made the cake like an entire cake, you know? Like a round 9″ inch something frosted monster? But cupcakes. Steamed ones at that. Works like a charm. Especially when you have some one home or you are going to have some one home a few minutes from now and you know, you dont have any dessert to offer. Even otherwise, these work swell. Just to kill some time. Or to pop a cake in while you watch the 9 PM. As much as it sounds weird steaming a cake, you got to believe me about this one!!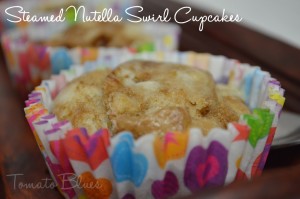 ( Egg free cupcakes with nutella)
Prep Time: 10 mins
Cook Time: 10 to 12 mins
Makes 4 medium size cupcakes
Adapted from here
Ingredients
All purpose flour 1/2 cup
Baking powder 1 tsp
Any neutral oil 1 tbsp
Fresh curd 1/4 cup whisked well
Milk at room temperature 2 tbsp
Sugar 3.5 tbsp
Vanilla 1/2 tsp
Nutella 1.5 tbsp
Directions
In a steamer, add water and let it boil.Once the water starts bubbling, switch off the flame and close. I used my trusted idli steamer for this. But pretty much any steamer will work fine.
Take 4 heat proof and crack proof ramekins and line them with cupcake liners. Its no big deal if you dont have wrappers. Just grease your ramekins extra generously and set aside. I used my ordinary stainless steel cups for steaming my cakes. You can do that too!
In a bowl, combine the flour and baking powder and mix well.
In another bowl, whisk the curd well with sugar. Add the oil, vanilla and milk and whisk using an electric whisk for a minute on high speed.
Add the flour mixture to the liquid mixture and mix just until combined.
Now, take the nutella and mix it lightly into the batter. Its ok if you dont mix it well.
We need those cute streaks. So let s go light on the mixing.
Once done, take about 1.5 tbsp of the batter and pour into the lined ramekins.
Place in the steamer and steam for 10 mins or until a toothpick inserted comes clean. Dont over steam the cakes or you will have something that s very similar to rubber. In case you under steam them, you will have mushy cupcakes. So keep checking after the 10th min. It shouldnt take you more than 15 mins in all.
Once done remove from the steamer and let cool completely.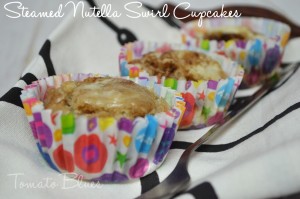 Unmould and enjoy!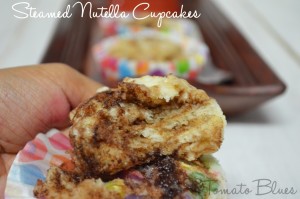 Totally steamed. Make it to enjoy all that steamed goodness of nutella 😀