We chose Sri Lankan Cuisine for week 3 in our
Cookies
clique. Honestly, i m not a person who explores cuisines much. That is, i hate the research that comes along with it. And that s probably why i need to be a part of such amazing groups. They inspire me so much that i actually dust my lazy behind and start working.
When i began researching on
Sri Lankan cuisine
, i was amazed by the simplicity of their meals. While most recipes call for some addition of fish, the sambols, identical to our
chutneys
are simple yet flavorful. The coconut sambol and the mint sambol have already been added to my bucket list. And yes, please look forward to these in the future. I was surprised to find that our
aapam
is very famous in Sri Lanka and so is the parotta and the kothu parotta which is called kottu roti. Basically, Indian and Sri Lankan cuisine are quite similar but what makes Sri Lankan recipes stand apart, is the addition of
coconut milk
and
cinnamon
. I did zero in on quite a number of dishes but decided on this flavored rice finally, for its sheer simplicity.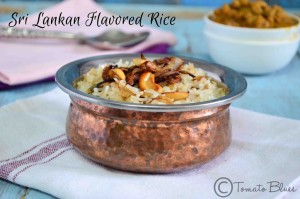 The fact that my post was not ready yesterday was not very unexpected. I am never prepared before hand. I always do it in the last minute ( call me a rusher) but i somehow, puff, pant and meet the deadline on time. I m all set to go home tomorrow. It would surprise you all if i said that i am actually visiting my parents' home after a year. But then i dint want to miss this post. Nevertheless, this wonderful Sri Lankan Flavored Rice. That i found here. Now, this is what i would call a fuss free and finger licking meal. No grinding involved. And a list of spices that s as long as a mile is not even heard of, in this recipe. I made some slight changes to the original recipe. It was a meal that was punctuated with too many satisfied burps. So, needless to say, i m a big fan of Sri Lankan cuisine now. For two reasons, one, this gorgeous flavored rice and two, the ease with which a Sri Lankan meal can be whipped up.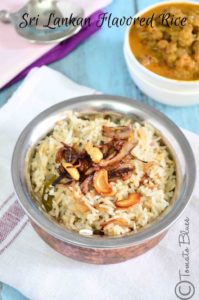 Recipe For Sri Lankan Flavored Rice
( Long grain rice flavored with cinnamon and cardamom and topped with deep fried cashews, raisins and onions)

Prep Time: 1 hour for soaking the rice
10 mins for the rest
Cook Time: 20 mins
Source: Adapted from here
Serves 2 heartily
Allergy Info: Gluten free
Ingredients
Long grain rice 3/4 c ( preferably Basmati)
Thick coconut milk 1/2 c
Water 1.25 c
Curry leaves 2 sprigs
Cinnamon stick 1″
Cardamom pods 2 crushed
Onion 1 chopped finely
Butter 1 tbsp
Salt 1 tsp or more per preference
For Garnish
Onion 1 half moon sliced
Cashews 2 tbsp broken
Raisins 2 tbsp
Butter 1 tbsp
Directions
I made this rice in my electric rice cooker. In case you dont have one, make it in a pressure cooker but cook the rice for only one whistle.
Wash the rice thoroughly and soak in 2 cups of water for an hour.
Drain the water completely and set the rice aside.
Heat a pan with 1 tbsp butter.
Once the butter browns, add cinnamon, cardamom, curry leaves and onions and saute till the onions turn a light brown.
Now add this to the drained rice.
Mix the water and coconut milk together well. I used canned coconut milk, but if you have fresh milk, that will be great. Make sure you use the first press.
Now, transfer the rice to the rice cooker with 1 tsp of salt. Add the coconut milk mixture, mix well and cook till rice is tender and all the liquid is absorbed.
Once done, fluff gently with a fork.
Heat a pan with the remaining butter and let it brown.
Now add the onions and let it cook till light brown.
Add the cashews next and wait for it to turn a golden brown. At this stage, the onions must also be brown.
Now, throw in the raisins and wait for them to fluff up.
Add this mixture to the rice and mix gently, taking care not to break the rice grains.
Serve hot with shahi paneer or the kadala curry, whose recipe is coming your way tomorrow.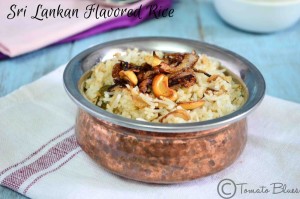 So long till then!
Do check the other cookies, Radhika, Jayanthi ,Kavi, Priya, Priya Mahadevan and Roshni and their Sri Lankan experiments.
P.S. If you are thinking of swapping the butter with oil or ghee, please stop. This rice is gorgeous with all that butter and buttah once in a while is just fine!!
You may use fresh coconut milk made at home but make sure you use the first pressed thick milk.