After
salads
for the last month s Palooza, we decided to have a dosa palooza this month. The first in the dosa palooza series is this Spring Roll Dosa. Now, this is one dish which justifies Indo Chinese cuisine in every sense. Have you ever imagined spring rolls and dosa? Well, its something that s sold as hot cakes on the streets of Mumbai and its very popular with the teens. While i love plain dosa, i m not a very big fan of the regular masala dosa. I always pick a
filling
which is anything but potatoes. This spring roll dosa caught my eye when i was browsing through a cookbook recently . I tweaked it a bit and it was just as delicious. Makes a filling dinner or breakfast and its a fabulous way to use up leftover noodles.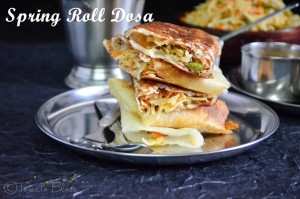 Recipe For Spring Roll Dosa
( Lentil Crepes Filled With Spring Roll Stuffing)

Prep Time: 10 mins
Cook Time: 2 mins for each dosa
Makes 6 dosas
Allergy Info: Vegan

Ingredients
Dosa Batter 3 c( refer notes)
Vegetable Hakka Noodles 1.5 c
Onion Tomato Chutney 1/2 c
Spring onions 4 tbsp chopped finely
Oil 3 tbsp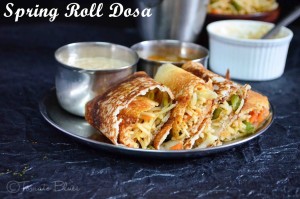 For Serving
Chettinad Tomato Chutney
Roasted Garlic Coconut Chutney
Sambar ( recipe soon!)
Directions
Heat a tawa.
Pour 1/2 c of dosa batter on the tawa and spread into a thin circle starting from the center and going to the edges.
Drizzle about 1/4 tbsp oil on the sides.
Once you see no raw batter on the dosa and the sides have crisped up, flip and cook for 45 secs. Drizzle another 1/4 tbsp of oil.
Once done, flip over. Reduce the flame to the lowest.
Smear about 1 tbsp of chutney evenly on the dosa.
Sprinkle some spring onion on the dosa.
Place about 1/4 c of noodles on end of the dosa.
Now roll up the dosa.
Remove from heat and cut into three pieces with a sharp edged spatula.
Serve immediately with chutneys and sambar.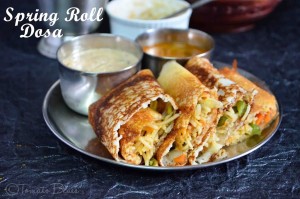 P.S This dosa tastes good only when served immediately.
You can make the noodles and chutneys ahead.
For making dosa batter, click on the link mentioned in the ingredient list.