Its day 5 of the BM13.Remember, i was talking so fondly about suma aunty s recipes in my other post. Well this is just one of her recipes but i tweaked it a little. Nevertheless, the flavors were just like the way i prefer. Mellow and yet lovely. This one is a quickie on the stove and the only thing you need to remember is to buy chives or spring onions.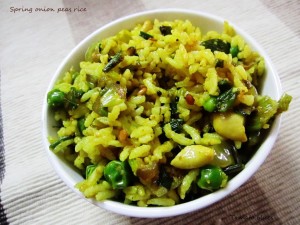 Prep Time: Under 20 mins


Cook Time: Under 20 mins


Serves 2


What you need?
Spring onions a small bunch chopped finely
Shallots or pearl onions 10 to 12 peeled and chopped
Green peas 1/4 cup
Cooked rice 1 cup
Lemon juice 2 tbsp
Turmeric powder 1/2 tsp
Vaangi bath powder or sambhar powder 1.5 tsp
Oil 2 tbsp
Mustard seeds 1 tsp
Urad dal 1tsp
Dry red chili 1 torn
Curry leaves a sprig
Salt to taste
For Garnish
Cashews roasted in ghee 2 tbsp
How to make it?
Heat a pan with the oil and add mustard seeds. Once it splutters, add the urad dal and dry red chili. Add curry leaves next.
Now, add the shallots and the spring onions and saute till the onions turn a light brown.
Add the turmeric powder and the spice powders. Saute for another 2 mins.
Next add the salt and rice to this mixture and combine well.
Let it cool down a bit.
Then add the lemon juice and mix well.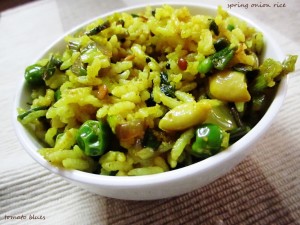 Garnish with cashews and serve hot with appalams or any raitha. Even stir fries go great with this rice if you are packing it for lunch. See what the other marathoners are cooking up by clicking Blogging Marathon page for the other Blogging Marathoners doing BM#12.


Note: If you dont have shallots, feel free to use regular onions. Either ways, it tastes great!!