How To Make Spicy Rice Noodles With Tofu?
SPICY RICE NOODLES WITH TOFU- WHOLESOME MEAL WITH GRILLED TOFU, VEGGIES AND PEANUTS.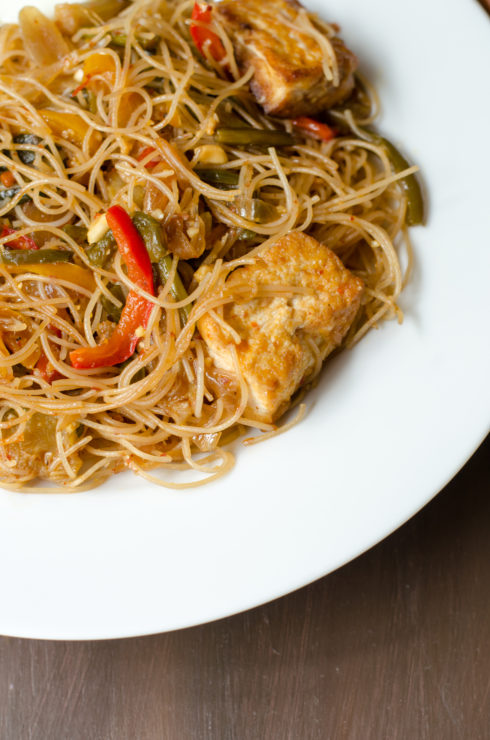 Spicy rice noodles with tofu is something that i resort to when i need a wholesome meal and yet do not want to make five different dishes. This spicy rice noodles with tofu is a vegan recipe as such but i added a boiled egg to the platter just to make it a tad healthier.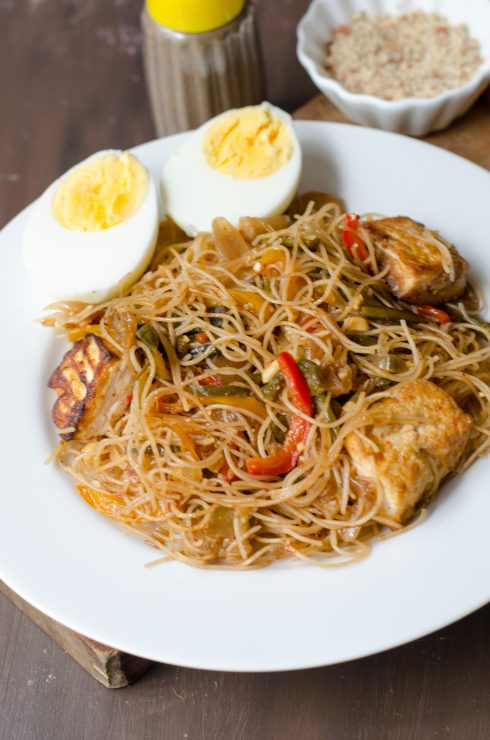 This spicy rice noodles with tofu comes together in less than half an hour if you have all the ingredients handy. I always have a stash of roasted peanut powder in my pantry. As for the noodles, the rice noodles have replaced the regular ones ever since we have moved to SG. I grilled the tofu after pressing it well on a grill pan. You can also grill the tofu in an oven or a broiler.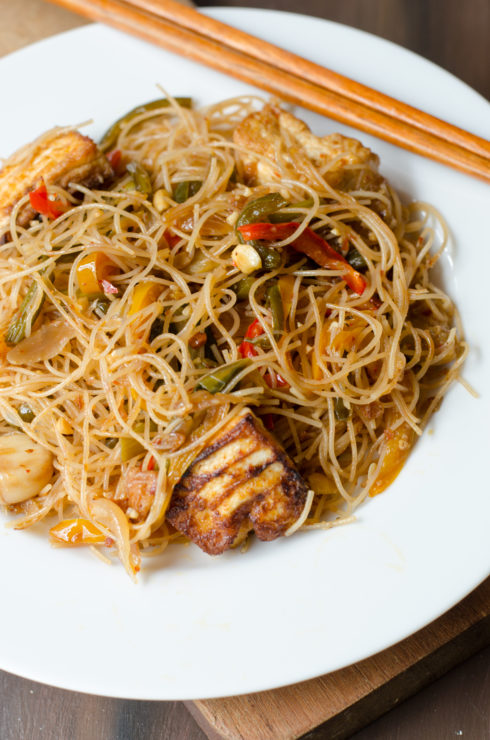 You can use any veggies you desire to make these noodles. Bell peppers, bok choy, broccoli, carrots, spring onions and beans work really well here. If you are looking for a gluten free  version, use Tamari sauce instead of the regular soy sauce. I have used thin rice noodles for this. You can also use flat rice noodles that are slightly thicker. Regular hakka noodles will also taste good but they wont be gluten free.
 Recipe For Spicy Rice Noodles With Tofu
Spicy Rice Noodles With Tofu
Author:
Prep time:
Cook time:
Total time:
Spicy Rice Noodles With Tofu- A wholesome meal with rice noodles, tofu, veggies and peanuts. Vegan.
Ingredients
Rice noodles 100 g
Bell peppers (red, green and yellow) 1/2 cut into long strips
Bok choy 2 staks chopped finely
Spring onions 2 stalks chopped finely
Onion 2 medium sliced thinly
Garlic 5 cloves sliced thinly
Tofu 1/2 c pressed and cubed
Soy sauce 1 tbsp
Red chili sauce 1 tbsp
Vinegar 1/2 tsp
White pepper powder 1 tsp
Sugar 1 tsp
Roasted peanut powder 2 tbsp
Salt to taste
Chinese Sesame oil 2 tbsp
Coriander leaves for garnish
Lemon wedges to serve
Instructions
Cook rice noodles according to packet instructions. Set aside.
Heat a grill pan and coat with some oil.
Place the cubed tofu and grill on both sides evenly.
Drain and set aside.
Heat a pan with oil.
Add garlic and fry till golden.
Add onion and fry till translucent.
Add all the other vegetables along with salt and sugar next.
Cook till half done.
Now,add soy sauce, chili sauce , vinegar and peanut powder and mix well.
Add the grilled tofu to this and mix gently taking care not to break the tofu.
Add the rice noodles to this and mix well.
Top with peanut powder and coriander leaves before serving.
Serve hot with a lemon wedge by the side.