I am not a big fan of savory dishes that are laced with some amount of sweetness. Lets just say, i love my spicy dishes spicy and sweet ones sweet. And i m not the " Canning, Preserving, Freezing" momma either. But then 
Aparna posted this Jam recipe
 and totally inspired me to use up the last few apples left on my counter. I did not follow her recipe to the T but made a few inclusions and exclusions to this recipe. I found that this jam works very well with those soft apples that you get in the market as they cook quickly and easily. But sometime soon, ifi m lucky to spot some tangy granny smiths here, i ll try my hand at this jam with them too.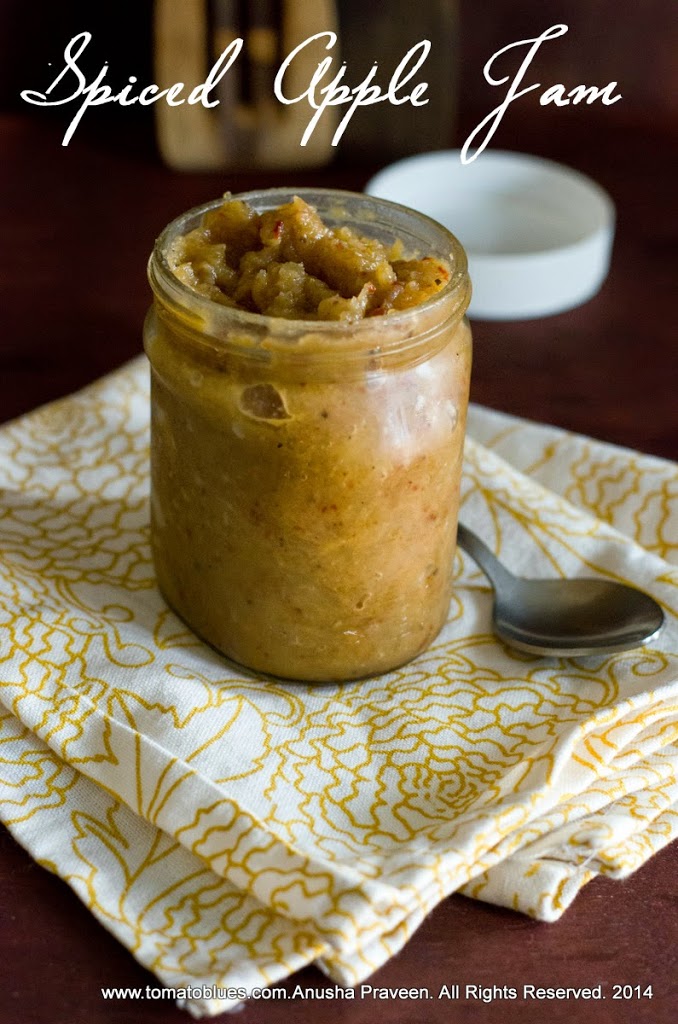 This  Spiced apple jam recipe tasted delicious with some hot phulkas and we also  spread it on our breads along with some cheese. The salty cheese, the slightly spicy yet sweet jam did wonders to our morning breakfast. Plus this also makes a great holiday gifting option. So, get your mason jars out and start simmering those apples away.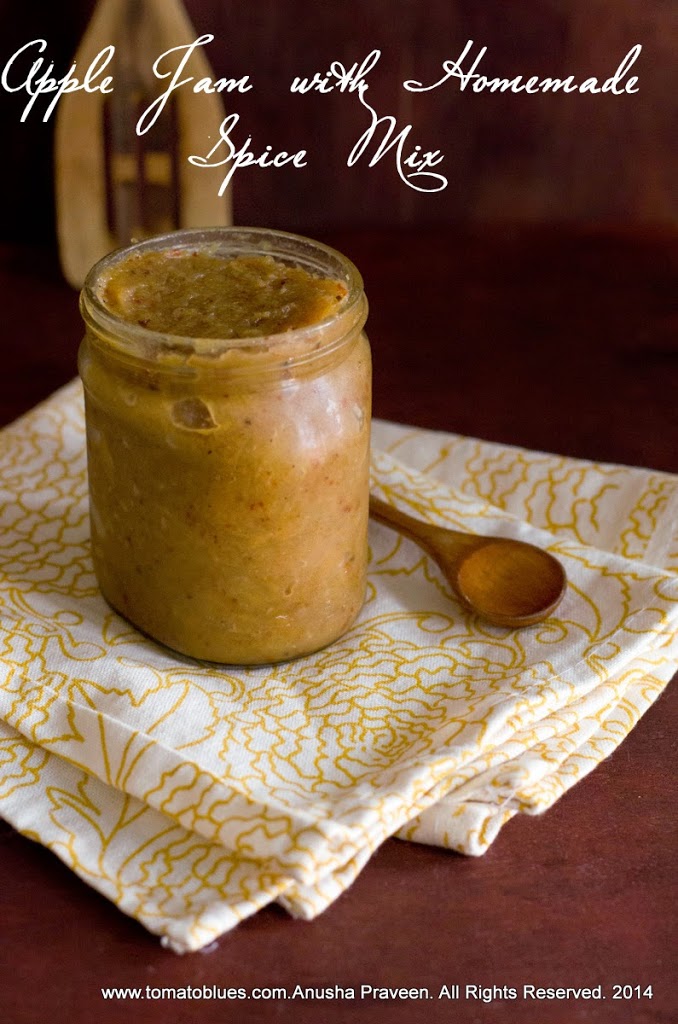 Recipe For Spiced Apple Jam
( Learn how to make Spiced Apple Jam Recipe, a spread made with homemade spice mix and apples)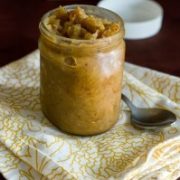 Print Recipe
Spiced Apple Jam Recipe
An easy way to make jam with apple and an assortment of spices. Gluten free.
Ingredients
Apples 6 medium ones peeled

cored and chopped into little pieces ( see notes)

Apple peels 2 to 3

see notes

Butter 2 tbsp

Sugar 1/2 c

see notes

Grated ginger 1 tbsp

Lemon zest 1 tbsp

Lemon juice 1 tbsp

Nutmeg 1/2 tsp grated

Salt a pinch

For the Spice Mix

Coriander seeds 1 tbsp

Cloves

3

Cinnamon stick 1"

Fennel seeds 1/2 tsp

Dry red chilies 2 to 3
Instructions
In a pan, dry roast the ingredients required for the spice mix until just aromatic. Let cool and grind to a smooth powder. Set aside.

In a mixing bowl, toss together the apple bits, lemon juice and salt and set aside.

Heat a small pressure cooker with 1 tbsp butter.

Once the butter melts, add the apples and stir them till they are coated with the butter.

Add about 1/4 c of water to this along with the sugar and mix well.

We are not making sugar syrup here. The idea is to just dissolve the sugar well.

At this stage, tip in the lemon zest, ginger and nutmeg and mix well.

Turn the heat to a medium low and let the mixture simmer.

When the mixture simmers, add the apple peels and the spice powder and mix again.

Now, all you have to do is just wait, stir some, wait and stir some until the jam cooks completely.

For this, you need to keep stirring the jam in between and let the jam cook until you see no apple bits.

When the jam has cooked to a complete mush, remove the peel and mix in the remaining butter.

Once done, let cool completely.

Transfer to clean sterilized jars and enjoy
Notes
1. Pick soft apples preferably as they cook faster and easily.
2. Make sure you sterilize your canning jars well before you begin making the jam.
3. Use dark brown sugar or muscavado sugar for a deep brown color jam.
4. This jam does not use any pectin and instead relies on the pectin in the apple peel. What i did was left the peel on in one apple. We happen to love apple peels and that s why. If you dont want to do that, reserve a few peels and add to the jam. Remove them once the jam is done
For Instant Pot & Air Fryer Recipes
Instant Pot timings may vary based on your geographic location. Air fryer settings and timings may vary based on the capacity and the model of the Air fryer.
Disclaimer
Nutrition values are provided here as a courtesy and are only a rough guide. Please consult a health care provider if you have any concerns.