In my vegetable likes list, there are ranges from frenzy to hatred. If you know, what i m talking about, then you also have a similar list. Coming to the list itself, while there are some veggies that can give me a heady feeling of euphoria, ( almost like the fragrance of petrol or even some varnish) there are some which i think are probably God s way of punishing the once excessively naughty and troublesome me. Well, you guessed it right and one such veggie is the Cabbage. The ubiquitous cabbage. The smelly cabbage. The cabbage in red. The cabbage in green. The cabbage in yellow. The cabbage that tastes bitter. The cabbage with the thick and lumpy leaves. Oh, i could go on and on.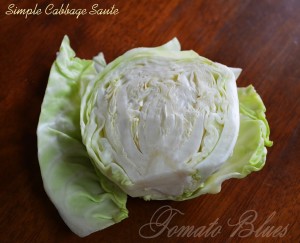 If you allow me, i ll write a sonnet or an ode for the cabbage and will probably call it An Ode To The Vegetable That Needs A Body Spray sort of thing. Do you get my idea? Now that i ve actually started off, i might as well write a sonnet or rather an ode. It will probably go like this.
The fat ole cabbage,
stink full of leaves,
And some of greens.
In the lush green fields,
A place it has,
And people who tend to it,
But no matter what,
Its just stink that the cabbage leaves.
So full of peeves.
The deep purple ones,
the creamy yellow tonnes,
And then the spring green fellas.
So much of color and yet all the same.
No matter what color,
what shape.
The cabbage is just one big round
which is lifeless and
then of course, tasteless!
Now that s what happens when you get me started on cabbage. I cant believe i wrote a whole poem. Ok so now that i ve told you all about my intense dislike for cabbage, i also have to agree that its not as bad as it smells and then, there s the phosphorous in it. So i do eat it now and then but i make sure that i make it in a decent way. This is just one of my ways of making cabbage and is probably as easy as eating a cake. Try it on one of those days when you are not upto too much chopping or when you are running late for that pedicure appointment but yet to make lunch. Oh and yeah and by the way, i must accept,cabbage makes a fantastic photo subject. So its definitely not as bad as it stinks. I m just saying.
Recipe For Simple Cabbage Saute
( Learn how to make a simple cabbage saute with spices and cabbage)

Ingredients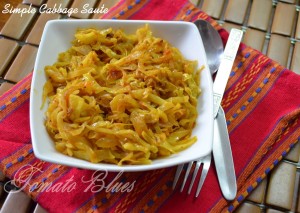 Cabbage chopped finely 2 cups
Onion 1 large chopped finely
Tomatoes 2 small chopped finely
Ginger garlic paste 1 tsp
Cumin seeds 1 tsp
Carom seeds 1/2 tsp
Oil 2 tbsp
Salt to taste
Turmeric powder 1/2 tsp
Spice Powders:
Red chili powder 1/2 tsp
Cumin Coriander powder 1/2 tsp
Garnish:
Chopped coriander leaves 2 tbsp
Directions
Heat oil in a pan.
Add cumin seeds and caraway seeds.
Once they crackle, add the onions and saute until pink.
At this stage, add the ginger garlic paste and saute for another 30 secs.
Next add in the spice powders and saute for 30 secs.
At this stage, add the chopped tomatoes and cook till oil separates.
Now, add the cabbage and salt and cook on a low flame for about 7 to 8 mins until the cabbage is cooked.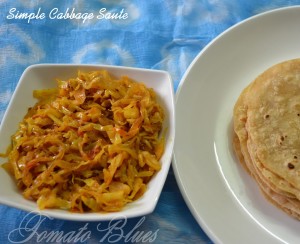 Once done,garnish with coriander leaves and serve hot.
Sending this to Kalyani s Kitchen Chronicles Only Vegan hosted by Vardhini this month.