Should i even launch myself into an introduction for this ubiquitous yet tongue tickling dessert? Its omnipresent as far as the south of India goes and its that dessert which is fail safe and life saver at the most unexpected of times. So, why am i sharing the recipe? Because, while some of us have already made our marks in cooking food, there are newer brides and little girls stepping into colleges with their own kitchens to rustle up a meal or two.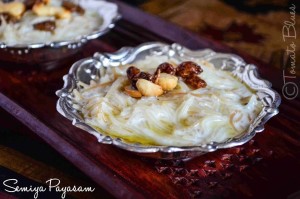 Recipe For Semiya Payasam
( Dessert made with vermicelli, milk and clarified butter)
Prep Time: 5 mins
Cook Time: 20 mins
Level: Easy
Serves 3
Ingredients
Vermicelli 1/2 cup ( unroasted)
Full fat milk 1.5 cups
Sugar 1 cup
Ghee 2 tbsp divided
Green cardamom 1
Cashews 2 tbsp broken
Raisins 2 tbsp
Directions
In a pan, heat 1 tbsp of ghee.
Add the cardamom and the vermicelli and saute till the vermicelli turns a light golden brown.
At this stage, add 1 cup of milk and mix well.
Bring down the flame to the a medium low and let the vermicelli cook until all the milk has been absorbed.
Now, add the sugar and mix well. The mixture will turn a bit liquid at this stage.
Add the remaining milk and give it a nice stir.
Simmer for about 3 to 4 mins more.
Switch off flame.
In another pan, heat 1 tbsp of ghee and add the cashews and roast till golden brown.
With the help of a spoon, remove the cashews from the ghee and add to the payasam.
Now, add the raisins to the ghee and saute till they fluff up.
Once fluffed, add the raisins and the ghee to the payasam.
Mix well.
Serve warm or serve chilled.
To make the dessert exotic, add a scoop of ice cream before you serve in case you are serving it cold.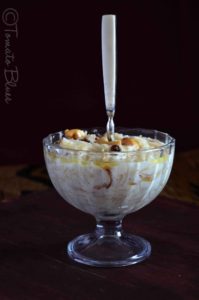 Mango and vanilla work best. Chocolate, i wont recommend but then try and dare if you must and do let me know!