I have a gargantuan addiction of chinese food. Either ways that is. Indo chinese or the authentic Chinese food. You say it and i ll follow you like a Hutch Pug throughout. The brownie point is that i love cooking chinese too. Unlike other oriental cuisines that pretty much call for ingredient lists that are as long as the Great Wall, Chinese food has considerably fewer ingredients, more veggies and terrific flavor. What takes the cake is the fact that it s a crowd pleaser.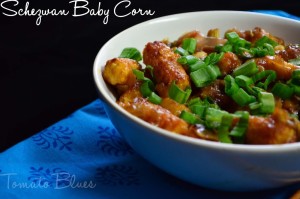 But what i m not sure of is whether Schezwan is chinese. But i m taking the liberty to call Schezwan, Chinese because i was recently served this at a Chinese place and it tasted out of the world. Well, curiosity did kill the cat and i asked the hotel people how did they make it and they did give me a long and winding procedure. I picked what i wanted to use in the recipe and discarded the rest. I have modified the original recipe given by those folks here and the result was simply brilliant. And we went truly Indo Chinese by eating this with rotis. So, it s a win win situation anyway. Roti. Rice. Either ways, its drool worthy.
Recipe For Schezwan Baby Corn
( Baby corns marinated, fried and dunked in spicy sauce)
Prep Time: 30 mins for the marination
10 mins for the rest
Cook Time: 30 mins
Level: Intermediate
Source: Hearsay
Serves 3
Ingredients
Baby corn 10 to 15
Onion 1 large chopped finely
Spring onions 2 stalks chopped finely
Green chilies 2 chopped finely
Garlic 10 pods chopped finely
Ajinomoto 1/2 tsp
Corn flour 2 tbsp
Oil for shallow frying
Salt to taste
Marinade
Vinegar 1 tbsp
Ginger garlic paste 1 tsp
Soy sauce 1 tbsp
Salt 1/2 tsp
Sauce
Tomato sauce 2 tbsp
Red chili sauce 3 tbsp
Soy sauce 1 tbsp
Corn flour 1 tbsp
Water 1/2 cup
Directions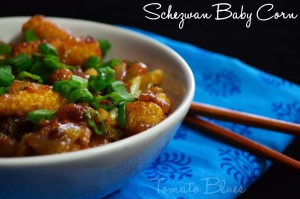 In a mixing bowl, place all the ingredients for marinade. Combine well.
Clean the corn thoroughly, place in boiling water for 2 mins, drain and then add to the marinade. In case you are using tinned corn, you need not place the corn in boiling water.
Toss well and set aside for 30 mins.
After 30 mins, coat the baby corn with corn flour generously.
Heat oil in a pan.
Shallow fry the baby corn until golden brown.
Drain on a kitchen towel.
Now, lets make the sauce.
In the same pan that you used shallow fried the corn, add the garlic and green chilies and fry till light brown.
Now, add the chopped onions and fry till golden brown.
In the meanwhile, combine 1 tbsp corn flour with 1/2 cup water and set aside.
Next add the spring onions and fry just until wilted. Takes about a min.
Now, add the sauces and combine well.
Cook the sauces on high flame for 30 to 40 secs.
Now, add the corn flour water mixture and stir well.
Cook on medium flame until the mixture turns almost dry.
Once done, transfer to a bowl.
Garnish with chopped spring onions.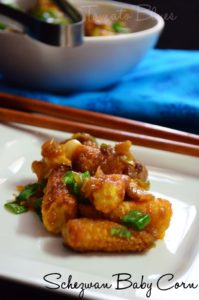 Serve hot with vegetable fried rice or rotis.