A few days ago, i was making breakfast for myself. I m actually a huge breakfast person. Lunch is what i hate. But a huge spread of breakfast that has cereal, bread, fruits or some steaming hot idlies and sambar is something that has me squealing with delight. Mr.P, not being a very breakfast person, we dont have such extensive breakfasts at home. While i m alone, i whip up something that suits my palate. And this savory bread pudding is something that i did when i was alone and was craving delish breakfast. This makes a fabulous start for a day. You simply put everything together the first thing in the morning, pop it in the oven and set about your tasks. You come back to a bowl full of yum with the goodness of some veggies and some tangy buttermilk.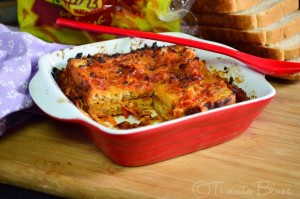 Recipe: Savory Bread Pudding
Cuisine: American Course: Breakfast Allergy Info: Nut free
__________________________________________________________________________________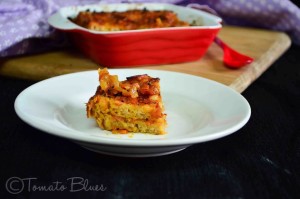 Ingredients
Bread Slices 4
Onion 1 small chopped finely
Tomatoes 2 med chopped finely
Carrot 1 small peeled and grated
Chili powder 1 tsp
Garam Masala 1/8 tsp
Coriander powder 1/2 tsp
Coriander leaves 1 tbsp chopped finely
Sour buttermilk 1 c
Salt to taste
Oil 1 tbsp
Mustard seeds 1/2 tsp
Butter or oil for greasing a deep baking dish
Directions
Preheat oven to 200 C.
Heat a pan with oil.
Pop the mustard and add the onions.
Cook till transparent.
Add grated carrot next and cook for a min.
Now, add tomatoes and all the spice powders.
Cook till tomatoes turn mushy.
Add coriander leaves and mix well.
Take a small deep baking dish and grease with some butter or oil.
Dip a bread slice in the buttermilk for 5 secs and place in the dish.
Take about 1.5 tbsp of the onion tomato mixture and spread evenly over the bread slice.
Take another bread slice and dip in the buttermilk and cover.
Spread the onion tomato mixture again.
Repeat with the remaining bread slices and onion tomato mixture.
Bake uncovered for 25 to 30 mins until top is dry and golden brown.
Once done, let cool for 10 mins.
Slice and serve hot or dig in as it is.
Tastes best when eaten hot.