Vadodara is teeming with greens. Mustard leaves abound the vegetable market and its hard to resist bunches of nutrition. But the very thought of cleaning them makes my lazy mind and body reel. And still.Whenever i make a trip to the vegetable shop, i come back with an arm load of greens. I try and turn away whenever i see them. I know i dont need that many. But i have a greedy mind and a greedier tongue. When my fridge got crowded with mustard greens, i peered in and then said to myself, Ok! one more day and shall make it. When my fridge got really crowded with spinach and mustard and i had to nudge the other veggies to make space in my veggie compartment, i knew i had reached the tail end. I made up my lazy mind to start cleaning those green bunches until the final dregs of mud disappear. I did clean them and made saag paneer. I wont at all complain when its saag paneer. The complete winter piquant of a dish.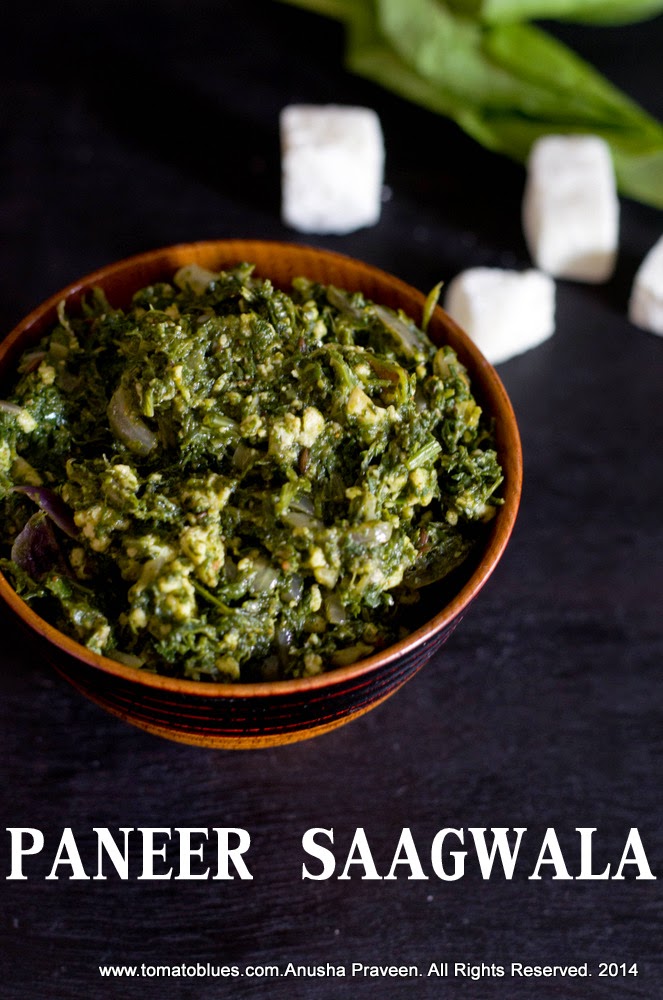 ( Learn how to make Saag Paneer, also known as Paneer Saagwala, where cottage cheese cubes and greens are cooked together with mild spices)
Prep Time: 30 mins
Cook Time: 20 mins
Serves 2
Allergy Info: Gluten free, Nut free, Soy free
Course: Accompaniment, Dip
Cuisine: Indian ( Punjabi)
Ingredients
Mustard greens 1 bunch
Spinach greens 1 bunch
Mint leaves 10
Cilantro 3 tbsp
Onion 1 large chopped roughly
Ginger 1/2 '
Garlic 3 cloves
Green Chillies 2
Garam Masala 1/2 tsp
Coriander Cumin powder 1/2 tsp
Corn flour 1 tbsp
Oil + ghee 2 tbsp
Salt to taste
Paneer cubes 1 cup crumbled
Directions
When it comes to greens, less contact with water means less loss of nutrition. So i steamed my mustard,spinach greens, mint and cilantro in the microwave for 5 mins. After steaming the greens, keep them aside to cool down. Once cooled down, make a coarse paste of the greens. Dont add water and dont steam mint leaves and cilantro.
Now, grind the onion. green chilly, garlic and ginger to a paste in a blender without adding any water.
Heat oil and ghee in a pan. Add the onion paste. Saute for 2 mins on a medium flame.
Add paneer and mix well until the onion mixture coats the paneer
Now, add all the spice powders and combine well.
Next, add the greens mixture and combine well.
Add salt next and combine well.
Sprinkle corn flour on the curry and mix well,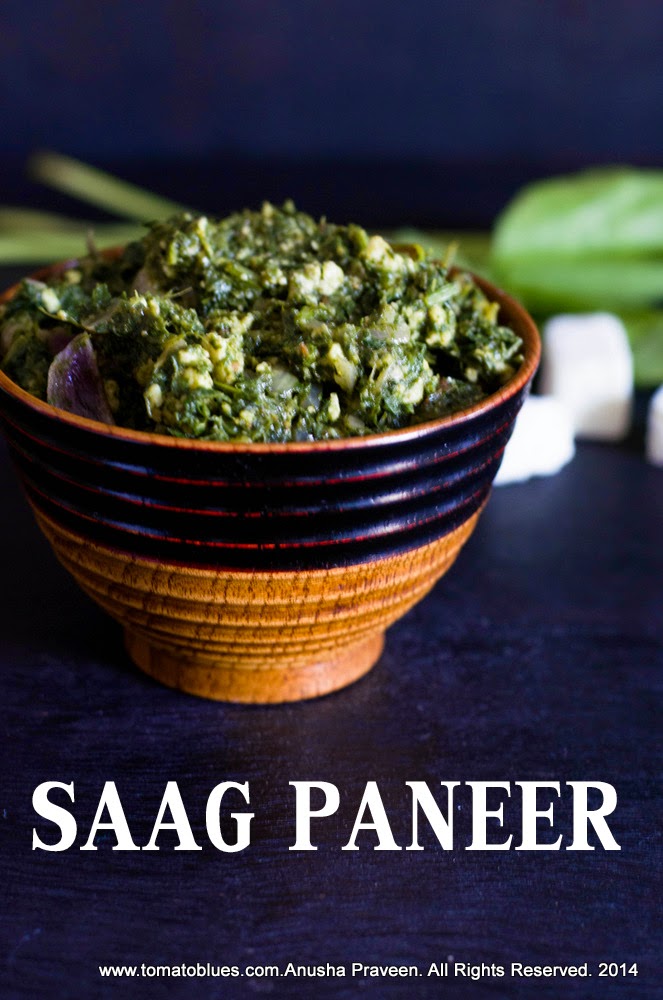 Now simmer for 2 more mins.