The internet is spilling with recipes that can be made in a jar. One sees what not in a jar? Brownie mix, trail mix, crumbles, pies, cobblers and even bread. Canning and Pickling in jars are a thing of the past now. We are the smart women clique who do everything in a jar. This month s
Recipe Redux
challenge was to put a jar to a delicious culinary use. And i chose to make
dessert in a jar.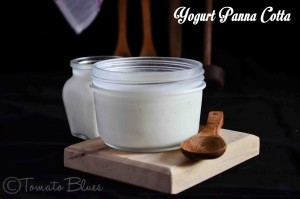 I have a fetish for desserts. And desserts that are not loaded with butter or clarified butter sings to me, " Come on, baby! " all the time. What i love about desserts in a jar is that they are controlled portions and totally mess free. Now, coming to Panna Cotta. The Italians sure do know their desserts. When it comes to picking one dessert, it will be panna cotta for me. I came across yogurt panna cotta a while back while i was scouring for panna cotta recipes. I was tempted to make it even way back then but cardamom and mango were almost having affairs with me. So, i let the thought be, only to make it happen with this month s challenge to whip up something delish and relish in a jar. I was simply amazed at how simple ingredients like cream, milk, sugar and yogurt can give one a high. Need i say more?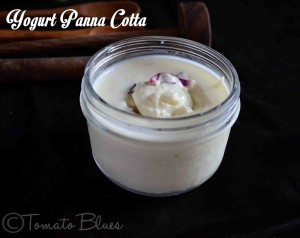 Recipe For Rose Yogurt Panna Cotta
( Panna cotta made with yogurt)

Prep Time: 10 mins
Cook Time: 15 mins
Setting Time: 8 hours or overnight in the fridge
Serves 2 very generously
Allergy Info: Gluten free, Grain free

Ingredients
Thick fresh yogurt 200 g
Milk 1/2 c
Cream 2 tbsp
Sugar 1/4 c
Dried rose petals 2 tbsp (the edible kind)
Rose water 1 tbsp
Rose extract 1 tsp
Gelatin 2 tsp
Cold water 1 tbsp
Directions
In a small bowl, bloom the gelatin by mixing with 1 tbsp cold water and resting for 10 mins. The gelatin would have become jelly like after 10 mins.
In a pan, combine sugar, cream and milk and heat until it comes to a rolling boil. Switch off flame and let cool completely.
Whisk the yogurt well making sure there are no lumps.
Add rose water and rose extract to the yogurt and mix.
Once the milk mixture is cool, add the dried rose petals.
Take about 2 tbsp of the milk mixture and add to the gelatin. Mix thoroughly, stirring with a whisk.
Add this to the yogurt and mix well.
Now, add the milk mixture to the yogurt. You have to be careful here. Do not add the yogurt to the milk mixture.
Pour into jars and let set overnight.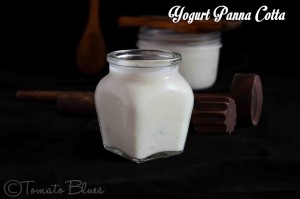 Serve cold as is or topped with any fruit gelee of your choice.
Now here s what others whipped up for this month s Recipe Redux. Please note that this linky tool is only for Recipe Redux members and all other Non Recipe Redux member link ups shall be deleted.