Mmmmm… its a lazy sunday and its day 4 of the BM13. Let me be very honest with you. I ve no intentions to enter the kitchen in even the farthest future today. I have been bitten by that lousy bug called lazy and i need not tell you how much that bite can effect you. Well its bitten me now and no i dint make this today. I made it for lunch yesterday with some yummy bread raitha. Mr.P who detests any kind of lunch box or picnic recipes, gobbled it up in the first shot and then had a second helping too. And then my students came along, nibbled a bit and then oohed and aahed over my rice. By then , i was sure that i had a top dog recipe with me. So that s what is for Day 4 BM13.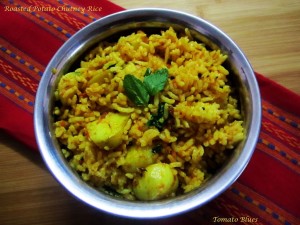 Prep Time: Under 20 mins


Cook Time: Under 30 mins


Serves 2
What you need?
For the gravy mixture:
Onion 1
Tomatoes 2
Green chillies 1 to 2 depending on the heat you like
The Spice Powders:
Turmeric powder 1/2tsp
Garam Masala Powder 1/2 tsp
Coriander Cumin powder 1/2 tsp
For The Rice:
Cooked Rice 1 cup cooled and grains separated.
Baby Potatoes 150 g or 10 no.s boiled, peeled and halved.
Fresh curd 1 tbsp
Ghee 1 tsp
Salt to taste
For The Tempering:
Mustard seeds 1 tsp
Urad dal 1 tsp
Cumin seeds 1/2 tsp
Dry long red chilli
Oil 2 tbsp
For The Garnish:
Cilantro leaves chopped finely 2 tbsp
Mint leaves 2 to 3
How to make it?
Preheat the oven to 180 deg. Line a baking tray with foil, spray with oil and place the potatoes on it. Roast for 20 mins until they are light brown.
In the meanwhile, grind together tomatoes, onion and green chilli to a fine paste without adding water.
Heat a pan with oil. Add all the ingredients for tempering starting with mustard seeds.
Now, add the ground paste and saute well. Fry till the oil separates from the gravy. Takes about 5 to 7 mins.
Now, add the spice powders and combine well. Add the curd and mix well and cook on low flame for 30 secs. Keep aside.
Once the potatoes are done, add them to the gravy and saute for a min on low flame.
Add the rice, salt and ghee to the potato mixture and combine well.
Garnish with cilantro leaves and mint leaves.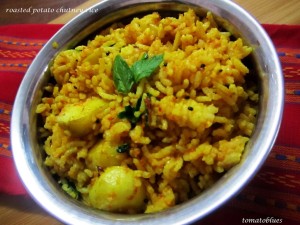 Serve hot with any raitha or pack it away with some flavourful gobi potato curry.
Note: Instead of roasting the potatoes in the oven, you can also deep fry it. I just stuck to the healthier version.
You can boil the potatoes previous night and store in the fridge.
I added the curd which gave me a nice creamy texture to the rice. You can also add cheese to this rice. Say about 2 tbsp grated for 1 cup of rice and the kids will surely love it.
You have to plan a lil for this recipe but believe me its truly worth all that planning. Have a look at the other marathoners by clicking here.
Blogging Marathon page for the other Blogging Marathoners doing BM#12
If you want to know more on the marathon, then join us here