Its quite strange that i never bother to post some simple recipes on the blog. Well, there s an argument from my side. I feel people dont look up blogs for basic or simple recipes. But in the past few days, i ve been proven wrong. And Mr.P reminded me one day about my tendency to tweak some basic recipes and how those reach a totally different level. This chutney is also one such tweaked version of the basic red coconut chutney. You have to believe me on this when i say the chutney does taste incredibly good.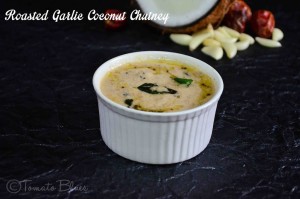 Recipe For Roasted Garlic Coconut Chutney
( Chutney with fresh grated coconut and garlic)

Prep Time: 10 mins
Cook Time: 2 mins
Serves 2 to 3
Allergy Info: Vegan, Nut free

Ingredients
Freshly grated coconut 1/2 c
Fried gram dal (pottukadalai/chutney paruppu) 2 tbsp
Garlic cloves 4 to 5
Dry red chilies 2
Tamarind pulp 2 tsp
Oil 1 tsp
Salt to taste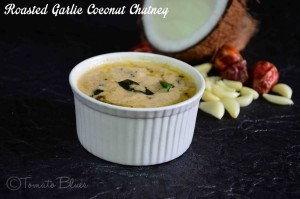 For Tempering
Oil 1 tsp
Mustard seeds 1 tsp
Curry leaves a sprig
Directions
Heat a pan with 1 tsp oil.
Slightly crush the garlic cloves.
Add the dry red chilies and garlic to the oil and roast them until light brown. Let cool a bit.
In a blender, place the coconut, chutney dal, roasted garlic, tamarind and dry red chilies along with salt.
Add about 2 tbsp water and grind to a smooth paste.
Add more water if you find the chutney too thick.
Heat a pan with a tsp of oil.
Pop the mustard seeds and add the curry leaves.
Now add this to the ground paste.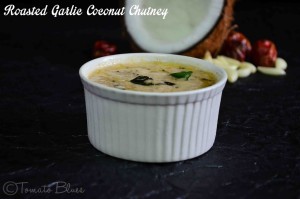 Voila! your chutney is done.