I ve always considered pesto to be the western counterpart of our chutneys. But it took me a while to get used to the idea of grinding together some herbs, garlic and nuts to a fine paste. Well, lets just say, i woke up to Pesto a little late. But oh, there s no turning back now. I m addicted to pesto, this roasted cherry tomato pesto in particular. It tastes good just about with anything, sandwiches, parathas, pasta and what not. I recently made a pasta with this pesto and i regretted not making more of it. Enough said?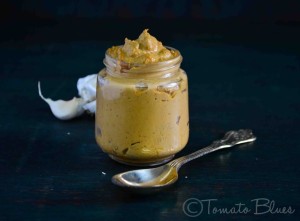 Recipe For Roasted Cherry Tomato Pesto
( Pesto with cherry tomatoes roasted in the oven)

Prep Time: 10 mins
Cook Time: 30 mins
Yields 1/2 cup

Ingredients
Cherry tomatoes 1 c
Almonds 1/4 c
Chives 1 stalk chopped finely
Garlic 3 cloves
Parmesan cheese 1 tbsp grated
Mixed dry herbs 1 tsp
Pepper powder 1/2 tsp
Salt to taste
Oil 2 tbsp
Directions
Preheat oven to 180 c.
Line a baking tray with foil.
In a bowl, toss together tomatoes, herbs, salt and pepper.
Spread them evenly on the lined tray and bake for 30 mins until tomatoes wilt and the skin shrivels.
Cool completely.
In a blender, combine tomatoes, almonds, cheese, garlic and chives and blend to a smooth paste. You wont require any water as the water in the tomatoes will help in the grinding. Just stop the blender once in between and give it a mix and then blend again.
Transfer to a clean air tight container and store in the fridge.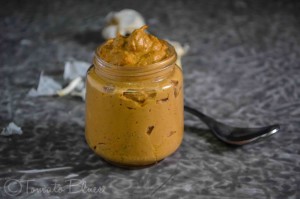 Use as a pasta sauce or as a spread on sandwiches or parathas.