When i first got married, my mom in law introduced me to various new recipes of breakfast. I wouldnt say its totally new to me. I can say that she reminded me of ones that were not my favourite but she made it in such a way that even i liked them and one of those recipes was arisi upma or in kannada akki nuchinna uppittu. Well, i m the kind of person who will VANISH if someone says UPMA in any form. That s why it was not one of my favourites before but after she made it, I said "vow" and ate some and some more and some more. You can make this for breakfast or even evening snack.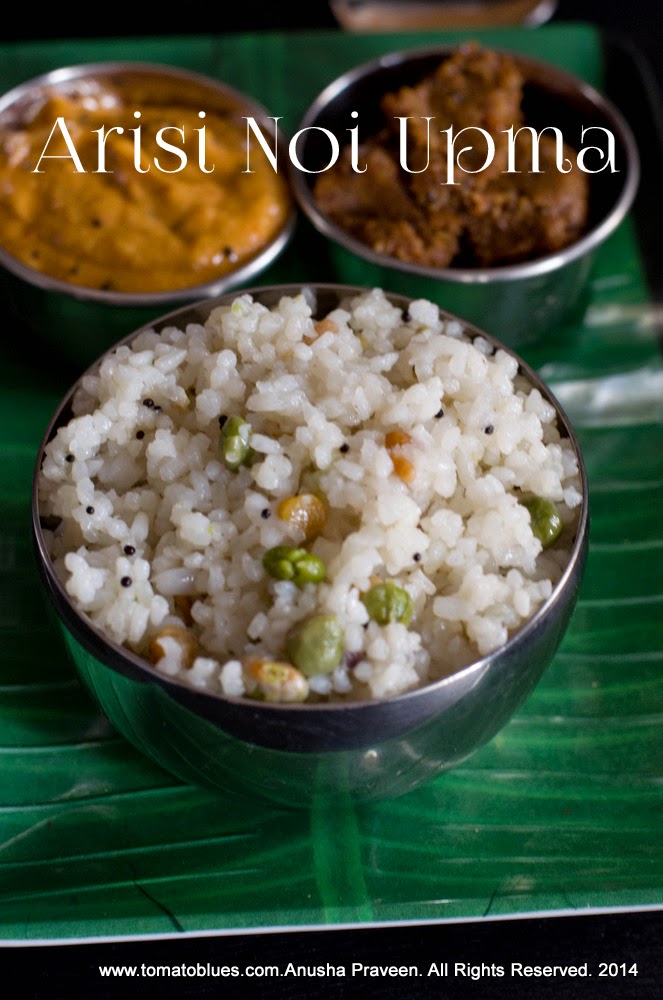 ( Learn how to make Arisi  Upma, a simple upma recipe with broken rice and chana dal)
Prep Time: 30 mins
Cook Time:15 mins
Serves: 2
Allergy Info: Vegan, Gluten free, Soy free, Nut free
Course: Breakfast, Mains
Cuisine: Indian ( Tamil, South)
Serving Suggestions: Chettinad Tomato Chutney, Home made yogurt, A drizzle of ghee
Ingredients

For the rawa:
Raw rice 1 cup soaked in water for 20 mins, dried completely.
Channa dal 2 tbsp
Directions
In a mixer, pulse the rice and dal together. The rice should only be broken and not powdered. It should be coarse like rava. If you are one of those people who can find arisi ravai in stores then go on and buy them. Just give it a shot at your nearby grocers'. The store bought rava will not have channa dal in it but it tastes good even without it. If you are going to make this for breakfast, make the rawa ahead and store it.
For the upma: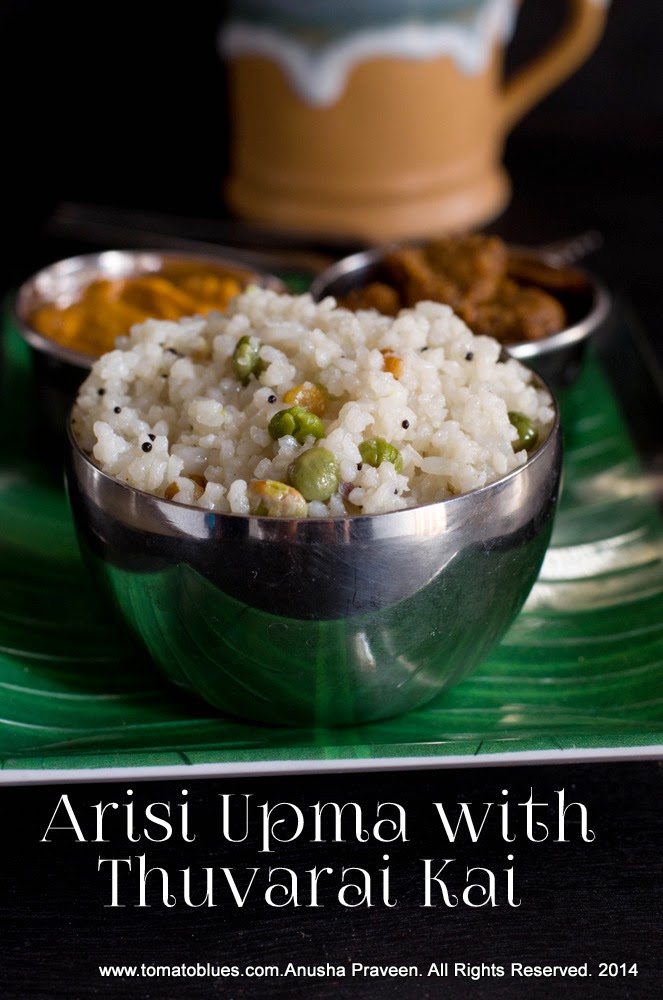 Rice Rawa 1 and 1/2 cups
Water 3 c ( see notes)
Onion 2 medium chopped into half slices
Green chilly 4 slit or 3 dry chillies
Ginger 1/2″ piece finely chopped
Pepper corns 1/2 tbsp
Coconut chopped into small pieces
Pigeon peas/ Thuvarai/ Toor 1/4 c
Salt
Oil 2 tbsp
Mustard seeds 1 tsp
Urad dal 1 tsp
Channa dal 1 tsp
Curry leaves a sprig
Note:
Adjust the amount of water according to the variety of the rice and its age( if its old rice, it will consume more water and if its new rice, it will consume less water. Mine is not so old not so new, so i add 2 to 2 1/4 cups water. Dont add more than this proportion. Otherwise it will become mushy.
Dont use grated coconut. Use small pieces of coconut cos this adds to the taste.
Dont pressure cook this on high flame. It will burn and i speak out of experience. It requires a little patience but it is worth the wait totally. Trust me!!!
Skip the ghee for a vegan version
Directions
You will need a heavy bottomed pan or a pressure cooker for this.
First heat oil in the cooker without the lid.
Pop the mustard and add urad dal and channa dal and let them roast a little.
Add the curry leaves, pepper corns and chillies next and saute for a minute.
Now, add the onions and saute till they are pink.
Add the pigeon peas next and saute for 2 mins.
Add the water to this and bring to a boil.
Add salt to the water. Now add the rawa and stir well to avoid lumps.
Cook on a low flame for 2 mins and close the pressure cooker.
Now pressure cook on a low flame for 2 to 3 whistles..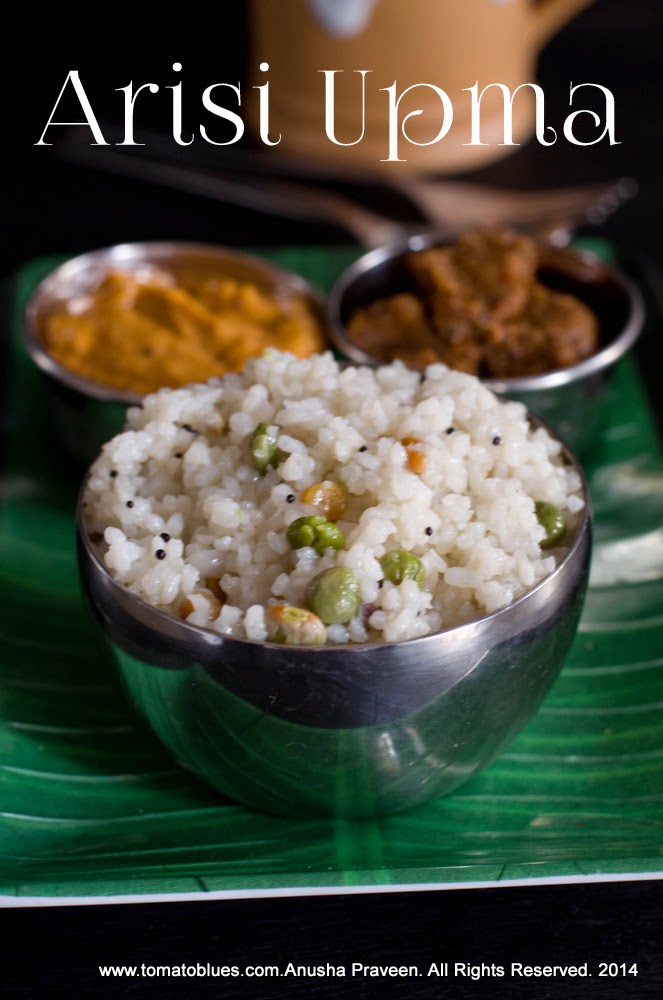 Garnish with ghee and coconut pieces and serve hot.