How To Make Red Bell Pepper Chutney?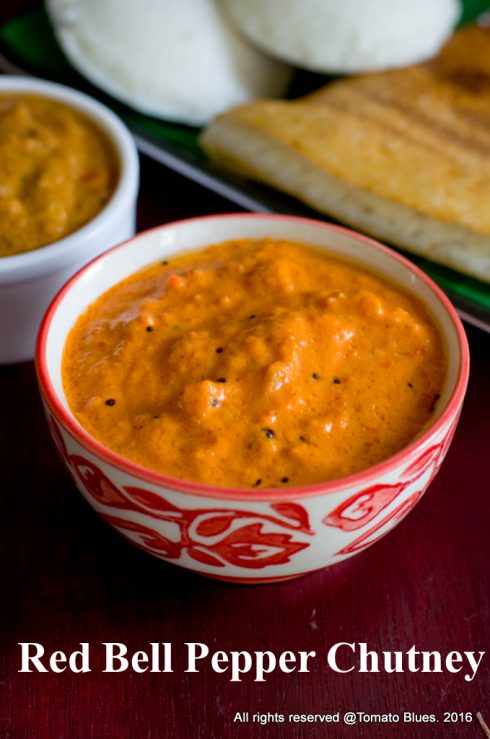 Red Bell Pepper Chutney is a fabulous addition to any dosa lovers repertoire. This red bell pepper chutney is promising in terms of flavor, color and taste. And it justifies my chutney criteria that anything that i make must have at least one vegetable in it. I am a veggie lover. And i try and incorporate veggies into my food to the maximum amount possible. And those rich vibrant coloured veggies are always a scorer with me. For their rich antioxidant properties. Not only veggies but also berries. I would probably live on those multicoloured bell peppers or slush pink strawberries or even that deep purple cabbage that we get. Cherry tomatoes and cranberries make me drool when it comes to desserts and salads. Bell peppers make me eat a lot of food. So when i was rummaging in my fridge for something to make chutney with, i stumbled upon these red bell peppers that i had picked up the other day. And i remembered that this chutney was doing a lot of rounds in the blogosphere. I dont know if its the authentic recipe but this is just my own attempt. And it tasted delicious with dosa. So give it a shot.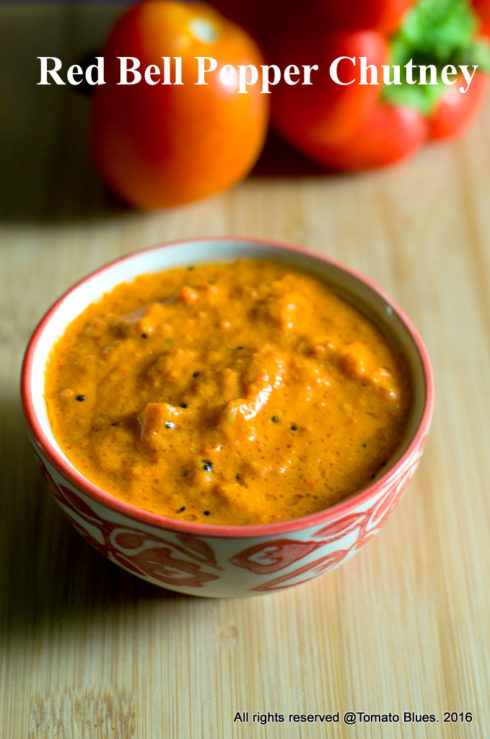 Recipe For Red Bell Pepper Chutney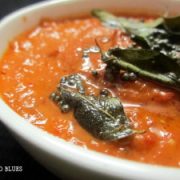 Print Recipe
Red Bell Pepper Chutney
A delectable chutney with red bell peppers and tomatoes that pairs well with idli, dosa, chapati, puri and the likes.
Ingredients
Red bell pepper 1 large cubed coarsely

Tomatoes 2 medium chopped coarsely

Garlic cloves 5

Dry red chilies 3 to 4

Tamarind paste 1 1/2 tsp

Salt as needed

Oil 1 tbsp

For tempering:

Mustard seeds 1 tsp

Curry leaves a sprig

Hing a large pinch

Oil 1 tsp
Instructions
Heat oil in kadai. Add the garlic cloves and saute for a min. Add the tomatoes and saute till they are soft

Now, add the bell peppers and fry them for 3 to 4 mins. It even tastes great of you char them a little in the edges.

Next add the dry red chillies and combine well.

Let it cool.

Add tamarind paste and salt to this and grind in a mixer to a smooth paste

Temper with mustard seeds, curry leaves and hing.

Serve with dosa or idly or even parathas.
For Instant Pot & Air Fryer Recipes
Instant Pot timings may vary based on your geographic location. Air fryer settings and timings may vary based on the capacity and the model of the Air fryer.
Disclaimer
Nutrition values are provided here as a courtesy and are only a rough guide. Please consult a health care provider if you have any concerns.