Rosgullas or Rasgullas. I really dont know how to pronounce them the right way. But i do know that they are deliciousness exemplified. I know few people who are not fond of these soft spongy delights. While the rosgullas are equally famous down south and everywhere else in India, many people dont know what goes into making them. Well, there are not many ingredients. But there is a lot of effort involved. It s a scary process for a beginner but my method here is actually a beginner s method. To be honest, the prospects of making rosgullas intimidated me too but i regained my spirits with this method. The traditional method of making rasgullas calls for cooking them on stove top while constantly adjusting flame and taking care to have a peep now and then. While my method is somewhat a blind cooking method, it works wonderfully well and results in soft spongy rasgullas. The only hitch in this is that the kitchen does get a wee bit messy. But oh! anything for the sake of some spongy goodness.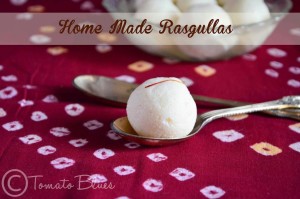 Before you begin making rasgullas, it is important to remember the technicalities involved. Never make rasgullas with buffalo milk or full cream milk. You will have rubbery balls and not rasgullas if you do. Its very important to knead chenna well. Curdle fresh milk and extract chenna. You must give enough space for the balls of chenna to double up in volume. Or you wont have spongy rasgullas. If you take care of all these things, primarily the milk, your work is pretty much done. The traditional bengali recipe doesnt call for addition of semolina. But i did add some to hold the dough together. Dont add more semolina than mentioned. Also, the pressure cooking time mentioned is crucial. Dont over cook or under cook them while in the pressure cooker. The sugar syrup may splatter on your kitchen walls or on your platform so stay at a safe distance while its cooking. It is very important to use a cooker large enough to accommodate all the rasgullas as they swell up in volume while cooking.
Recipe: Rasgulla Using Pressure Cooker

Prep Time:1 hour Cook Time: 10 mins plus 12 mins Yields 13 rasgullas
Cuisine: Bengali Course:Dessert Allergy Info: Gluten And Nut Free
__________________________________________________________________________________
Vinegar 1/2 c diluted with 1/2 c water
Ice cubes 15
Semolina 1 tsp
For The Sugar Syrup
Sugar 3 cups
Water 3.5 cups
Cardamom powder 1/2 tsp
Saffron strands a few (optional)
Method
Chenna:
Bring the milk to rolling boil. Once it boils, let cool completely and remove the cream that forms on the top. We must remove the fat completely to get soft rasgullas.
Once done, heat the milk again and when it begins to boil, add diluted vinegar and keep stirring until it curdles completely.
Remove from fire.
Add ice cubes to the curdled milk and let rest for 10 mins.
Drain the whey completely using a colander and transfer the whey to a clean cotton cloth.
Tie the cloth into a bundle and hang it in a clean place where no water splashes for about 1/2 an hour. This to remove all the excess moisture.
After half an hour, remove the chenna from the cloth and transfer to a bowl.
Add semolina to the chenna and mix well.
Now, start kneading the chenna till it all comes together in a dough form without any cracks on the surface. This is the part where you require a lot of patience. But hey! remember , we are going to eat rasgullas at the end. ( wink)
I kneaded the chenna for about 10 to 12 mins until i got a smooth dough.
Once done, close with a moist clean cloth.
Sugar Syrup
Combine sugar, water and cardamom in a deep bottomed pressure cooker or pan.
In the meanwhile, divide the chenna into 12 equal parts and shape them into small balls without any cracks on the surface.
While doing this, make sure you keep the chenna not being rolled covered all the time.
Once you have shaped all the balls, heat the sugar syrup until sugar dissolves completely.
Wait for the syrup to begin boiling.
Rasgullas
Now, add the balls one by one gently into the sugar syrup.
Once you have added all the balls, close the pressure cooker with the lid and immediately put the pressure weight on.
Now, set a timer to 12 mins exactly. Not one minute more, not one minute less.
During this time, you may or may not get whistles from the cooker. Turn away from the cooker till the timer goes off. Read a book, fold clothes, sort laundry, do whatever but dont be tempted to switch off the stove in between or dont get alarmed at the number of whistles. You have to believe me in this.
Once the timer goes off and the 12 mins are up, switch off the stove immediately.
Place the cooker under slow running water ( i did this in my sink with the tap slowly turned on).
This is to release pressure immediately.
Once the cooker has cooled and pressure released, open the lid and transfer the rasgullas to a clean container or a vessel.
Sprinkle saffron strands on top.
Chill for an hour.
Serve immediately or keep chilled.
This keeps well for 3 days when refrigerated.