As a South Indian, inside and out, i have a thing for dosas and idlies alike. I m always looking for different dosa recipes or some simple tweaks that can take the regular dosa to a new level. I dont like much grinding or roasting or sauteeing. And i am not fond of slaving in the kitchen as well. That s probably why you wont find many authentic tamil recipes here. I somehow like to keep things simple and yet delicious. Healthy is another thing totally. So, when we decided to have a
dosa palooza
this month in our pans, this quick tomato dosa that i make once in a while came to my mind instantly. The recipe is no fuss, quick and doesnt even require any chutney or sambar.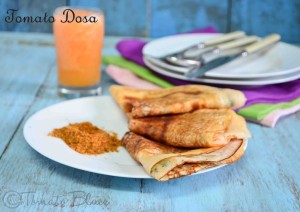 Tomato Dosa, Idli Podi And Cantaloup Juice- A hearty breakfast
Recipe For Quick Tomato Dosa
( Tomato flavored lentil crepes)

Prep Time: 10 mins
Cook Time: 2 mins for a dosa
Yields about 6 dosas
Allergy Info: Vegan, Gluten free

Ingredients
Dosa batter 2 cups
Coriander leaves 1/4 c chopped finely
Cumin seeds 1.5 tsp
Grated ginger 1 tbsp
To Grind
Tomatoes 3 largish ripe ones
Green chilies 4 to 5
Garlic 2 cloves
Salt to taste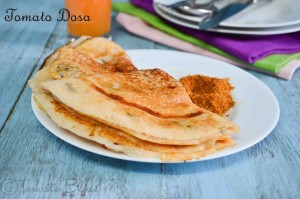 Directions
In a blender, blend together tomatoes, green chilies, salt and garlic to a fine paste. Avoid adding any water as this will make the batter very runny.
Now, add this paste to the batter.
Add coriander leaves, cumin seeds and grated ginger to the batter and mix well.
Heat a tawa.
Pour 1/3 c of the batter onto the tawa and spread into a thin circle all over the tawa.
Drizzle oil around the edges.
Cook till the upper side is done. Now flip over drizzle oil and cook for a min more.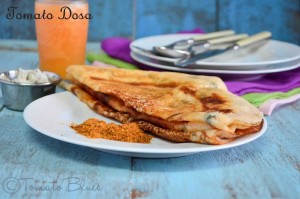 Serve hot as it is or with some yogurt and idli podi.
This is dosa 2 in the palooza. I previously posted Spring Roll Dosa which is dosa 1. Do check out radhika and roshni for their delicious dosas.
P.S My dosa is not slightly reddish because i used orangish tomatoes. I only had them on hand. If you use ripe red dosas, you will have reddish dosas.