We have affairs with food in my house. Yes. You heard me right. We have vicious cravings for delish food. We have a deep innate desire to eat some things repeatedly just like how lovers long to meet each other. And one of our constant affair is with the parathas. Both Mr.P and I enjoy eating parathas tremendously.
You give Mr.P aloo parathas slathered in ghee and you wont find a happier soul in the whole wide world.As for me, you give me any paratha and I ll be as content as a dog who has just found his favorite bone. Getting the idea? While I do make parathas repeatedly at home ( after all, we have affairs with them. So, how can I not??) I don't find much time to click a picture and share a recipe. But this time, I did manage to click some decent pictures and I thought, why not, tell the whole world about my love affair with the parathas?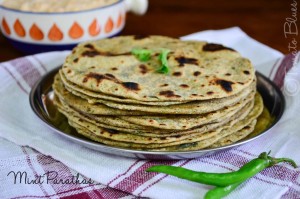 ( Flatbreads flavored with mint and cilantro)
Prep Time: 10 mins
Resting Time: 45 mins to 1 hour.
Cook Time: 2 mins for a paratha
Level: Intermediate
Source: My notes
Ingredients
Whole wheat flour 2 cups
Fresh mint leaves 1/2 c tightly packed
Coriander leaves 1/4 c chopped finely
Green chilies 4
Ghee 1 tbsp
Salt to taste
Wheat flour for dusting.
Oil to cook the parathas on a gridle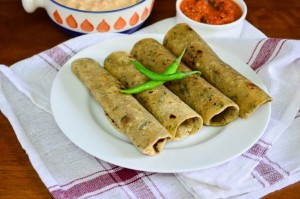 Directions
Combine the mint leaves, coriander and green chilies in a blender and grind to a fine paste adding about 1 tbsp of water. I used my coffee grinder for this.
In a mixing bowl, place the wheat flour, salt and the ground mint paste and mix until just combined. Your dough should look crumbly after mixing.
Now, add about 3/4 c of water and start kneading. Knead for about 3 to 4 mins.
You may need less or more water depending on your flour and the weather but you must have a smooth non sticky dough at the end of kneading.
Once done, add the ghee and knead once again to make sure that it has been absorbed into the dough.
Transfer to a bowl, cover and let rest for about 1 hour. If you are pressed for time, rest it for 30 mins or so.
Once done, divide the dough into 10 equal parts, shape each into a ball.
Now, gently flatten a ball into a round disc, dust with flour and roll into 5 mm thick rounds with the help of a rolling pin. Dust with more flour if required.
Once done, heat a gridle.
Place the paratha and cook till brown spots appear on one side.
Once done, flip and cook the other side too until brown spots appear.
Smear with oil and flip over.
Cook for 30 secs.
Smear oil over the top and flip again and cook for 30 secs more.
Repeat for the remaining dough.