I can challenge anyone across the globe that potato is a universally liked vegetable. Everyone craves for it and loves it. Thanks to the Americans for making this divine discovery. Chips, salads, fries, curries, boiled and stuffed, rice you name it and the potato is a great accompaniment or ingredient. And poori is incomplete without potato curry. Hmmmm…. There s a secret..i hate making pooris because they dont fluff like they do for other people. But when i made those pooris for the sake of my potato curry craving, they fluffed and i said to myself, not bad. Not bad at all. So lets get to business and make that potato curry. Now its a dish that s made in a zillion ways but i just like 2 versions of it. I m going to post the first version. The other one will follow in sometime. So lets whoosh to the kitchen.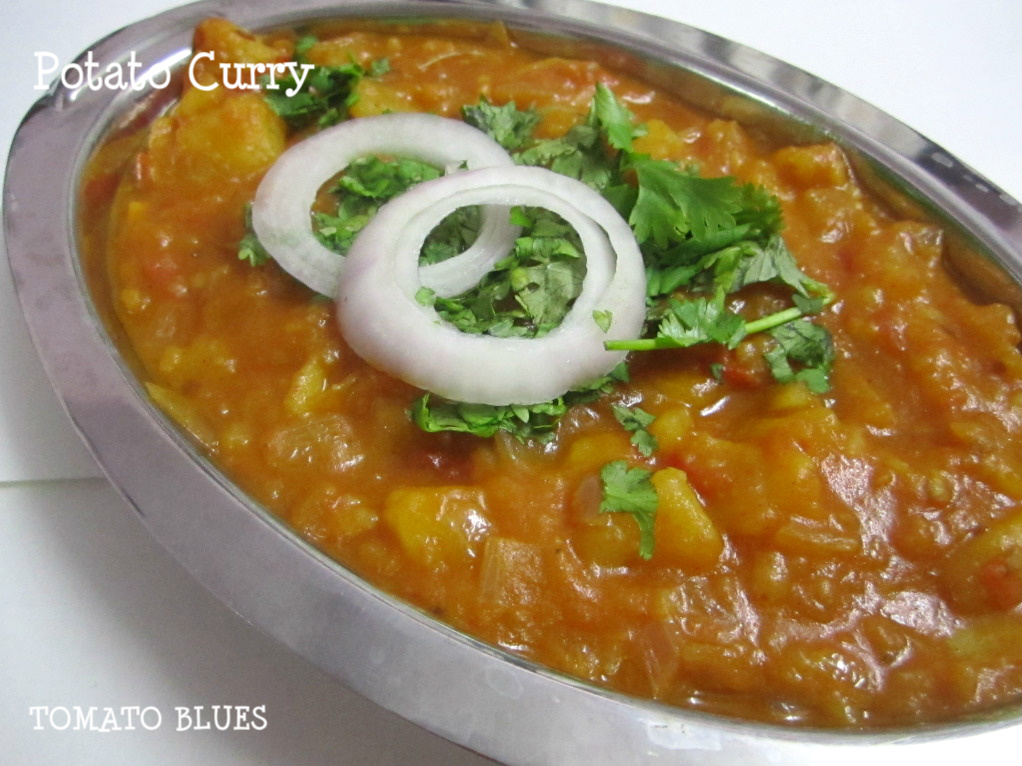 Source: My fond memories of potato curry from my childhood
Serves:3
What you need?
Potatoes 3 large boiled and peeled (do not overboil the potatoes. Pressure cook them for 2 whistles and cutting them into quarters)
Onion 1 large chopped fine
Ginger garlic paste 1 tsp
Tomatoes 2 chopped fine
Garam masala powder 1/2 tsp
Red chilli powder 11/2 tsp
Turmeric powder 1/2tsp
Dhania powder 1/2 tsp
Jeera 1/2 tsp
Oil 11/2 tbsp
Water 1 cup
Salt
Cilantro for garnish
How to make it?
Heat the oil in a wok(kadai) and add the jeera.
After they splutter, add the turmeric powder and the onions. Saute the onions till they are a pinkish and transparent.
Next add the ginger garlic paste and fry for half a minute. Now at this level you must indulge yourself in that aroma that comes. Ahh! Its heavenly!!
Now add the tomatoes and fry till the oil separates. I love the colour the tomato onion duo leave. What a texture, juicy and glossy.
Next add all the spice powders and saute for 2 to 3 mins and then add the salt.
Now mash the potatoes a little so that they are chunky and then toss them in. Combine well with the gravy but dont mash them further. Cook in a low flame for about 2 mins.
Now add the water according to the consistency that you need and cook on a medium flame for 5 mins.
Garnish with cilantro.
Serve hot with pooris, roti or hot steamed rice.