Lets make the dough from the scratch. Brilliant idea. Ummm…. I know some of you are staring at me. I know i know !! It s a lot of kneading. But i feel we must knead if we need some action. Go and shed a few calories as you need. You can always accumulate them from the pizza.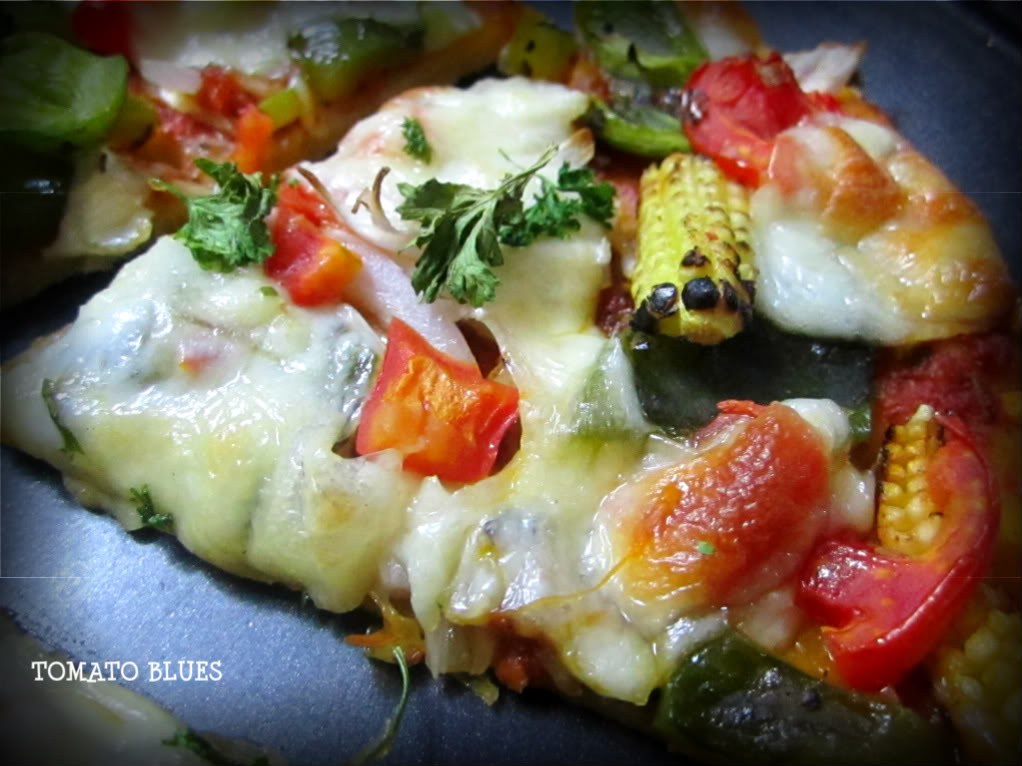 Prep Time: Under 15 mins
Rising Time: 2 hours to 24 hours what ever works best for you.
Yields 2 7" pizzas


What you need?
All purpose flour or maida 1 and 3/4 cups
Active dry yeast 1 tsp
Salt 1 tsp
Sugar 1 tsp
Olive oil 3 to 4 tbsp
Water for kneading
How to make it?
Mix yeast and sugar with some warm water in a cup and let it dissolve completely. After 5 mins, it would have become frothy. If it s not dissolved well, then stir well to dissolve.
Next, place the flour and salt in a mixing bowl.
Make a well in the flour in the middle.
Pour the yeast mixture into the well.
Now, with a rubber spatula or a mixing spoon start incorporating the water into the flour slowly and gradually.
Once, the yeast mixture is well combined, start kneading the dough by adding water gradually until you have a dough that leaves the bowl but sticks to the bottom. Takes about 6 to 7 mins.
Now pour the olive oil on your hand and start kneading with your oiled hand. Knead for about 7 mins.
Now, cover the dough with a cling film and let it rest in a warm place for half an hour.
Refrigerate for 2 hours minimum before using.
After 2 hours, take out the dough and make 2 equal portions of the dough. This is how the dough looked after 2 hours light and airy. But you will get better results after 24 hours so do try.
Roll out into 1 inch thick rounds on a well floured surface.
Poke with a fork on the surface of the base and let it rest for 30 mins
Now, the pizza.
What you need?
Onion 1 largesliced thinly
Tomatoes 2 medium size sliced
Capsicum 2 roasted on fire, black skin removed and cubed
Baby corn 6 roasted on fire
Mozarella cheese 100g each for a pizza cut into thin slices. Dont grate it cos its too much work and doesnt spread well after melting.
Parsley for garnish
Pizza sauce 2 tbsp for a pizza.
You can add veggies of your choice like sweet corn, olives or jalapenos.
How to assemble?
Preheat the oven to the maximum temperature setting for 25 mins.
In the meanwhile, grease a pizza pan with olive oil.
Place the base on the pan.
Spread a tsp of oil on the base to prevent it from getting soggy from the sauces.
Now, smear the sauce evenly on the base.
Next, arrange the veggies on the base, starting from the onions.
Now, place the cheese slices in such a way that it covers the whole pizza.
Next sprinkle the parsley.
Thats it. Done. Now slide it into the oven and bake for 20 mins or till the cheese melts and the veggies are cooked.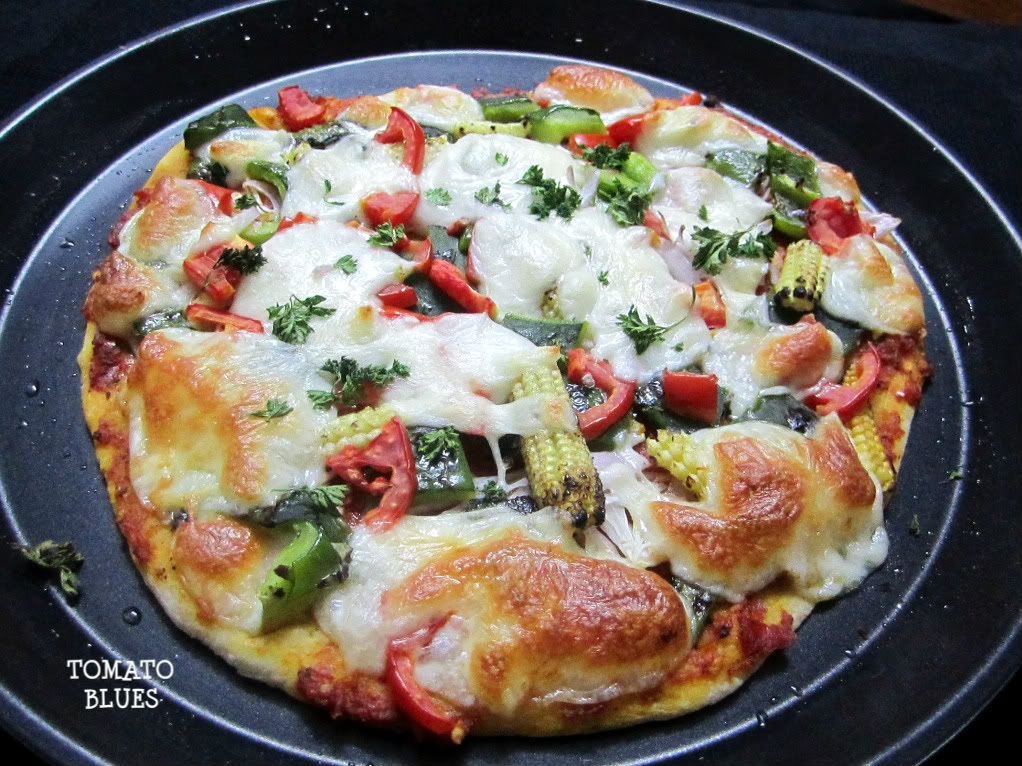 My pizza had come out beautifully. The cheese had melted and even browned a little. Stretchy and nice. I m going to try a pizza with maybe gouda or parmesan cheese next time.
Serve with any salad and a cold drink of your choice.
Sending this to Vardhini s Bake Fest, Radhika s Winter Carnival and Kalyani s Global Food Festival