Ok. So, this sunday, i was in a terrible terrible mood. You know one of those days, when you want to bite off every single person s head. One of those days when you aimlessly rumage about in the fridge and you find nothing worthwhile and hence you become mad. I hope i ve driven home my point.
Towards the evening, this sulky phase of mine reached its saturation. And i knew. I just knew i had to turn my oven on or i would scream like an opera singer and possibly break age old glass panes that abound the township. When you face that kind of a risk, you would obviously turn the oven on, right? Right.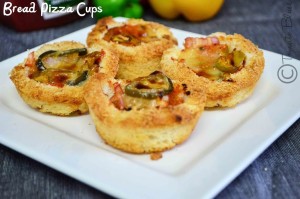 But wait. The worst is yet to come. I went about to forage for some butter in the fridge, which i dint have. Enough for some coconut bread that is. And then i looked about for some milk, which was only a few dregs in the bottom. That drove me up the wall even more. And then i made my peace when i saw my loaf of bread. And that instant, i knew, i had to make something with that loaf. Some more foraging in the vegetable drawer produced some bell peppers. And there, i had it. I made these pizza cups then. They were really delish and sorta cute. You can make them as appetisers for a party too. For a kids party, works swell.
Recipe For Bread Pizza Cups
( Pizza flavors in bread cups)
Prep Time: 10 mins
Cook Time: 10 to 12 mins
Yields 6
Level: Intermediate
Ingredients
Sandwich bread slices 6
Bell pepper 1 sliced thinly
Onion 1 chopped finely
Chili garlic sauce 2 tbsp
Tomato ketchup 2 tbsp
Paneer 2 tbsp crumbled
Pizza cheese 3 tbsp grated
Pickled jalapenos 6
Oil 1 tbsp
Muffin pan
Directions
Preheat the oven to 180 C.
In a mixing bowl, combine the onion, bell pepper, paneer and mix well.
Use a big round cookie cutter and press down on the middle of a bread slice. Remove and you will have a round bread disc. Repeat for the other slices.
Grease the muffin cups with oil generously.
Now, place the bread disc in the muffin cup and press down gently.
Fill the bread cups with 1 tbsp of the filling. Add the jalapeno.
Sprinkle grated cheese on the top.
Bake in a preheated oven for 10 mins or until bread has become a golden brown.
Let cool for 10 mins.
Unmould from cups.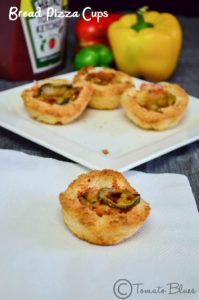 Serve with ketchup or even some mint chutney.