How To Make Pesto Rolls With Pizza Dough? Vegan Recipe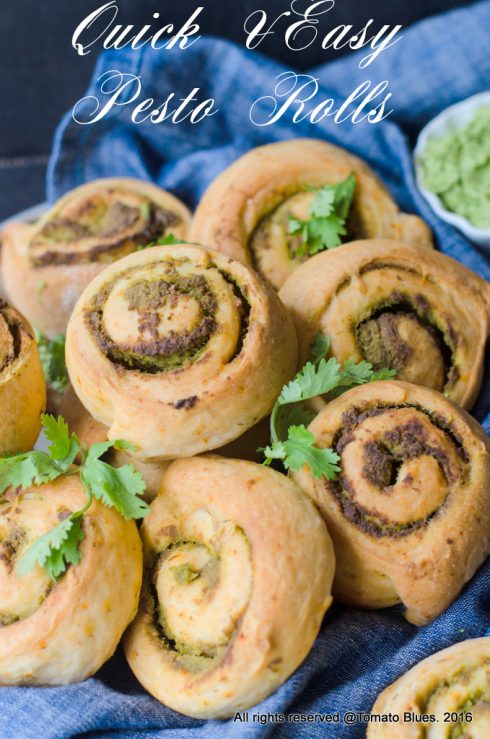 Pesto Rolls are nothing but rolls stuffed with pesto and baked to golden. These pesto rolls make a nice breakfast on the go and taste delicious on their own. This pesto rolls recipe in particular can be put together in a jiffy if you have some pesto on hand and a batch of frozen pizza dough. I had earlier posted All Purpose Pizza Dough recipe that you can use to make anything from pizza (of course) to garlic knots. I tried making these pesto rolls with that dough and it was an instant success. When i shared these pesto rolls with my neighbor, she wanted to learn how to bake them.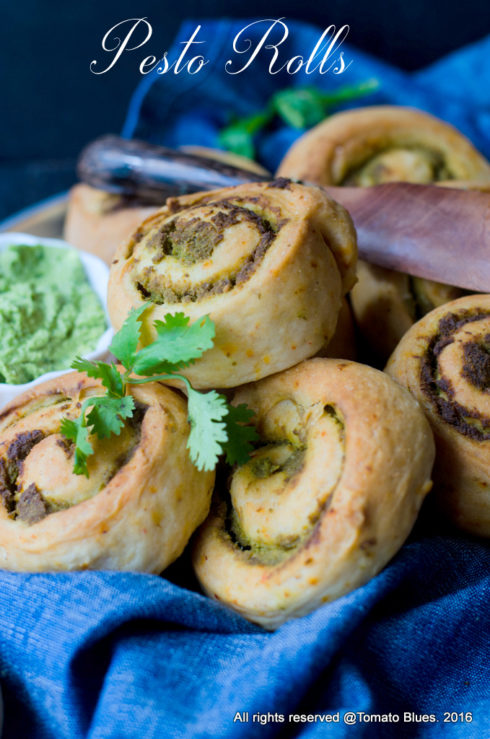 These rolls dont take more than an hour to bake if you have the dough frozen already. You can use any stuffing in place of the pesto that i used here. Even onion tomato chutney would work well for these rolls. We enjoyed these rolls straight from the oven and mangaed to gulp the entire lot in an hour's time. ( That we kissed dinner good bye after that is another story) So i m not entirely sure as to how long these rolls will stay fresh. Before we check out the recipe for these pesto rolls, you may need the recipe for the pizza dough and the pesto. You can get the recipe for the pizza dough by clicking here and the recipe for the pesto can be found here and here. Also, these pesto rolls are my entry for January's We Knead To Bake Group. I know i m more than a month late but this is what i made for January but got around to posting only now.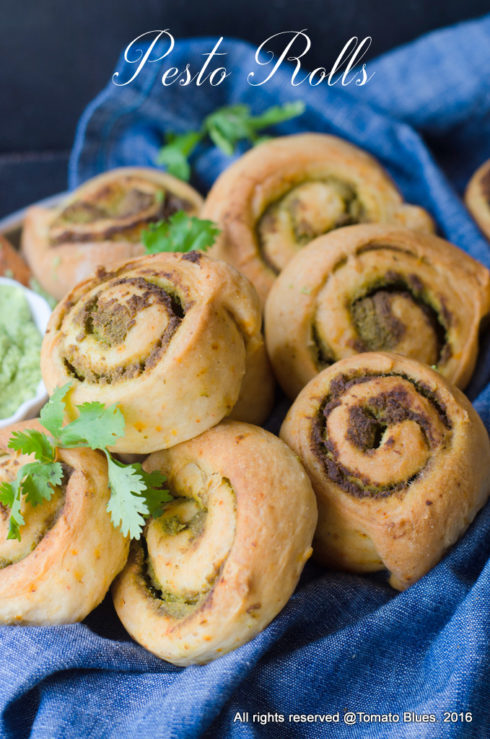 Recipe For Vegan Pesto Rolls With Quick Pizza Dough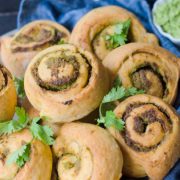 Print Recipe
Pesto Rolls- Quick Recipe With Pizza Dough. Vegan
Pesto rolls are bread rolls stuffed with fresh pesto. They make a great breakfast or even dinner with some hearty soup.
Ingredients
Pizza Dough 1 recipe

Almond Coriander Pesto 2/3 c

please read the post for the link to both the recipes

Olive oil 2 tbsp

Chili flakes 1 tbsp

Flour for dusting.
Instructions
Assuming that you have the pizza dough ready, turn out the dough onto a floured surface and knead once.

Flatten the dough into a 6" by 6" square using your hands. Do this gently making sure you have an even slab of dough.

Turn the slab of dough and sprinkle some flour on it.

Now do the same for the other side.

Place this slab on a floured rolling board and roll the slab out into 9" by 9" square.

Once you have done this, spread the pesto evenly over the dough.

Sprinkle the chili flakes over the pesto evenly.

Now begin rolling the dough into a log by starting at one edge and slowly roll into a log making sure you there are no gaps in the log. The log must be rolled tightly but gently.

Grease a 9" round cake tin with 1 tbsp olive oil.

Once you have shaped the log, use a sharp knife and cut the log into 1" wide pinwheels.

Place each pinwheel in the cake tin leaving at least 1/2 an inch gap between them.

Cover these rolls with a moist kitchen towel and let them rise till puffy.

Towards the end of the rise, preheat the oven to 200 C.

Once the rolls have turned puffy, you can notice that they stick to each other.

At this stage, brush them with olive oil lightly.

Bake in the preheated oven for 15 mins or until golden.

Wait for the bread to cool down a bit before you unmould and slice.
For Instant Pot & Air Fryer Recipes
Instant Pot timings may vary based on your geographic location. Air fryer settings and timings may vary based on the capacity and the model of the Air fryer.
Disclaimer
Nutrition values are provided here as a courtesy and are only a rough guide. Please consult a health care provider if you have any concerns.