When i dont post something on a blog, it nearly kills me. Its an addiction or you can even call it obsession. Well thanks to Mr. P. And when the internet doesnt co operate i feel like doomsday is nearing. I take it out on every single soul around. Maybe the next time i should take it out on that unpretentious yet evil looking modem on the table in the far corner. That said and having vented out, the sunny side of the whole situation was that i cooked a lot. Taking it out on my kitchen you see. I almost tormented my poor husband by going on and on about how many recipes i ve perfected and how many more food props i shall be needing. Mr. P promptly got intimidated, annoyed and at the same time offered to take me shopping to shut me up!! Duh..
So what did i cook while i did not blog?? Made some yummy spinachy soya delight, rajasthani kaddu and this rice. Will post the other recipes soon. In the meanwhile, make some of this yummy rice and enjoy it for a dinner.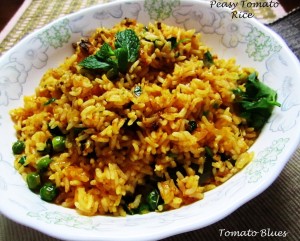 Recipe for Tomato Peas Rice
( Learn how to make Tomato peas rice, an easy rice dish with tomatoes and green peas)
Prep Time: Under 15 mins
Cook Time: Under 30 mins
Source: Mrs Malliga Badrinath 
Serves 2
What you need?
Cooked rice 2 cups
Tomatoes 4 medium size blanched and pureed
Onion 2 medium chopped finely
Ginger garlic paste 2 tsp
Green peas 1/4 cup
Cloves 3
Cinnamon 1″ piece
Bay leaf 1
Green chillies 2 to 3 slit lengthwise
Oil 2 tbsp
Salt to taste
For Garnish:
Cilantro chopped finely 2 tbsp
How to make it?
Heat a kadai with ghee or oil.
Add the cloves, cinnamon and bay leaf and saute for a min.
Now, add the green chillies and saute till they turn a lil white.
Now, add the onions and saute till they are pink.
Add the ginger garlic paste and saute for 30 secs.
Add the green peas next and fry for about 4 to 5 mins.
Now, add the pureed tomatoes and simmer till the mixture turns into a semi solid mass without any moisture left.
Add salt and rice and combine well.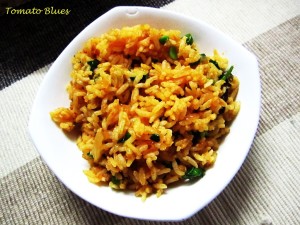 Garnish with cilantro and serve hot with plain curd or 
minty raitha.
Post on blanching and pureeing tomatoes coming soon.