My husband sees the maniac in me when he takes me fruit and vegetable shopping. According to him, i behave like a 5 year old who has just been given her favorite candy, the moment i enter the market. I desperately wish i could contradict him with equal gumption. But sadly, what he says is the truth. Fresh fruits and veggies give me a high. But seasonal fruits and veggies take me to newer heights.
When peaches and plums hit the market, this stone fruit season, i gallivanted about the markets, in a typical 5 year old s fashion. Needless to say, i was reprimanded promptly and was told to buy the fruits rather than stomp down the market like a wild female elephant. ( I still wonder why it was an elephant and why it cant have been a frog or a beetle) Anyway, i bought about a kilo of peaches and dint much like the plums. Here, i must brag that i ve eaten some of the best handpicked plums by the baskets as a child and so, no ordinary plum lives up to my expectation. Coming back to the
peaches
, nearly half of them were wolfed down by me greedily. Mr.P was offered a few slices, if only out of pity rather than wifely love. And then, the remaining became peach lemonade.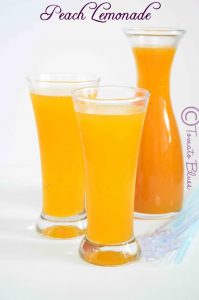 This month, we gourmets are trying to quench thirst by juicing up on lovely beverages from food gawker. We decided to make beverages that are not milk or yogurt based. And i simply knew what i had to make from the beginning. What?- Peach Lemonade!
Recipe For Peach Lemonade
( A classic stone fruit lemonade affair)

Prep Time: 10 mins
Cook Time: 3 to 4 mins
Makes 7 tall glasses
Source: Adapted from here
Allergy Info: Vegan, Gluten free

Ingredients
Peaches 3 large peeled and stoned
Sugar 3/4 c
Water 3/4 c
Rosemary 2 sprigs
Basil leaves 2 to 3 torn
Lemon juice 2 tbsp
To Serve
Soda or chilled water
Ice cubes
Directions
In a pan combine sugar, water, rosemary and basil and stir well.
Let the mixture simmer for 2 to 3 mins.
Let the mixture cool completely.
Strain and set aside.
In a blender, add the stoned peaches and blend to a smooth puree.
Mix the peach puree and lemon juice with the sugar syrup.
Chill.
To make a glass of peach lemonade, combine three parts of water or soda with one part of the peach puree mixture.
Top with ice cubes.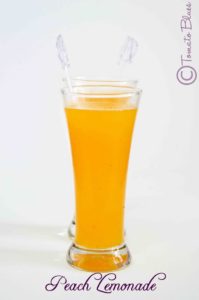 Serve cold.
P.S. I ve added very little lemon juice cos i wanted the peach to shine through. You may add more if you like extra tang.
Pep this lemonade up by adding a few peach slices while serving.
We found the sugar level just right for us when the lemonade was made in the ratio 3:1. Adjust according to your sweet tooth craving!