Memories of amma preparing delicious food on festivals came back flooding to me this morning. Ugadhi is very close to my heart. I look forward to Ugadhi with childish fervor. As a kid, i knew that there were no festivals for a long time after Ugadhi. And that meant, no new clothes and no treats from the kitchen. In that sense, Ugadhi meant loads of unadulterated fun. The neem flower pachadi, some almost gossamer obattus, new clothes are all symbolic of the pleasures of ushering in a new year.
However, amma cooking for festivals is a memoir not only of ugadhi, but on so many other occasions. Lets just say, i was almost in tears this morning thinking of her. There is some profound happiness in eating a meal your mother made. You may not appreciate it fully. Or rather i had not appreciated it completely. Until i got married. Only when one begins cooking, the craving for the luxury of eating some one else s meal dawns bright. This post is dedicated only to my mother. For bringing me up the way she did. For making me see the sunny side of life, for introducing me to wonderful books, for teaching me to accept, let go and fight back. Oh! the list is endless. But that s how a mother is i guess. I dont think any one else can teach you to do all three; accept, let go and fight better than a mom. This is for her for loving me so much so unconditionally. Now, i know what you are thinking. If you are going to tell me that you have had enough of this melodrama, then i ll stop right here. And maybe go on to a more delightful memory that i have, of my childhood.
As an only child, i got all my demands fulfilled. Reasonable or not. That did not give me the privilege of not being told off or spanked though. Mom was a lesser martinet. And hence. So, the question of sharing or waiting for someone else to begin a meal or even share a toy never arose. On almost all the festival days, amma used to make this particular paruppu vadai or amai vadai meaning tortoise vadai. More on that later. She used to soak the dal, grind it to a coarse paste, season it and then drop those rounded discs into a pot full of hot oil. And then after a few minutes, she used to drain them beauties on to a kitchen towel. As a child, watching all this was like magic to me. I was often left wondering how some yellowish looking dough turned so beautifully golden brown and crispy. Well, the real fun part came after she removed them. I used to gobble them before she could bring another batch. I remember so many days when dad wanting to taste one would look in the bowl, and would find it, much to his chagrin, without a trace of those fritters. My dad still recounts this. But now, the charm of eating them has gone. Maybe the prospect of making them holds a greater charm.
Coming back to the tortoise. In the initial days of my marriage, just when life was blooming for me in the kitchen, my MIL lived with us for over a month. She is a versatile woman, in the sense, her exposure is limited but her creativity and versatility go very far. When she was here, she used to make some special tidbit on sundays for Mr. P and me to nibble. One sunday afternoon, she told me she was going to make thavalai vadai. Which translates to frog fritters. The moment she uttered the word frog, i was alarmed. Seeing me bewildered, she asked me if i like thavalai vadai or aamai vadai. Now, i was truly scared stiff. All i could think was, that we were such strait laced vegetarians and that my parents had married me off to people who ate meat. And that too frogs and tortoises. I was nearly into tears. For, my love for tortoises is greater than my love for fritters. It was only after i explained my confusion to her that she explained that those were all names given to the many dal fritters that she made. And only then did i heave a sigh and tell her that i was a gargantuan addict to paruppu vadai. I even used aamai vadai when i told her that . To this date, my MIL and i burst into laughter when we recount that fateful day when we talked of tortoises and frogs.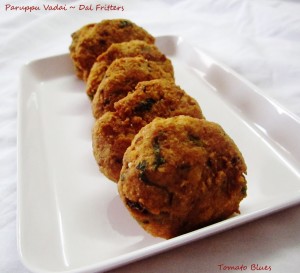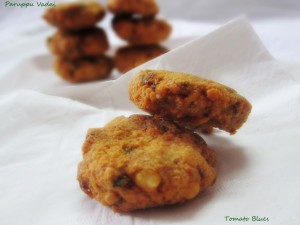 Prep Time: 2 hours for soaking the dal
Under 30 mins for all else


Cook Time: Under 15 mins for a batch of 4 to 5 fritters


Yields 12 to 15 fritters


What you need?
Bengal gram or channa dal 1 cup
Dry red long chilies 10
Hing a large pinch
Onions 2 medium chopped finely
Saunf or fennel seeds 1/2 tsp
Cilantro chopped finely 1/4 cup
Salt to taste
Oil for deep frying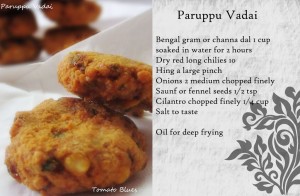 ( I make these in too many ways. What i ve given above is the basic structure. Here are some alternatives.Sometimes, i add a tbsp of rice to the dal while i soak it. This is to get extra extra crispy fritters. You can try if you want to. I also soak 2 tbsp dal extra and set aside. I add these in the end after i ve ground the dal. The little bits of crispy fried whole chana dal tastes heavenly when you bite into them. If you are using the round red chilies, reduce them a little as they are spicier. You can even try green chilies and red chilies in an equal ratio for a change.You can even add coconut to these. And if you want a different flavour, try and add shallots instead of the regular onions. If you are making these on a festival, then feel free to omit the onions and fennel seeds. If you are not a big fan of fennel seeds, then skip them completely.Chop the onions just before you are ready to add them to the batter as they tend to turn bitter if chopped previously. You can refrigerate the batter for 20 mins before frying to avoid more absorption of oil. Gee.. i sound like a health food fanatic Duh!!)
How to make it?
Soak the dal for 2 hours in about 2 cups of water.
Once done, drain them completely. Just let it sit in a colander for about 10 mins and then you should be good to go.
Now, add the dry red chilies, salt and hing to the dal and grind to a coarse paste without adding any water. Do this in a blender and make sure you give a stir to the paste every few grinds.
Once done, add the chopped onions, coriander and check for seasoning.
Mix well.
Heat oil in a kadai. While the oil is heating up, divide the batter into equal portions of 12 and make small round discs of them. Keep them ready on a plate.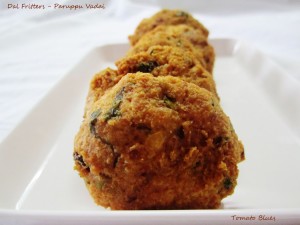 When the oil becomes hot, gently drop three to four discs one by one along the sides of the kadai into the oil.
Exercise some caution here and make sure your hands are dry and you dont drop them quickly or else the oil splatters and you will be left with nasty blisters on your hands. Try and learn from my mistakes 🙂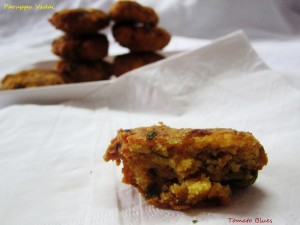 Turn down the flame to the lowest and fry the discs till golden brown on both sides.
They float up to the top when they are done but you may have to fry them for a little more time to get that golden brown.
Remove from the oil and drain on a kitchen towel.
Repeat the process with all the other discs.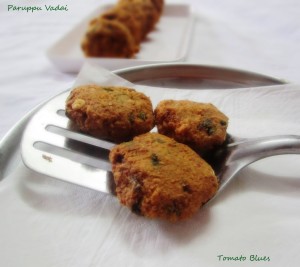 Enjoy with a festive lunch or make them when you feel bored of the regular stir fries and curries and have them with rasam and rice. Or better yet, have them with your evening tea.