Dal or paruppu is an integral part of an Indian meal. It is prepared in so many ways that it s difficult to put a finger on one particular way of making dal. Every household has its own version of dal. While there are many dals or lentils that are used in different recipes, toor dal or split pigeon pea features regularly in the meal. Its either the
rasam
or sambhar when its the south indian cuisine. And the north Indian people eat the dal as is with a mild tempering.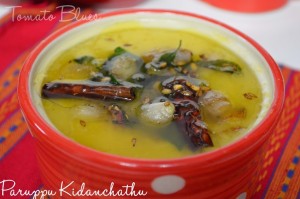 In some parts of Tamil Nadu, they also make something called paruppu kidanchathu. Its difficult to tell which version is the authentic version.I make it my way. What i love the most about this recipe is that its easy to whip up and makes a complete meal in itself. But what takes the cake is the absence of any masalas. Its mild and comforting on a day when your nose just refuses to give up running.
Recipe For Paruppu Kidanchathu
( Split pigeon peas mildly tempered in clarified butter)
Prep Time: 5 mins
Cook Time: 20 mins
Serves 2 generously
Ingredients
Toor dal or split pigeon pea 1/4 cup
Turmeric powder 1/4 tsp
Shallots 4 to 5 chopped finely
Dry red chilies 1 to 2 depending on your spice levels
Cumin seeds 1 tsp
Mustard seeds 1 tsp
Urad dal 1 tsp
Curry leaves a sprig
Hing a small pinch
Clarified butter/ Ghee 1 tbsp
Salt to taste
Directions
Pressure cook the dal along with turmeric and salt in 1.5 cups of water until soft and mushy.
Once done, drain half the water from the dal and mash well.
In a pan, heat the ghee.
Pop the mustard and cumin seeds.
Now, add the chilies,urad dal, curry leaves and shallots and saute till the shallots turn a golden brown.
Finally add the hing.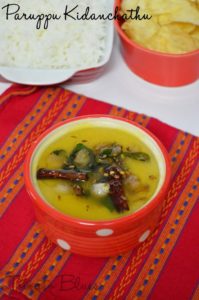 Pour into the cooked dal and mix well.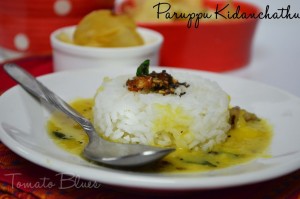 Serve hot with rice and some potato chips.