When you begin doing something, you do it with all your heart and help and guidance will find its way to you like magic. That s a mantra in my life and i strongly live by it. When i began blogging, i did not know that events existed. I did not have an inkling as to what a blog hop is. And i did not have a single food blogger friend. In that sense, i m incredibly fond of Radhika of Tickling Palates whom i call fondly as Radhi.She was the one who opened up a world of possibilities to me in food blogger terms. Credit goes to her for me to have learnt what blog hopping is. True to her blog s name, she tickles everyone s palates religiously almost on an everyday basis.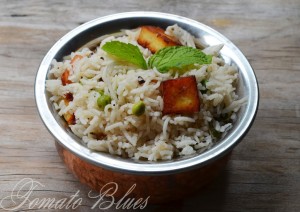 But for me, she s beyond the tickling. She s a wonderful person who is completely modest despite the fact that her blog receives over 1000 hits a day. Not a day has gone by when i ve not admired her for her modesty and practicality. She s a wonder woman who weaves magic in her kitchen with 3 men madly in love with her. Her 2 lovely sons and her husband of course. But i m not here to do a food blogger profile of Radhi. For me, she s one of the best friends and a loving elder sister figure. She s been there with me at almost all those times when i ve needed someone to put some sense into me. She s been there to tell me that it will be fine when i have been in neck deep misery. She s borne my age tantrums with pleasure and she s guided me through blogging. For me, she s the sister that i dont have. The friend who i ferociously guard and stand by.
This post was supposed to be up on 7th september, when Radhi came crying into this world and people around her said happy birthday or congratulations. But then i had too too much on my plate and i couldnt sit down to write a post that will justify the way i feel about her. Today it happened and even though, i m a week late, i have to tell you, Radhi, belated birthday wishes to you and a million hugs all the way from here.Knowing Radhi, i dint make something fancy for her. My paneer peas pulao  recipe is simple yet hearty and delicious. Something that typically reflects Radhi herself!
Recipe For Paneer Peas Pulao
Prep Time: Under 30 mins
Cook Time: 20 mins
Serves 2
( This pulao is really quick on the stove. I made this pulao on the stove top and it was my first time cooking rice on the stove top directly. Needless to say, i m super pleased with my efforts and will share that too with you all quickly.)

What You Need?
Basmati rice 1 cup
Green peas fresh or frozen 1/2 cup
Onion 1 large finely chopped
Paneer cubes 1/2 cup
Green chilies 3 slit lengthwise
Ginger garlic paste 1 tsp
Bay leaf 1
Salt to taste
Ghee 3 tbsp divided
To dry roast and powder finely:
Cinnamon 1″
Cloves 4
Pepper corns 3/4 tsp
Cumin seeds 1 tsp
Garnish:
Roasted cashews broken 3 tbsp
Cilnatro chopped finely 2 tbsp
How To Make It?
Soak rice in about 2 cups water for 30 mins.
Meanwhile make the other prep.
Dry roast the cumin, pepper corns, cloves and cinnamon and powder finely. Set aside.
Once the rice is soaked, heat a heavy bottomed or a non stick  pan with 2 tbsp ghee.
Add the paneer cubes and shallow fry them until golden on all sides. Do this on low flame cos paneer burns quickly.Drain them on a kitchen towel. Now dunk the paneer in hot water not boiling hot but hot. Set aside. This helps the paneer to stay soft.
In the same pan, add the remaining ghee.
Now, add the green chilies and the onions and saute till the onions are a light brown.Add the ginger garlic paste and saute for about 30 secs.
Add the green peas next and saute for about 1 min.
Add the ground spice mix and salt.
Mix well.
Now add 2 to 2.25 cups of water to the pan and bring to a boil.
Drain the rice and add to the pan.
Cook closed with a lid that has a small opening for about 15 to 25 mins until the rice is cooked but not mushy.
Keep an eye after 20 mins cos the cooking of the rice depends on the quality of the rice too.
Once done, garnish with roasted cashews and cilantro.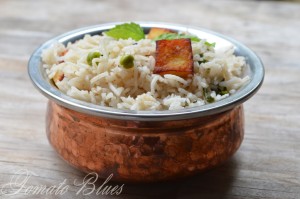 Serve hot with potato fry and paneer tawa masala