Okay. This is going to be a rant post. When i say rant, i mean heavy duty ranting. So gear up and hold your horses until i come to the recipe itself. Recently, the ladies club in the township announced a cooking competition. For reasons aplenty, i couldnt participate. So, i went ahead and became a lil magnanimous and shared my recipe with a friend. And guess what, she won a prize. So that s technically, my recipe winning the prize. Can you even begin imagining how that feels like? I felt so stupid. Half the reason why i dint go was that i thought i would look like a baby cook in front of all the ladies there. And now when that happened, i was furious with myself albeit the fact that i was happy for my friend who has not stopped thanking me profusely till date while the competition was a week back. Well, i felt pretty dumb but then gone is gone. Moral of the story? If you are a food blogger, if there s a cookery competition happening at just a stone s throw away from your house and you have some pretty decent looking crockery, then please go and cook!Have i ranted and bored you all enough? Ok now the recipe.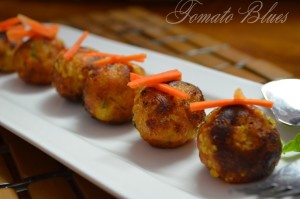 This is truly a kid friendly recipe that s super quick on the stove. Plus its not deep fried. Take note my friends. I m heavily emphasizing the not deep fried part. I m sure that sounds like music to your ears. And its healthy enough if its got all veggies right? You can make them as a starter or a snack. Sadly, i couldnt get decent pictures cos i had like what? some 5 people hovering over me while i was trying to shoot. So please bear with the pictures and dont let them deceive you. This was a total hit. Remember the prize?
Recipe For Paneer Vegetable Balls:
———————————-
Prep Time: Under 20 mins
Cook Time: Under 10 mins
Yields 12
(In case, you dont want to bake them, you can cook them in a paniyaram pan(aebleskiver pan) by pouring little oil in each groove and placing each ball in a groove. Cook them till they turn golden and crisp all over. You can also deep fry them if you dont count your calories!For an extra crunch, roll the balls in bread crumbs before you cook them.)

What You Need?
Paneer cubes 1 cup
Carrot grated 1/8 cup
Sweet corn kernels minced roughly 1/8 cup
Onion 1 medium chopped finely
Bread slices 2
Potato 1 mashed and boiled
Roasted peanuts 2 tbsp
Tomato Ketchup 2 tbsp
Salt to taste
Green chili 1 minced
Red chili powder 1/2 tsp
Coriander leaves chopped finely 2 tbsp
Oil 2 tbsp
How To Make It?
Preheat an oven to 180 C.
Mash the paneer well and set aside.
In a large mixing bowl, add the carrot, corn, onions,coriander and the potato along with the peanuts, chili powder and salt.
Cut the edges in the bread and dip it slightly in water. Squeeze and add to the mixture.
Add the mashed paneer and tomato ketchup.
Now, mix well until everything comes together and the mixture resembles chapathi dough.
Divide the mixture into 12 equal parts and shape them into rounds.
Place the balls on a baking tray lined with parchment paper.
Brush them lightly with any vegetable oil.
Bake in the preheated oven for about 10 to 15 mins until golden and crisp.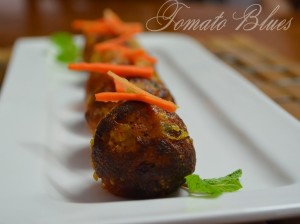 Serve hot with any dip of your choice.