How To Make Paneer Tawa Masala, A Lip Smacking Side Dish Using Paneer For Rotis?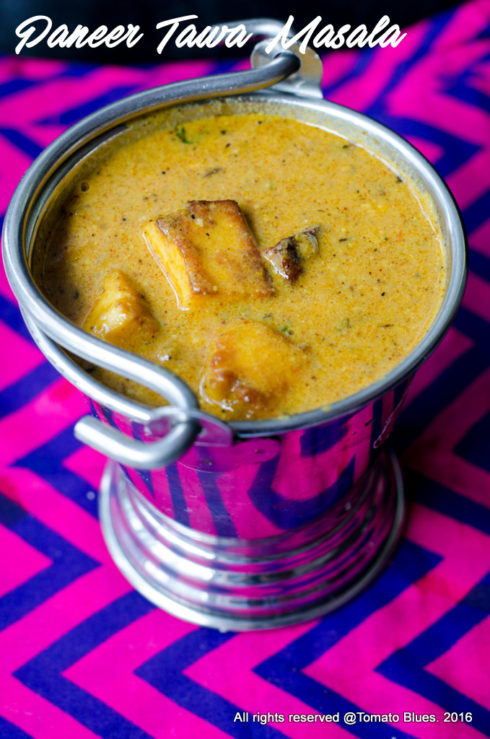 Paneer tawa masala, as the name suggests is a gravy in which paneer is marinated in spices and shallow fried on a tawa and then added to a onion tomato based gravy. I was going through my blog last night and i realised that the whole of April, i ve not posted a single decent recipe that s worth my name. Now, that s a thing to be ashamed about. I could see my commitment to the blog fading. And that s because of the weather. Its scorching hot here and i simply cant bring myself to cook something extensive. Let alone bake. The very thought of spending a hot afternoon with my oven is alarming. And i feel the heat as i write the post.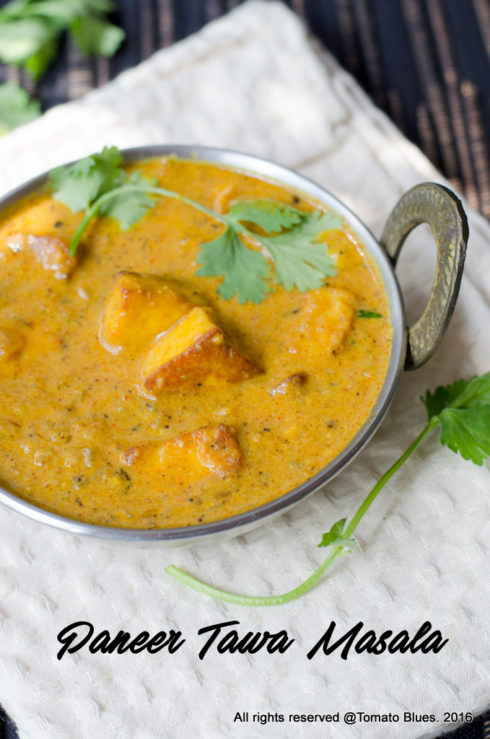 After having concluded thati ve after all not been civil to my blog,i decided thati must do something about it. And quickly too. And then there are these bunch of recipes thati ve tagged andretagged but have not made. The fun which lasts as you go on tagging fizzles out when you plan on trying one of them. I mean, it s easier to read about chopped onions but doing the very act is you know alil tearful and alil smelly. See whati mean?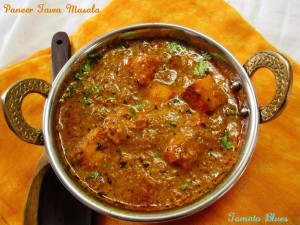 I m out of my lazy phase. And to celebrate that, i made paneer tawa masala, a recipe that i tagged 3 months back but got around to making it only today. Oh the curry was simply brilliant. It was divine to dunk a piece of phulka into the gravy along with a chunk of paneer. This Paneer Tawa Masala is a  party recipe that you can indulge in again and again. Something that doesnt involve all the cashews and grinding but flavorsome and filling. This Paneer Tawa Masala is also my entry to  Healthy Diet~ Veg Side Dishes by Priya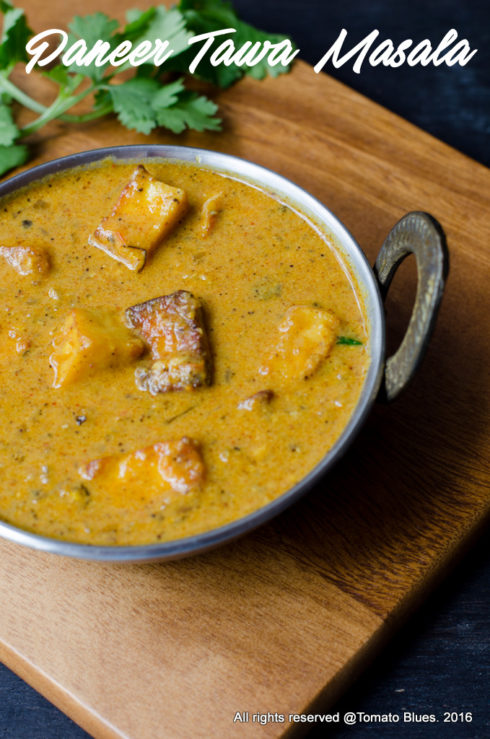 Recipe For Paneer Tawa Masala
( Learn how to make Paneer Tawa Masala, spicy curry with marinated cottage cheese cubes)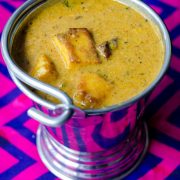 Print Recipe
Paneer Tawa Masala Recipe
Paneer Tawa Masala is a lip smacking gravy made by dunking marinated and shallow fried paneer in a mild gravy.
Ingredients
Paneer 1.5 cups cubed

Onion chopped finely 1 large

Tomato puree 1/2 cup

Oil 4 tbsp

Fresh cream 1 tbsp

Garlic paste 1 tbsp

Green chilies minced 1 tsp

Turmeric powder 1/2 tsp

Spices:

Shah jeera or caraway seeds 1/8 tsp

Cumin seeds 1/2 tsp

Ajwain or bishop s weed 1/2 tsp

Kasoori methi or dried fenugreek leaves 1 tbsp crushed

Spice Powders:

Coriander powder 1 tsp

Chili powder 1/2 tsp

Punjabi garam masala 1/2 tsp

Chaat masala 1 tsp

Garnish:

Coriander leaves chopped finely 2 tbsp
Instructions
In a mixing bowl, add the chaat masala, kasoori methi, chili powder and the turmeric powder and combine well.

Add the paneer cubes to the this and mix well ensuring the paneer is coated well with the mixture. Keep aside for 30 mins.

Heat 1.5 tbsp oil in a kadai.

Add the cumin seeds and ajwain.

Once they crackle, add the onions and saute till light brown.

Now, add the garlic paste, green chilies and coriander powder and saute for a minute.

Add the tomato puree next and combine well.

Cook till oil separates from the mixture.

At this stage, add the cream,caraway seeds, punjabi garam masala and salt and mix well. Saute on  medium flame for about 2 mins.

Add about 1/2 cup of water to this mixture and mix well.

Bring to a boil. Switch off the flame and keep aside.

Now, heat another pan with the remaining oil and shallow fry the paneer cubes till light brown on all sides. Takes about 8 to 10 mins on medium low flame.

Now, add the gravy to the paneer and combine well.

If the gravy is thick, dilute with a lil water and cook for about 5 mins until it begins boiling.

Once it begins boiling, switch off the flame and garnish with coriander leaves.
For Instant Pot & Air Fryer Recipes
Instant Pot timings may vary based on your geographic location. Air fryer settings and timings may vary based on the capacity and the model of the Air fryer.
Disclaimer
Nutrition values are provided here as a courtesy and are only a rough guide. Please consult a health care provider if you have any concerns.