How To Make Paneer Fried Rice?
Paneer fried rice is a simple yet delicious rice dish made theIndo Chinese way and it hasPANEER . The ubiquitous Indian cheese that is a kid s favorite. The source of protein for many vegetarians. And that something which all home makers turn to when their fridge becomes empty of vegetables.Its also that thing which fancies people in a party. And that one ingredient that probably has more than a hundred ways of cooking. Lets not forget that makingpaneer at home from the scratch is pretty much simple. Itdoesntrequire rennet like many cheese makingprocedures call for.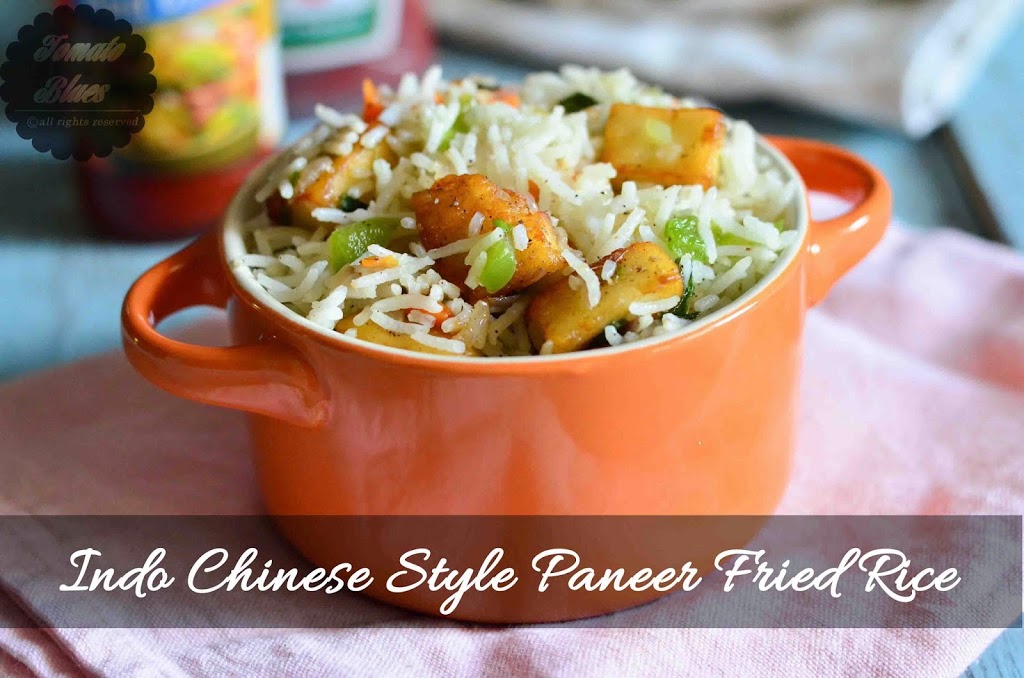 The past few years, people have started making so much with paneer that at sometimes, it makes me wonder if there isnt anything else to cook with. But then the taste wins over and i m forced to agree that, yes, paneer has its own sweet charm. That block of cottage cheese with a slight sweetish and tangy taste to it makes it almost impossible to hate it. Which is why its only appropriate that i made a fried rice with it. This blog already has over twenty five recipes that features paneer somewhere. But it had to be used to make fried rice and it had to be paneer fried rice. That s the norm for a soul like me who loves Indo Chinese cuisne like there is no tomorrow. The fried rice itself is a no fuss easy to put together dish that is also lunch box friendly. It s also a balanced meal in a sense as its replete with veggies, some amount of protein and carbs. And you can always relish this with a bit of ketchup on the side without bothering to make any accompaniment. But i served this  paneer fried rice with some sweet and sour vegetables  and needless to say, it became a big success.


Recipe For Paneer Fried Rice 
( Learn to make Paneer fried rice, an Indo Chinese delicacy featuring rice, cottage cheese cubes and vegetables)
Prep Time: 20 mins 
Cook Time: 30 mins
Serves 2
Allergy Info: Gluten free
Course: Main
Cuisine: Indo Chinese

Ingredients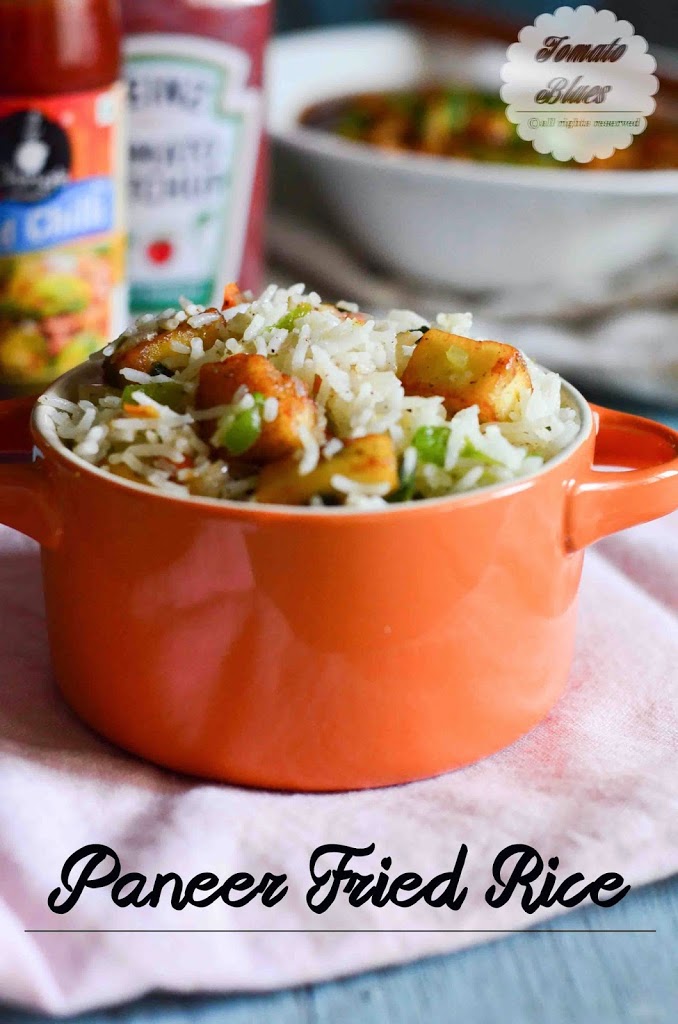 Long grained rice 1 c
Paneer cubes 1/2 c
Mixed veggies 1/2 c ( I used carrot, beans, capsicum)
Garlic 2 pods minced
Spring onions 2 stalks chopped finely
Onion 1 large chopped finely
White pepper powder 1 tsp
Chili sauce 1/2 tbsp
Light soy sauce 1 tsp
Oil 3 tbsp
Salt to taste
For Garnish
Spring onions 1 tbsp chopped finely
Note:
1. Feel free to use other veggies like cauliflower or cabbage.
2. Please don't substitute white pepper powder with black. The flavor will differ.
3. Using light soy sauce is recommended. In case you dont have it, feel free to use dark soy sauce but the color will be a little brown.
4. If using frozen paneer, thaw completely before frying.
5. I wont recommend using pressure cooker to cook rice for this recipe. Leftover rice works best but you can always cook rice, let cool and use.
6. Use tofu for a vegan version.
Directions
Wash rice thoroughly and drain.
Soak it in 2 c of water for 20 mins.
Cook the rice till done in an open pan or in an electric rice cooker.
Once done, spread in a wide plate, fluff with a fork and let cool.
In the meanwhile, cut all veggies and keep ready.
Heat 2 tbsp oil in a shallow pan and shallow fry paneer cubes until slightly browned and set aside.
To the same pan, add remaining oil.
Once heated up, add the onions and garlic and saute till light brown.
Add spring onion stalks next and fry till wilted.
Now add all veggies and fry till wilted.
Combine all sauces with white pepper powder and add this to the mixture.
Mix well.
Add paneer cubes, salt and rice and combine gently taking care not to break the rice grains.
Garnish with spring onions.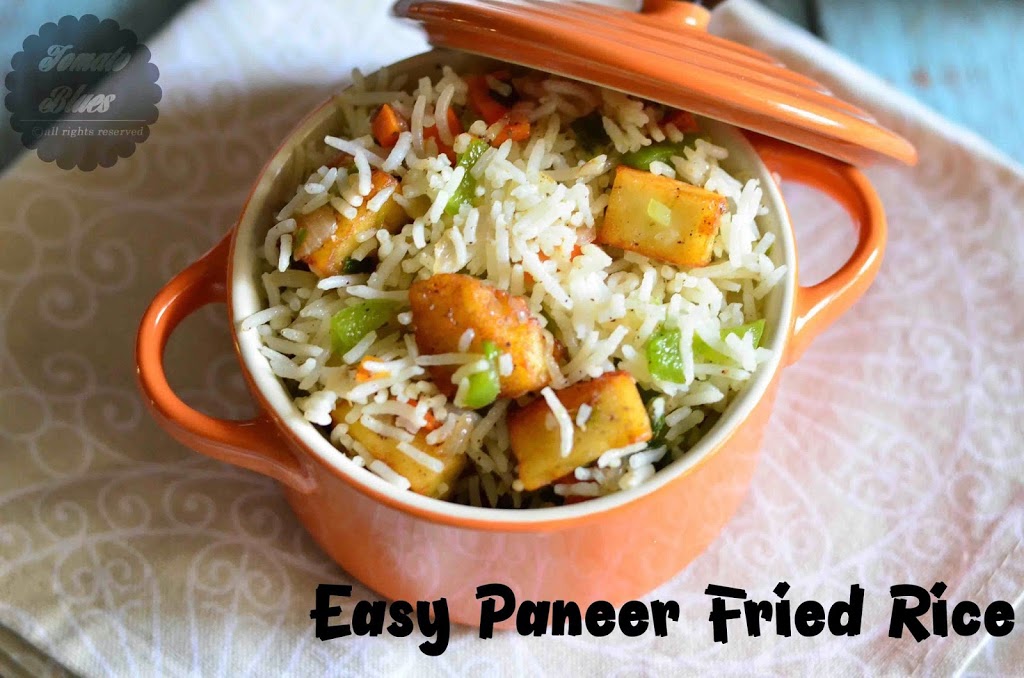 Serve hot with schezwan baby corn or sweet and sour vegetables