Hello!! I am spinach speaking. Is there anyone out there who likes me?? No reply. Long stony silence. Hello!!! Is anyone there?? I am really good and full of goodness. Someone please wake up and realise that i am full of nutrients. That s what spinach and any variety of greens will tell if they had a voice of their own. Rich in vitamin C and teeming with anti oxidants they are a wonderful source of healthy food. But alas! From infant to old, no one likes this veggie and will eat it only if its pushed down the throat. So its basically upto us wives, mothers and grandmas to whip up some yummy versions of this veggie. After all who wants to miss out on the goodness?? I was tired of palak dal, palak paneer and palak fry. So i wanted to try something new and innovative. And then palak pulao was born. During those good old college days when i used to go mall roaming, we used to eat in those food courts that were there. My all time favourite was palak rice with raitha. But there was one thing that i did not like about it. It was watery and mushy. I always wished that it was not too runny but a little dry and hence palak pulao.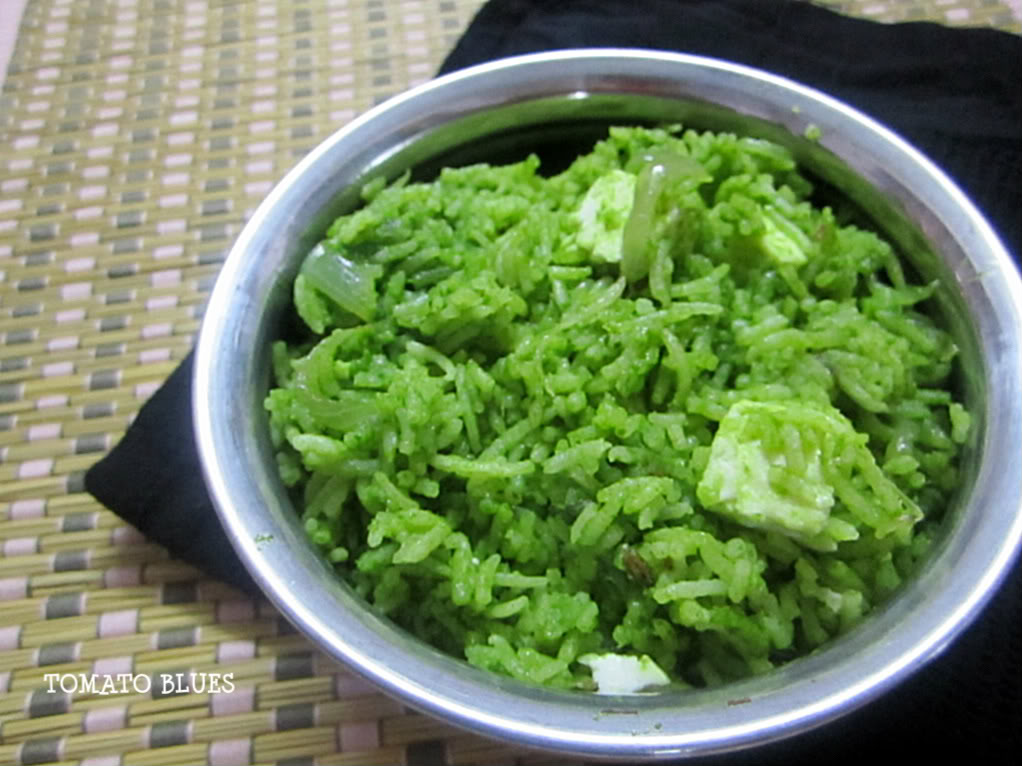 Prep Time: Under 10 mins
Cook Time: Under 20 mins
Source: Inspiration from the food courts of malls in Bangalore and my imagination
Serves: 2
What you need?
A medium size bunch of spinach greens ( i love it when they are fresh and green … Its ok if they are muddy we can always wash them )
Basmati rice 1 cup soaked in 2 and quarter cups of water for 30 mins.(You can saute the rice in ghee until aromatic before soaking them for that extra flavour)
1 big onion thinly chopped into half slices
Ginger 1 inch piece
2 cloves of garlic
1 clove
1 cinnamon
1tsp cumin seeds
1 bay leaf
4 green chillies
Ghee and oil mixed equally measuring 11/2 tbsp
How do you make it?
The spinach usually is a work package. It involves a lot of cleaning and cutting. So clean those greens in fresh water. Give them a generous bath I say!! dont scrimp on the water. Trust me they love it. Then remove the stalks and keep aside the leaves.
In a kadai, heat up a tsp of the oil and ghee mix and saute the spinach and green chillies for 2 mins.Dont slit the chillies. Just toss them in whole and saute them. Let it cool and grind it to a smooth paste along with the ginger and garlic.
Then in the same kadai in which the spinach got sauteed, heat the remaining oil . Then add the cumin seeds and wait for them to splutter. Once they splutter, add the bay leaf, cinnamon and clove.
Then add the onions and saute them till they are pink and transparent.
Now add the rice to the onions along with the water. Mix in the spinach paste and add salt as desired.
Make sure you dont add the spinach paste before the rice is added. The colour changes if you do so.
Cook till the rice is done or transfer the rice mixture into an electric rice cooker and cook.
Garnish with cashews or a tomato cut nicely. Serve with raitha. You can even add chunks of fresh paneer but i did not.
This goes to the HLI Spinach event guest hosted by Monika for Kalyani