You remember me talking about my hubby s fancy soup only dinners? Well this was made just for one of those. And if you are curious, then let me tell you, that dinner concept has been long forgotten. We are on a fruit only diet now. I really really need some sympathy from you folks. I mean a girl wants to cook but the boy doesnt want to eat. Imagine that.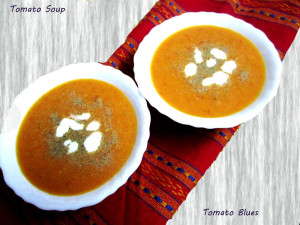 I know its not a great picture. I simply was not in the mood to click away that day. Lets just say the shutterbug dint bite me enough.
Prep Time: Under 20 mins
Cook Time: Under 20 mins
Serves 2
What you need?
4 large ripe tomatoes
1 small carrot peeled and chopped into small cubes
Milk ( i always use high fat. i told you i love my cheese, milk, butter, curd and ice cream) 1/2 cup
Vegetable stock 1 cup
Olive oil 2 tbsp
Garlic cloves 3 to 4
Onion small one not that hideously large onion out of which you already have scallions coming 1 chopped coarsely
Pepper 1 tsp
Salt to taste
For Garnish:
Cream 1 tbsp
How to make it?
Chop up the tomatoes roughly and place them on a baking sheet. Preheat the oven to 180 degrees. Drizzle 1 tsp olive oil on the tomatoes. Sprinkle pepper and salt. Bake for about 10 mins. Keep an eye on the oven after that as the tomatoes tend to burn quickly if they are ripe. Keep aside.
Heat a soup pan or whatever pan that you have. Who knows as long as they can have some soup? Now, add the remaining olive oil.
Saute the onions and garlic just till they are soft.Takes about 2 mins. This is a soup and not a curry so dont overdo the sauteeing.
Now, add the diced carrots and saute for 2 to 3 mins.
Add the roasted tomatoes and saute for about a min.
Toss in some salt and pepper. Combine well.
Add the stock and cook for 4 to 5 mins.
Let it cool. Blend to a puree in a blender.
Transfer to the same pan.
Add the milk to this and simmer for about 3 mins.
Dont boil the soup as the flavours vanish away.
Serve hot garnished with cream and croutons. I dint have any handy.