I am back. To bore you all mercilessly with my very garrulous talk on the weather. The mercury just reached 40. Ok. 40 is not my kind of temp. Look, seriously, i m that 25 26 weather types. I grew up in cool places and it was never this scorching hot wherever i grew up. That is. So, my only respite is the AC. With constant worries of my inner Goddess about how the skin will look all pale, wrinkly and wizened by sitting in the AC for what seems like forever.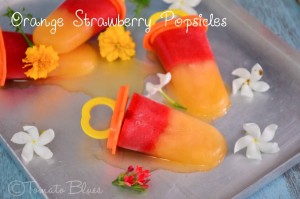 Heck! before you all think, i ve buried my head in the sand or something, let me assure you all, i do cook. I also paint. And oh! the children have not spared me either. They come. They scream. And my house is as cacophonic as ever. By the way, is cacophonic a word? I m not sure. ( Its all that talk about those brats that s making me think like this) But what would i do without them? My world would look colorless and noiseless. Nah… i cant stand that kind of tranquil. Nope! Anyway, coming back to the weather. Last week, when Mr.P actually said he doesnt want lunch in the beginning and then came back on the third day saying he wants lunch ( ahem….. let a girl brag peacefully, will ya?), i went shopping. Shopping for what? you ask. Of course, fruits- strawberries ( yes, we have them here still), oranges and watermelon. I spent a fortune on butter too. ( Lets forget that, shall we?). Soon after that amma sent along some mixture,cheedai and murukku. And forgotten were the oranges and strawberries.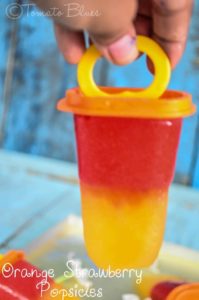 While i peeked into my fridge last evening, i could see in a far corner, a box of those berries and some half a dozen oranges sitting sadly. And i thought a salad first. And then, Mr.P made this very obnoxious statement- " you seem to be making too many salads" No…… Dang! he said it and i changed my mind. And i made popsicles. Popsicles that are as easy as pie to make and divine to devour in the evenings!
Recipe For Orange Strawberry Popsicle
( Heck! its not even a recipe. So i m gonna leave this blank. Well, literally not blank. Just saying. )
Prep Time: 20 mins
Cook Time: Nil
Freeze Time: 2 hours
Makes 5
Level: Super easy ( I just invented that level)
Ingredients
Oranges 6 medium juicy ones
Strawberries 100 g hulled
Sugar 1/4 cup
Directions
Squeeze the oranges and extract the juice.
Add 1/8 cup of sugar, mix well.
Pour these into your popsicle moulds until half full and let set for an hour in the deep freezer.
Before the end of an hour, puree the strawberries along with the remaining sugar and strain. you may need extra sugar if your berries are tart. So adjust accordingly.
Now, take the mould out and fill them.
Close and let set in the freezer for another hour or so.
Once done, remove, run the moulds under tap water.
Unmould.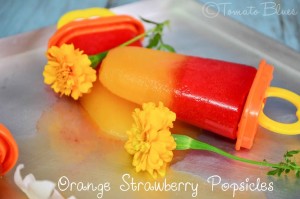 Start licking away!