Winters are normally biting cold where i live. But thanks to the piles of plastic that wanders aimlessly around the earth, we ve not had one decent winter s morning so far. There goes away my excuse for waking up later than usual. It seems like we are living in February and not December. And imagine having to drink mocktails and thirst quenchers in December. Sigh… gone are the days of piping hot chocolate topped with marshmallows. Anyway, my point is unusually crazily warm here and i ve not brought out a single turtle neck yet. I m promenading in my halters and skirts and i m not reaching out for that jar of cold cream. And we are making new mocktails at home.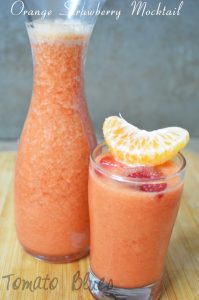 The last i visited the fruit market, i bought back cartons of strawberries at a pricey price. Mind the word pricey, will you? Some of those red beauties were still sitting in my fridge and next to them was this orange duo calling out to me. I got them out of the fridge and decided to share them with Mr.P. And then, i thought why not combine them and make something? I dint want to make a cake or pie. Mind you, it was 11 in the night. That time of the night when you are supposed to be cuddled up with a book in your bed. Not the time to contemplate prodding your oven. And that s how this mocktail came to be born.
Recipe for Orange Strawberry Quench
( Mock tail made with orange and strawberry.)
Prep Time: 20 mins
Cook Time: Nil
Makes 4 to 5 medium glasses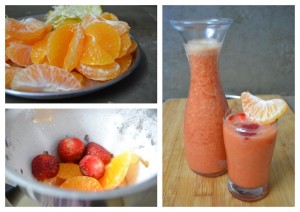 What You Need?
Oranges 2 juicy ones
Strawberries 6 to 7
Mint leaves 5
Sugar 2 tbsp powdered
Cold water 1 cup
How To Make It?
Peel the oranges, discard the pith and make a slit in each of the orange slices vertically and open them to remove the seeds. This may sound time taking but is actually not if you enjoy eating the oranges as you go.
Place the oranges, strawberries, sugar and mint leaves in a blender and blend to make a smooth puree.
Add water and blend again.
Check for sweetness. Add more sugar if desired.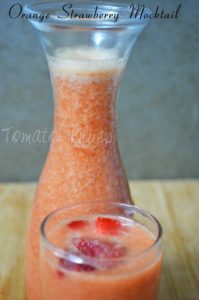 Top with ice cubes and serve cold.