Having graduated from NIT Warangal, my husband has this obsession towards pulao made there. But his bigger obsession is the gravy which they give alongside the pulao. When he told me he likes it so much that he feels its the best in the world, i asked him what its called. And came the reply, " I dont know" I asked him if he knows what its made of, he says " there was tomato and onion " To my chagrin!! How can you make something whose name you dont know. But i did. After so much of searching on the internet, cookbooks and recipe collections from all my telegaite friends, i found one recipe. I made it with a lot of excitement. I prayed all along that this was the recipe my hubby was fond of. I kept my fingers crossed that he says that i ve made THE gravy of Warangal.
And i only met with success. My husband loved it and asks me to make it whenever i make pulao.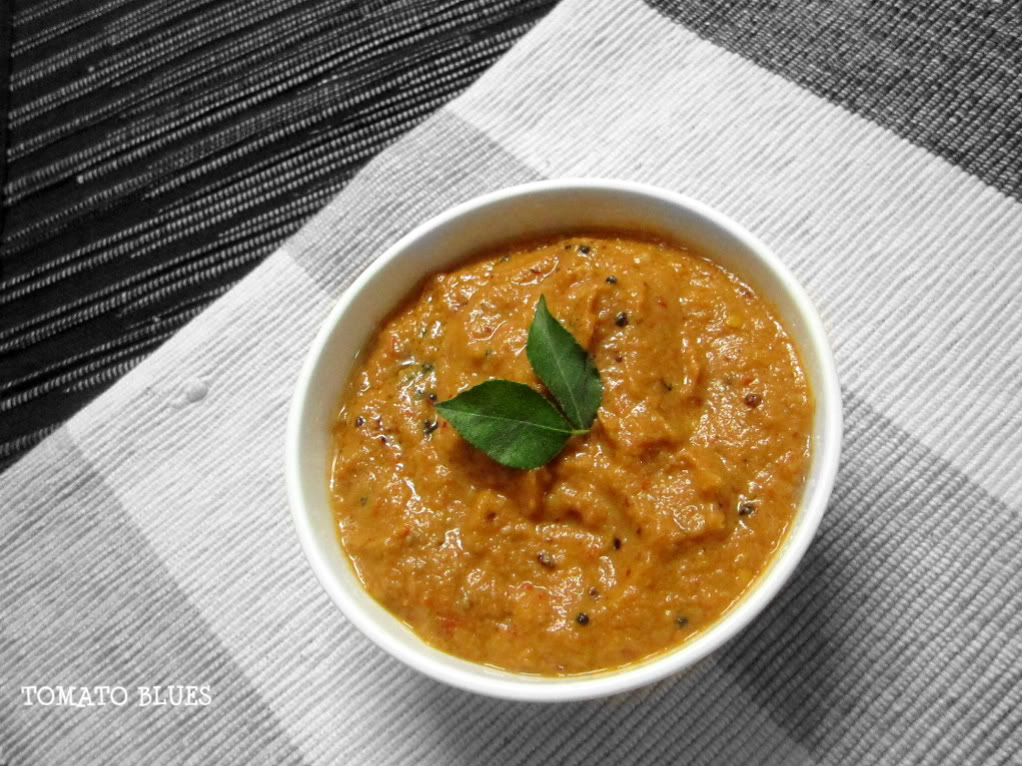 Prep Time: Under 20 mins
Cook Time: Under 20 mins
Serves: 2


What you need?
Tomatoes 4 medium size quartered
Onion 1 large chopped finely
Water 1 cup
Coconut Milk 1/4 cup
Turmeric powder a large pinch
Curry Leaves a sprig
Cloves 3-4
Ginger Garlic Paste 1.5 tbsp
Cardamom 1
Cinnamon 1″
Oil 2 tbsp
Salt to taste
To be ground into a paste:
Cashews 3 soaked in hot water for 30 mins
Poppy seeds 1 tsp soaked in hot water for 30 mins
Grated coconut 3 tbsp
Spice Powders To Be Added:
Garam Masala 1/4 tsp
Chilly powder 1 tsp
Dhania powder 1/2 tsp
Cumin Powder A pinch
For Garnish:
Cilantro chopped finely 2 tbsp
How to make it?
Grind all ingredients to be ground into a paste. Keep aside.
Heat oil in a kadai. Add cloves, cinnamon , curry leaves and cardamom. Saute for a min.
Add onions and saute till they are pink.
Now, add ginger garlic paste and saute for 30 secs.
Add all the spice powders and turmeric and combine well.
Saute for a min.
Add tomatoes next and combine well.
Saute till the tomatoes become soft and oil leaves the side of the pan. Takes about 7 mins
Now, add the ground paste and mix well.
Simmer on low flame for 3 mins.
Add the water and salt and mix well.
Simmer with the kadai closed until gravy thickens. Takes about 7-8 mins.
Add coconut milk after thickening and mix well.
Simmer for another 2 mins.
Garnish with cilantro and serve hot with any pulao.