How To Make Onion Tomato Garlic Chutney?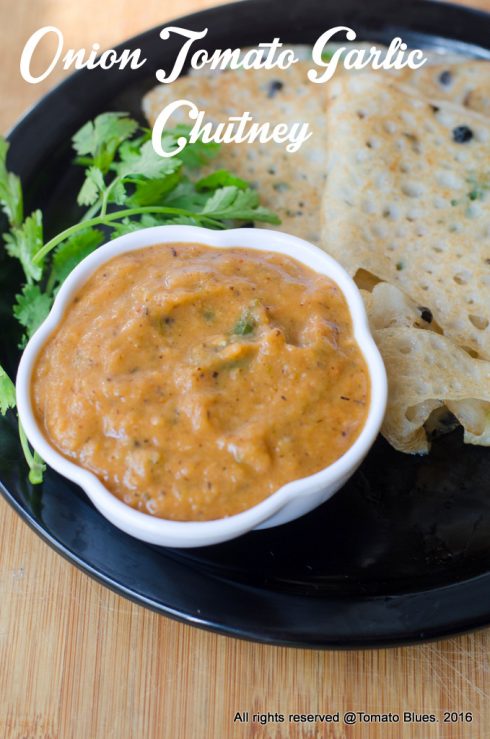 Onion Tomato Garlic chutney is an everyday affair that happens in my kitchen whenever i make dosa or idli. I usually make a large batch of this onion tomato garlic chutney that pairs well even with puris. I consider making an accompaniment a herculean task. I can make main courses like there s no tomorrow. But you ask me to make chutneys, pickles and raithas, i ll scurry out of that place as quickly as a mouse does on seeing a cat. Anyway, a gal has to what she has to. There s no shortcuts to that. And we are idly dosa freaks whose sun does not rise without dosa for breakfast. Make dosa. Make chutney is the mantra. This chutney goes well with dosa, idly and even pooris. Well, we eat like that for all those raised eyebrows.
Recipe For Onion Tomato Garlic Chutney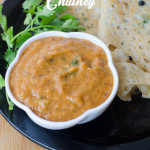 Print Recipe
Onion Tomato Garlic Chutney
Onion tomato garlic chutney is a simple and easy to make chutney that pairs well with dosa, idli, puri and paniyaram
Ingredients
Tomatoes ripe and large 3 chopped finely

Garlic cloves 4

Onions 2 medium chopped finely

Dry red chillies 3

Tamarind paste 1 tsp

Salt to taste

Oil for sauteeing 2 tbsp

For Tempering

Mustard seeds 1 tsp

Curry leaves a sprig

Hing a pinch

Urad dal 1/2 tsp

Oil 2 tsp
Instructions
Heat a kadai with oil. Add onions and garlic and saute till onions are transparent.

Next, add chillies and saute for 30 secs.

Now, add tomatoes and saute till there s no moisture and they are soft and mushy.

Let it cool.

Once cooled, blend the tomato onion mixture with tamarind and salt to a smooth paste.

Temper with mustard, curry leaves, urad dal and hing.
For Instant Pot & Air Fryer Recipes
Instant Pot timings may vary based on your geographic location. Air fryer settings and timings may vary based on the capacity and the model of the Air fryer.
Disclaimer
Nutrition values are provided here as a courtesy and are only a rough guide. Please consult a health care provider if you have any concerns.